Arike Ogunbowale and Marina Mabrey celebrated winning the 2018 Women's NCAA Tournament — the defining moment of their basketball partnership to date, if not their friendship — exactly the way you would, too, given the circumstances.
There was no partying on a team road trip, so barhopping was out. Besides, it was late, and they were exhausted. Their Notre Dame team was so injury-ravaged that only six players suited up; Ogunbowale and Mabrey, the Fighting Irish's only healthy guards, each played 39 out of a possible 40 minutes. So after the confetti poured down and the net was cut and the trophy got raised, they plopped down in their hotel room and flipped on the TV — to SportsCenter, where they watched highlights of their win, punctuated by Ogunbowale's title-winning three-pointer rainbowing into the basket with 0.1 seconds left on the clock. The shot became instantly iconic. It would soon propel Ogunbowale to a run on Dancing With the Stars and an appearance on The Ellen Show, where she would be surprised by her hero, Kobe Bryant — and so over and over her game-winning shot played. The two of them kept watching their exploits and laughing, one word on their minds. "Woowwww," they say in unison outside a Starbucks on UTA's campus, where the Wings play their games, before laughing some more.
That night was everything they'd imagined when they'd enrolled three years earlier. They'd barely crossed paths until then, the go-with-the-flow girl from Milwaukee and the high-strung trash talker from New Jersey, but already their vision of the future was in lockstep. "We could have gone to other schools and been two people that won again like everybody else," says Ogunbowale, referencing traditional powerhouses like UConn and Tennessee. "But we really wanted to be marked in history." By the time they did that, they were best friends — sisters, they say — and they'd won by doing things their way: loose but never lax; focused but never uptight.
When they graduated a year later, "Marike" (a moniker their Notre Dame coaches gave them) had a new vision. Some way, somehow, they would reunite in the WNBA. And wherever they did, they would win another championship. Two best friends sharing the same backcourt, conquering college and the pros together.
It took less than two years for Ogunbowale and Mabrey to find their way back to one another in Dallas. Now, as the Wings prepare for their first playoff game since 2018, the women will once again be looking for that rainbow.
•••
Before we go further, a disclaimer: nothing you read in this story can encapsulate Marike. Nothing in any story does, because you have to see their friendship to appreciate it, and even when you do, there are elements — such as a well-documented and self-professed tendency to get on each other's nerves — that, as their teammate and close friend Satou Sabally says, "those two have been together so long that it's something so normal that you wouldn't understand it as an outsider."
Marike is side eyes and deadpan deliveries. It is "Are you SERIOUS?" and "Don't start …" and "This Girl!" It is exaggerated stares that precipitate even bigger crackupsIt is Ogunbowale declaring that her favorite breakfast to cook is scrambled eggs before Mabrey, in a sing-songy voice fit for a caffeinated waitress working the morning shift, elaborates: eggs with fruit and a piece of toast, possibly some peanut butter — "Right," Ogunbowale chimes in — but not too much.
It is Ogunbowale's spirited self-defense — "It was the academic adviser just lying!" — recounting the time Mabrey went ballistic after she mistakenly heard Ogunbowale got someone else into a class Mabrey was hoping to take, but not her.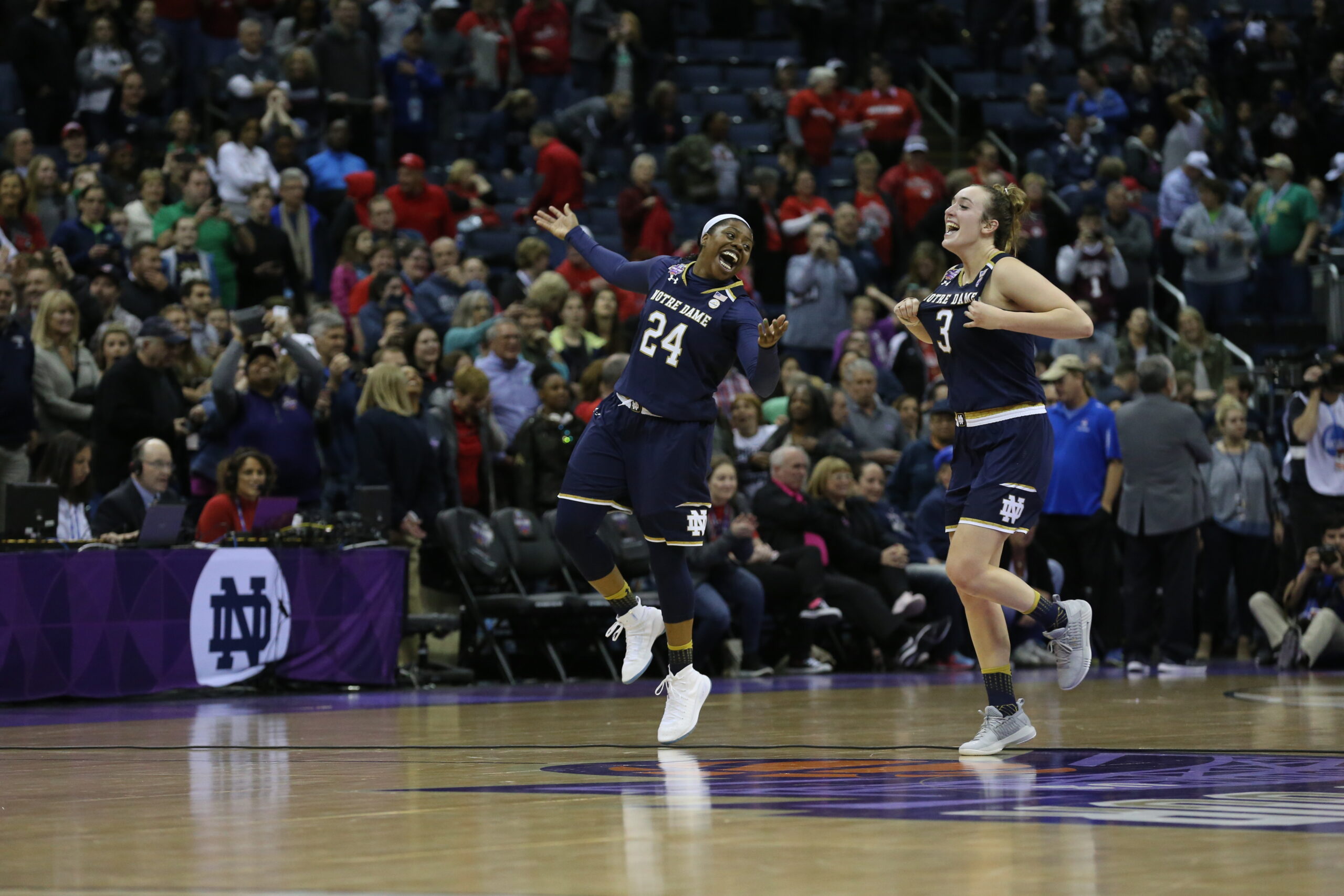 It is Mabrey getting so fed up with Ogunbowale's snoring in hotel rooms at road games that she threw a pillow at her and banged on a dresser, but then declaring, "I would have brought earmuffs, earplugs, headpiece, just not to switch my roommate." And it is Ogunbowale thinking aloud about the day, deep into the future, well after their playing careers have ended, when she and Mabrey can sit down and fully take stock of all they accomplished together.
Not bad for two players former Notre Dame head coach Muffet McGraw once was scared to put around each other.
McGraw, who retired last year after 34 seasons and two national championships, can chuckle about it now. She always took great care to build recruiting classes with chemistry in mind as much as talent, which is why she worried about what could happen if two players she deemed so different encountered each other in a high school AAU tournament. There was Ogunbowale, so even keeled and armed with the capacity to internalize critiques without taking them personally, whose teammates joke about how liable she is to drift to sleep on the couch at any hour. Then there was Mabrey, the Type A ball of sarcasm whose energy and intensity agitate the opposition. Whenever McGraw knew her two star recruits in the class of 2015 were both at an event, the same fear entered her mind: "Oh, my God, I hope they don't guard each other. That could be a disaster."
McGraw, to her pleasant surprise, was wrong. Ogunbowale and Mabrey hit it off well enough during their first year in South Bend — familiar, friendly, but rarely around one another away from the team. Their circumstances were their greatest commonality: bit players buried behind a collection of all-business upperclassmen who didn't understand how they could be so carefree in their attitudes and so trigger-happy with the ball. "Our seniors, they thought we were just the dumbest things walking," Ogunbowale says with a snicker. "We just didn't care about the same things," Mabrey adds.
Then came the offseason. Ogunbowale needed a workout partner, and she knew that Mabrey, who racked up overuse injuries at Notre Dame from rarely taking days off, was always game for more time in the gym. The Irish graduated four seniors, and both were driven to pick up the slack. In that gym, they pushed one another with a seriousness that the outside world — and their teammates — rarely saw. Those hours forged respect into friendship, and when they combined for 45 points in an Elite Eight loss to Stanford the following spring, they began to understand what their coaches were telling them: Notre Dame would only win if they brought the best out of each other every night.
Living together wasn't part of the plan. Ogunbowale had a place off campus and needed a roommate; Mabrey, just prior to the start of their junior year, decided she'd rather not live on campus. That's how they wound up together at University Edge, a complex seven minutes from Notre Dame, in a two-bedroom apartment with a kitchen and a living room. Mabrey did most of the cooking. Grilled chicken on a George Foreman grill was a staple, as was a concoction of egg noodles and cheese that Ogunbowale insists "was fire." Ogunbowale handled the dishes. They slogged through homework for their shared major, business management, and they attempted to binge watch shows like Starz' Power, a good idea inevitably derailed by Ogunbowale falling asleep before the end credits rolled. "We watched a lot of partial shows, let's just say," Mabrey says wryly. They'd hit karaoke night at Salsa's Mexican Grill and help orchestrate ice cream cake parties for teammates on their birthdays. They were now more like family than just friends, two women with a sisterly knack for fighting hard and loving harder. "Fire and fire," Wings head coach Vickie Johnson calls them.
"Which is weird," the coach is quick to note, but it works. Notre Dame had gone 17 years between national championships until the 2018 team, and while that title was an ensemble effort — four of the six healthy rotation players would be selected in the 2019 WNBA Draft, including top overall pick Jackie Young — Ogunbowale and Mabrey set the tone. They'd grown up by then, learned to let go of their flightier moments and ride the freshmen just as the upperclassmen had once ridden them. But they still refused to take any moment too seriously, which made no moment too great to overcome. They jacked up shots and dribbled full bore, and if it didn't work out on one possession, it probably would the next. Everybody just relax.
In that way, the depleted roster almost worked in their favor. McGraw says, "Marina told me her favorite part of the year [was] … 'turning the ball over and looking over at you shaking your head, looking down the bench, and realizing you couldn't take me out.'" Notre Dame had no choice but to play the Marike way, and the Marike way got things done. Which is why, three years after the fact, Ogunbowale and Mabrey still relish the reaction of their all-too-serious former teammates when they ended the nearly 20-year-long title drought after so many teams before them had failed.
"They were so proud of us," Mabrey says, but also, "They're all like, 'I can't believe you two won it.'"
•••
Looking back, Ogunbowale and Mabrey recognize that spending the first year of their WNBA careers apart was for the best. The time away from one another helped them develop as individuals — Ogunbowale in Dallas after she was the fifth pick of the WNBA Draft; Mabrey in Los Angeles, where she was selected 19th by the Sparks.
That doesn't mean they enjoyed it. They FaceTimed constantly and carved out time for dinner or an apartment visit whenever one was in the other's city on a road trip. During one Wings road trip out West, the two of them were so excited to see one another that they stayed up late into the evening before their game zipping around downtown Los Angeles on scooters. "Rookies," Ogunbowale says with a shrug and a laugh, by way of explanation.
So when Mabrey got dealt to Dallas prior to the 2020 season, they could resume the work they'd begun in South Bend well ahead of schedule. Privately, they assumed they wouldn't get a chance to reunite until one or both reached free agency, years down the line into their WNBA careers. Doing it at 23 years old allowed them to lay down the foundation more methodically.
"We can get a culture and a core going at a young age, so hopefully we'll be able to develop everybody around us and ourselves and get a championship rather than have to put it all together at 29, 30, 31," Mabrey says.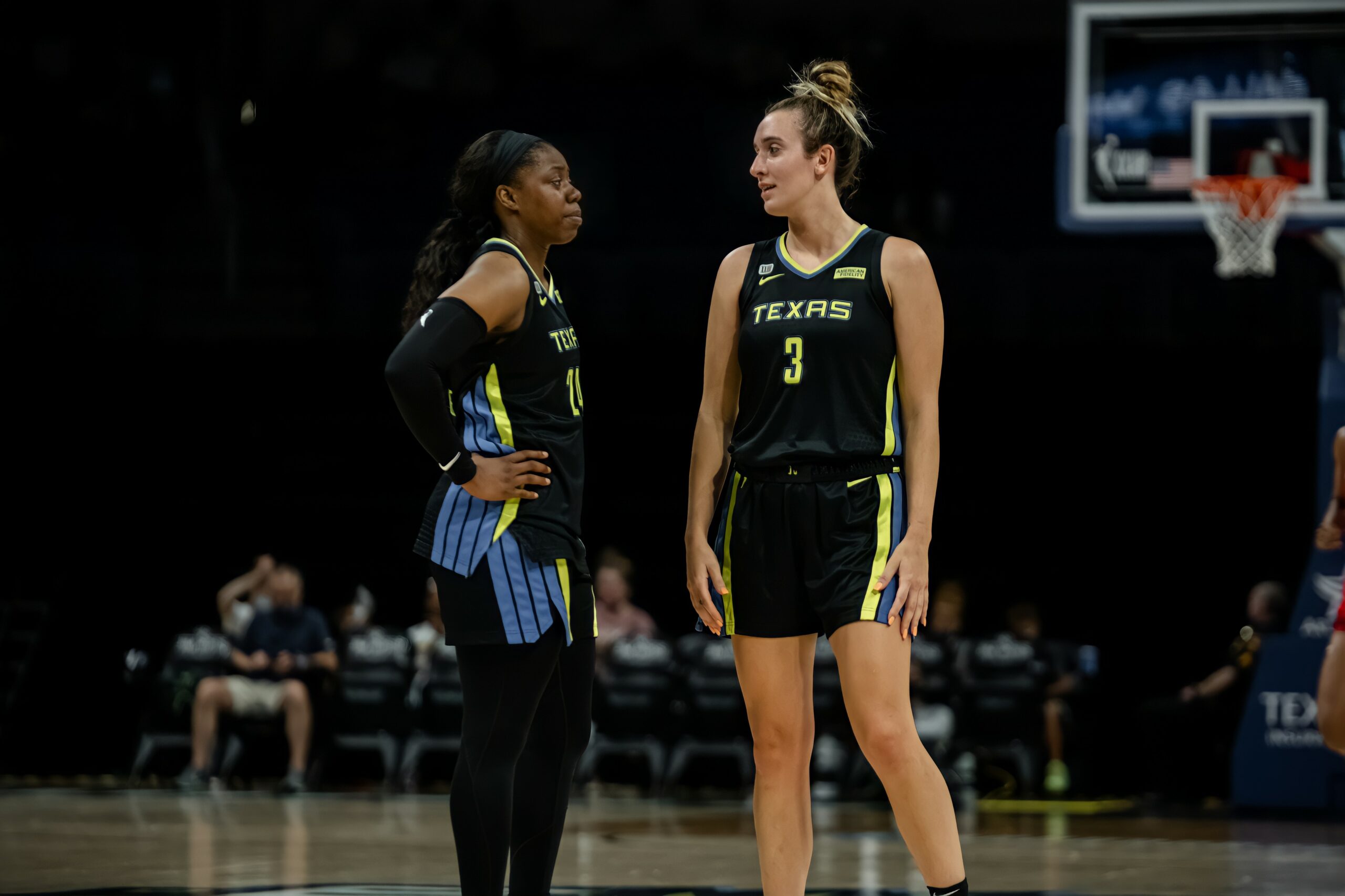 They say they were back to being Marike within one practice, although those around them believe their games have broadened since their Notre Dame days, from Mabrey's offensive repertoire to Ogunbowale's defensive chops. That fine-tuning has, in their third professional season, carried them to new heights, with Ogunbowale making her first All-Star team while Mabrey has become one of the league's premier sixth women after moving out of the starting lineup to boost the second unit.
But the things they do on the court are just byproducts of how they play, and how they play remains unaltered. There is, they insist, a larger point behind their loose attitude on the floor, one that informs that culture they want to instill in a roster that ranks among the league's youngest.
"I feel like if you have two leaders who are always kind of carefree but competitive and playing hard the whole time — those two things combined with it, I think it instills confidence in everyone else," Mabrey says. "So even if it's not exactly your game, if you're not just super loose or whatever, it might help you loosen up a little bit."
Already they've found a pair of similar minds in Sabally and fellow guard Ty Harris. The four of them eat together, vacation together, work out together. Ogunbowale and Mabrey lived with Sabally during last year's WNBA bubble season in Florida, and Mabrey and Harris carpool together to practices now that the team is back in Arlington. All of them are between 23 and 25 years old, and they can't help but dream big about how high they can soar and what they can do for a franchise that last experienced genuine success two cities and one nickname ago, as the Detroit Shock.
Their first chance to realize those ambitions comes on Thursday, when Dallas plays its first postseason game since 2018. The Wings are light on experience; collectively, the roster has competed in 10 playoff games, none of which involved Ogunbowale or Mabrey. But in a sense, this is exactly what they are used to. Once again, they are underdogs walking into unfamiliar territory in a single-elimination setting, with little certainty beyond their own skills and each other. The surroundings have changed, the competition heightened, but they are still the first to push one another, to tweak one another, to support one another. It is still Marike interpreting one another in a way no one else could. "Some stuff somebody else might not be able to say to Arike or Marina, they tell each other," Harris says. "They depend on each other a lot."
For Dallas, Thursday night is the beginning of something. For Ogunbowale and Mabrey, it is the continuation. They'll amp each other up like they always do because, as Sabally notes, "sometimes fire is the only thing that can handle fire." No one has been able to extinguish it yet. They can't envision a world where anybody could.
Get the ItList Newsletter
Be the first to know about Dallas' best events, contests, giveaways, and happenings each month.
Author
Mike Piellucci is D Magazine's sports editor. He is a former staffer at The Athletic and VICE, and his freelance…