Fashion-forward sports fans, your days of ill-fitting jerseys and generic gift shop tees can be behind you. Last weekend, Brittany Cobb and her team launched the latest iteration of the Flea Style brand, Game Day Style. The new storefront, located in The Star in Frisco, is brimming with apparel and accessories that celebrate collegiate and pro teams in Texas and beyond.
True to the Flea Style brand, Game Day Style stocks a mix of vintage pieces and handmade products from local makers. Before the found goods hit the shelves, they're reimagined and given an eclectic twist. (Think old-school tees and vintage jerseys decked out with tie-dye, fringe, studs, and more.) When something is gone, it's gone for good, which only adds to the thrill of the hunt. We caught up with Cobb to get the scoop on Game Day Style, from the store's interior design to its exclusive partnership with the Cowboys.
You've offered game day apparel in your Flea Style stores for awhile. What made you decide that Game Day Style deserved its own storefront? Our Game Day Style section has been one of our best-performing. As it keeps growing, we didn't want it to take over the Flea Style Brand, which is more lifestyle-focused with home goods and fashion. We were looking for the right space for Game Day Style, and there was a really great white-box space at The Star that would be easy to launch quickly. We wanted to capitalize on the NFL season as well as the holidays, so we just jumped at the opportunity. It makes sense to keep it up here at The Star, the world headquarters of the Dallas Cowboys. It's also really close to our current store, restaurant, and customer base, and it's right across from the Dallas Cowboys Pro Shop.
We are leaning into our Flea Style customer base: the girl who is fashion-forward and looking for something unique within the 'shop small' movement. That girl is already going to college football games and Cowboys games, and offering her something with our vibe behind it just made total sense. The store is branded as a Flea Style concept store; it's not a sports store or something outside of our brand.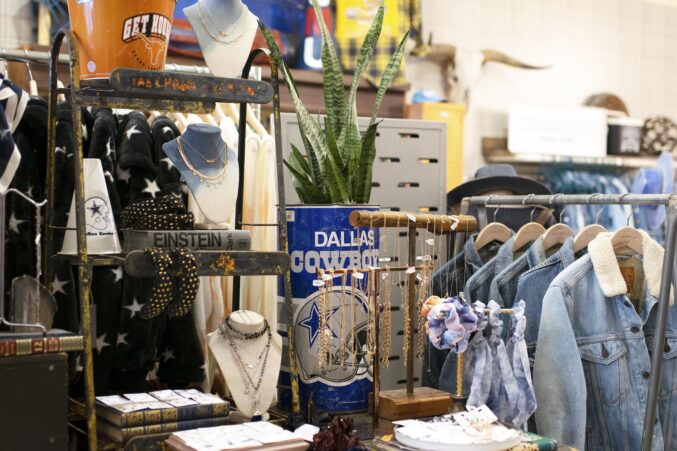 What kind of products can we expect to see in Game Day Style? Everything is touched by us. We find things at flea markets, like vintage team shirts, and we're also working with Dallas Cowboys merchandising and taking things from them. But then we 100 percent reimagine them. Tie-dyeing, stenciling, studding, and cutting denim from our Flea Style cutoffs into stars and having our makers sew them into appliqués. And we're also taking some of our makers from Flea Style that makes sense here, like collegiate color tassel earrings. Maybe in really pretty burnt orange, that you'd wear to a UT game. So while some of Game Day Style is super specific to collegiate or pro teams, we're going to mix in a cool vintage blazer, a brooch, or a Baylor-colored bandana. It's a really special concept that no one else is doing, and it still fits our mission to stock handmade, vintage, and one-of-a-kind items.
Any home décor offerings? Charly Bodycare, a candle maker for our Flea Style stores and a Frisco mom, is creating a custom candle collection for Game Day Style. We're also doing one-of-a-kind artwork for sports fans. We've become known for these old window pane art pieces in Flea Style. Now we're going to find more window panes at flea markets and use them to frame really cool art pieces with footballs, helmets, and lockers. They're beautiful and great for a cool man cave or a Christmas gift.
What pieces are you most excited about? Now that we have all this space, we're expanding our designs and we're excited to offer a lot more denim, elastic-waisted tees and tops, and dresses and tunics. We'll have general 'game day vibes' pieces, too, with stars or phrases that aren't team-specific. We're doing custom old-school foam fingers–we designed them for Cowboys fans and they're really retro-looking. We'll have vinyl stickers for laptops, koozies, water bottles… Jewelry, masks, and bandanas, too. It should be a good mix and we'll only continue to grow it.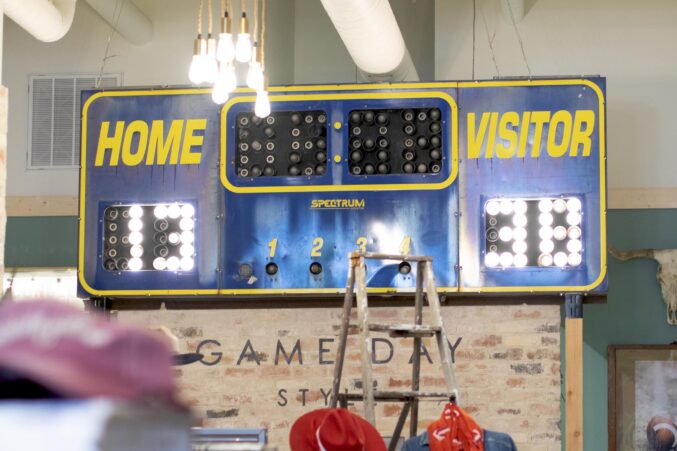 Tell us more about your partnership with the Cowboys. They're really excited about it. We're totally working with them to highlight the Dallas Cowboys, and they totally understand that our shopper is local, but also national and beyond, so we need to not discriminate against other NFL brands. We're all working together to make it a huge success to bring people to The Star and to celebrate sports. Poor sports; 2020 has been rough. From social distancing to games not having fans, the mood's been really sad and gloomy. We're hoping to make it fun again, whether you're celebrating from home or going to watch a game.
What other teams will we see represented? Well, the teams kind of choose us, because it depends on what we find at flea markets. Our focus is on Southern teams because we're based here, so there's a ton of Tech, A&M, Baylor, TCU, but we also have everything from Georgetown to UCLA to Stanford. And for pro teams, we're going to offer everything, but it is what it is–whatever we can find. We have a lot of Rangers and Stars. So we'll have it all, but we might only have one. And that's what makes it exciting for the shopper. You have to hurry and pounce because we might not have it for very long.
What inspired the interior design at Game Day Style? I chose things that are game day-inspired but with a Flea Style vibe. I used an oversized plaid wallpaper, in grays and sage greens. We have a lot of exposed woodwork and exposed brick. We're using all found flea market fixtures. Old work tables, sports benches, and even an old turnstile as a décor piece. It'll feel like a Flea Style brand but it has a more masculine feel. We also have a little concession stand. We're going to offer free popcorn and Miller Lite, and there'll be old-school candy.
What does your own game day style look like? I took my whole team to the Cowboys game last week and I wore one of our Game Day Style shirts with a vintage jacket and a pair of our big star earrings and my favorite ripped jeans. It's all about a layered look, high and low, mixing at all, but adding that one sports piece that shows your team spirit.
Game Day Style is open Sunday to Thursday from 11 to 5 and Friday to Saturday from 11 to 7. Follow along at @gamedaystyle. 
Get the AtHome Newsletter
Enjoy Dallas' best trends, hot properties, and tips from local designers to help you nest in style delivered weekly.