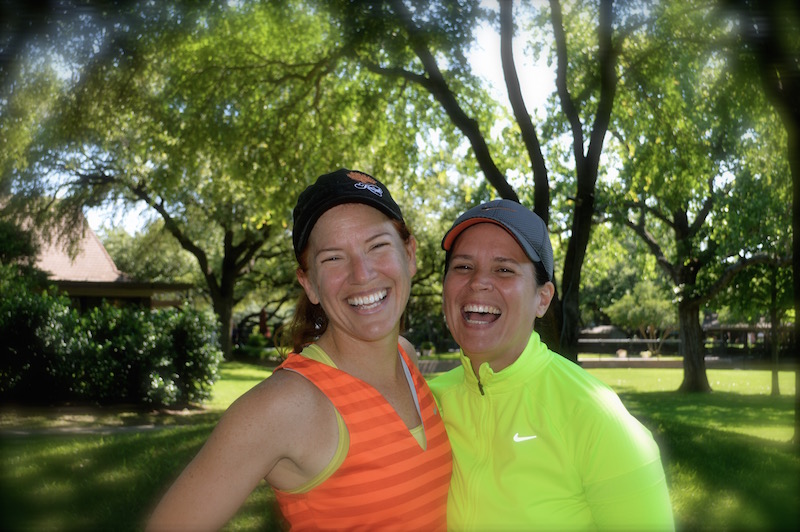 The courts at the Village Tennis Center officially close on Friday. And Sunday is Father's Day. So here's this:
My dad taught me to play just about every sport there is. We shot hoops on the driveway, threw softballs in the backyard, practiced long drives at the golf course, kicked soccer balls down the street. He showed me how to throw a spiral and catch a pass. In the winter, he would put down plastic sheeting and flood the backyard so we could play hockey. When the weather was bad, we batted Wiffle balls and shot BB guns and shadowboxed in the basement (the latter after I told him there was a bully in my elementary school class; when I ended up kicking the girl in the shins with my saddle shoes and he was called in to school to talk to my teacher, he gave me a proud nod). Short and slow, I was terrible at most of it and hated almost all of it.
Except tennis.
We belonged to a '70s-style country club in my small Ohio hometown. My dad bought me a sawed-off wooden Wilson and a plaid Tail skirt and would drive me to lessons on weekends. Although he had once aspired to a professional golf career, or, failing that, a Minor League Baseball career with the Toledo Mudhens, he had never played tennis. But that didn't stop him from staying late to line-drive buckets of balls at me at the net. I loved it.
In high school, I managed to have an undefeated doubles record with my six-foot-tall southpaw partner, playing forehands down the middle like the Bryan Brothers. But we didn't get far at State. And my only college offer, not surprisingly, was a partial scholarship at a tiny school too close to home, so I decided to focus on Russian literature instead.
Indoor court time was expensive for a student, and then starting a career got in the way. So I stopped playing tennis for the good part of a decade. Then my wife took a job in Dallas, and we moved south. I was afraid of the heat, but Dallas turned out to be a revelation. It was possible to play tennis outdoors 12 months out of the year, and you didn't need to belong to a country club to do it. I knew then I was never going to leave.
We joined the sports club at the Hilton Anatole, which, at the time, still had two lighted tennis courts and a part-time pro, and I started going to drills. I told my wife, who had never picked up a racket before, to come. I told her if she learned, we could play doubles in our retirement. She seemed to accept my reasoning and started playing with an orange Boris Becker racket, the only one I could find on sale with a 4 1/8 grip.
We went to Black Tie and bid on a free lesson from a Brookhaven pro at the silent auction. At the lesson, the pro told us there was a lesbian tennis club called Sets in the City who met on Friday nights at the Village Tennis Center to play. It was like walking into a furniture store and having someone open an armoire to Narnia. My head exploded.
Fridays rolled around and we were always too tired after a long week of work to check it out. Finally, we decided to go.
The Village was a gift. Privately owned and managed by Lincoln Property Company, it was designed like a private club, with a dozen well-kept courts shaded by live oaks, but it was open to the public and hosted more than 30 local teams at any given time. The USTA named it one of the 19 top tennis facilities in the country in 2013. There was a pro shop and a clubhouse and a locker room with a shower. They did the best string job in the city, and had some of the best pros.
Twenty to 40 ladies out of a rotating group of more than 100 would show up every Friday night to hit. Some were former college players, some were former Olympians, some were body builders, some were sixtysomething retirees who had blown out their shoulders or knees at softball or soccer and just wanted to run around a little or meet another single lady. At the end of the night, everyone would convene on the clubhouse patio for beers and fajitas. It was the best part of my week.
Every Friday, those ladies proved my father right: tennis is a lifetime sport. She may be a cruel mistress, but you both know you're in it for good. As my wife always tells me, after you pass 30, do you really think you can do any better? You know you're not going to take up kickboxing.
Sometimes you're committed, sometimes you cheat. Sometimes you see other doubles partners or play racquetball. But you always come home.
I thought Friday nights at the Village would go on forever.
The Hilton Anatole paved over their courts first. More precisely, they dug them up and put in a lazy river. The Village plans to follow suit. Not with a lazy river, but with a multi-use development where the courts used to be. As of this week, the courts are closed. And my heart is a little broken.
Sure, there's Samuell Grand and Fretz and L.B. Houston and Kiest and Fair Oaks, when it's not flooded. But they don't have clubhouses with beer. They don't have patios 78 steps from the courts. They are not located in the near center of the city. They did not introduce me to most of the best friends in my life. They don't have one of the best waitresses in town, who always managed to keep 32 separate tabs and always knew to have a grapefruit vodka and soda waiting for me. They don't have Hector.
At least I still have Sets in the City, albeit at a new location. And, thanks to my dad, I will always have tennis.
Get the D Brief Newsletter
Dallas' most important news stories of the week, delivered to your inbox each Sunday.