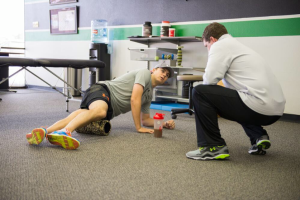 At last week's AT&T Byron Nelson tournament, I had a chance to talk with Damon Goddard, shortly after he held workout sessions with two of his clients, PGA golfers Jordan Spieth and Kelly Kraft. Goddard has been in the sports performance business for 18 years. He began working with a few PGA pros about 10 years ago and saw a need to help more players incorporate strength and conditioning into their golf game.
"Most really hadn't done a lot with it yet," he says. "So there was an opportunity, and I took it, and grew the business. It took off like wildfire—there was a big need for it."
Goddard launched his own company, Dallas-based AMPD Golf Fitness, in 2013. (AMPD is an acronym for Assess, Move, Perform, to create Dynamic athletes.) Along with junior golfers and business executives, AMPD now trains more than 35 pro golfers. "They span literally every tour—PGA, LPGA, Latin America, Canada, Korean—all over the planet," Goddard says.
He first began working with Spieth when the young golfer was 15 years old. "From a physical standpoint, there was a lot to work on, but his dedication and commitment to his craft, and being able to just dial in on what the programming was—was unlike any athlete I had ever worked with," Goddard says. "I knew even back then that he had the "it" factor.
Spieth's greatest challenge is just dealing with the rigor of the sport—the ability to recover fast, recover well, play day-in and day-out, and contend with travel schedules and the heat and different weather elements. Spieth's greatest strength, in a very literal sense, is his physicality, Goddard says: "He could pick up any sport and do well with it. A lot of juniors just want to focus on golf. Jordan played a lot of sports growing up, which I recommend, and that helped him become a multi-dimensional athlete that can take his athleticism to the highest level."
The trainer travels with his clients to about 15-18 tournaments a year. His most memorable tournament, he says, was the 2014 Masters, where Spieth made his debut and at one point looked as though he had a good chance to win. "It dawned on me that this was at the highest level, and I had played a role in it, no matter how insignificant or significant it was," Goddard says. "It was very surreal." (Bubba Watson went on to win 2014, but Spieth won The Masters in 2015, becoming the second-youngest player to ever do so.)
With the phenom as a client, AMPD is seeing a lot of growth. It's building a new two-story facility at Maridoe Golf Club (the former Honors course in Carrollton, which is being rebuilt and should open next year). Goddard says the move will allow him and his team to take an "all-encompassing" approach to their training, and let clients immediately put the instruction into action on the driving range.
He says working with Spieth and other golfers on the tour is "like Camelot. It's the PGA, working with guys who are the best in the world. It's a pretty good gig."
Get the D CEO Newsletter
Stay up to speed on DFW's fast-moving business community with weekly news reports, interviews, and insights.