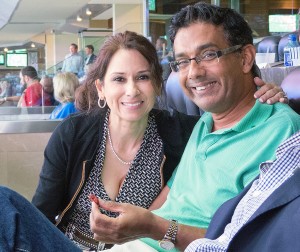 Dinesh D'Souza, a Mumbai-reared author and public intellectual who's been called one of America's most influential conservative thinkers by The New York Times, had never attended an NFL game—until last night's pre-season scrap between the Cowboys and the Houston Texans. D'Souza and his fiancee, Debbie Fancher of Houston, were guests in T. Boone Pickens' Owners Club suite at AT&T Stadium. The energy magnate wasn't there, but his right-hand man, Jay Rosser, showed the pair all the sights, from the "runway" where the 'Boys retreat to their locker room at halftime to Jerry Jones' suite (alas, the door was closed).
So, what was D'Souza's reaction? "It's very eye-opening for me," he said. "I'm looking at it as a spectacle, from the point of view of Americana and American culture. … George Will keeps telling us that baseball is America's game, but I don't agree. I think football is America's game. It embodies steel and masculinity and aggressiveness and speed. To me, baseball is like a poor man's cricket." D'Souza, whose film 2016: Obama's America is the second highest-grossing political documentary ever, added that he's planning to shoot much of a new doc about the progressive movement and Hillary Clinton in Dallas. Not because DFW is a progressive hotbed, but because "there's a lot of [moviemaking] talent here."
Get the FrontRow Newsletter
Get a front row seat to the best shows, arts, and things to do across North Texas. Never miss a beat.