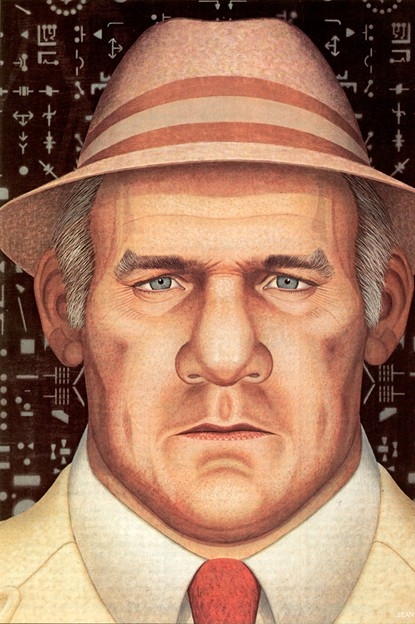 I had an ulterior motive for yesterday's poll asking who deserves to be the most beloved coach in Dallas sports history. I figured that Tom Landry, longtime coach of your Dallas Cowboys, would win easily. I left him in, and didn't just make it a contest to find the second-most beloved coach, because I wanted to gauge just how easily. (Answer: extremely)
I knew I'd be announcing this morning that the latest selection in our 40 Greatest Stories series is Peter Gent's October 1981 article about Landry and his teams of the 1960s and '70s. Gent, as many of you know, played for the Cowboys for five seasons and went on to a career as a novelist. His first was a semi-autobiographical effort about his pro football career, called North Dallas Forty, and he penned the screenplay for the 1979 film adaptation as well. He died of complications of a pulmonary disease in 2011, at age 69.
As we noted about Gent's 1973 best-seller in our 35th anniversary issue, in which we called its publication one of the 35 biggest pop culture moments in modern Dallas history, it "followed the North Dallas Bulls through an off-field circus of sex, drugs, and alcohol, giving viewers a different take of America's Team."
Earlier this year, on the occasion of the 25th anniversary of his acquisition of the team, Jerry Jones expressed regret for the way he handled the firing of Landry (who was coming off a 3-13 season, by far his worst since the club's earliest days.) Fans quickly forgave Landry the three straight losing seasons he'd finished his career with, and he was soon beatified by the local sports press — able to spend the rest of his days as a Living Legend. He was inducted into the Pro Football Hall of Fame in 1990 and died in 2000 after battling leukemia.
In reading Gent's story today, it's striking to see him remark about the Cowboys' consistency and continuity. To that point, they'd only ever had Landry as head coach and Tex Schramm as general manager. That remained the case until Jones arrived to buy the club in 1989.
The Cowboys have had seven head coaches since. Still just one other GM though!
Get the D Brief Newsletter
Dallas' most important news stories of the week, delivered to your inbox each Sunday.