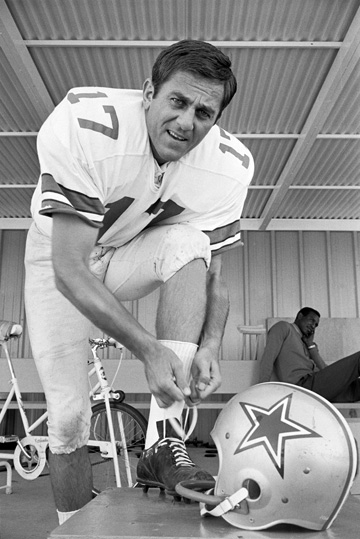 The NFL season kicks off tonight, though your Dallas Cowboys won't get started until they host the San Francisco 49ers on Sunday afternoon. Most experts aren't high on the team's chances to make the playoffs, let alone reach the Super Bowl. ESPN expects them to post their fourth straight 8-8 record. Only one of the outlet's 16 experts thinks the Cowboys are playoff-bound. Sports Illustrated doesn't have the Boys in the postseason either. Peter Schrager of Fox Sports is saying 10 wins and a playoff appearance, but he's also characterized that as a "bold prediction."
Who will get the credit or the blame for however this shakes out? Most likely, it'll be Jerry Football or quarterback Tony Romo, who (fairly or not) can't disprove his reputation for not being able to carry his team to a win in a big game. Romo isn't the team's first QB to be saddled with the vitriol of fans despite evidence that other deficiencies may have had more to do with a run of mediocrity.
Before Tony and Troy and Roger, there was Dandy Don. As our October 2010 article (timed to coincide with the 50th anniversary of the birth of Dallas' NFL franchise) puts it, Don Meredith was "the first Cowboy." Writer Curt Sampson trekked to Santa Fe to talk to the former quarterback, Monday Night Football analyst, and actor, who seemed to be as cheekily full of life as ever, despite the emphysema that forced him to be tethered to an oxygen tank.
The interview resulted in one of the 40 greatest stories ever published in D Magazine, and it turned out to be the last that Meredith ever gave. He died on Dec. 5, 2010, of a brain hemorrhage. He was 72. Sampson's story serves as a fine portrait of this unique character in our city's history.
Get the D Brief Newsletter
Dallas' most important news stories of the week, delivered to your inbox each Sunday.