Things are heating up in Dallas. Seriously, this heat is insane, and it's time for a little pool action. The days of cannonballs and "Marco Polo" may be behind us (for most of us, that is), but the days of poolside cocktails, DJs and private cabanas are just beginning. With the Texas summer heat in full swing you have one of two options: rack up the AC bill indoors with another marathon of Orange is the New Black or hit the Dallas pool scene to soak up the sun with boozy drinks and attractive strangers.
The Joule
Nickname: Pool at the Joule
The Scene: Ever dreamed of swimming through the clouds and looking down upon the world below? Well, The Joule can make your dreams come true (or pretty close to that). Envision a heated pool that extends 8 feet beyond the hotel's structure with a plexiglass window for an optimal view of Main Street below.
How to get in: Plan a staycation, because the pool is only open to guests Monday through Saturday from 10 AM to 10 PM, and Sundays from 10 AM to 8 PM, weather permitting.
What to eat and drink: The pool has its own full bar with cocktail waitresses, so there's no need to leave your lounger to get that pitcher of margaritas.
SALT
Nickname: The spruced-up Ku De Ta
The Scene: "I'm so fancyyy, you already know…" This may just be the anthem to this members-only location. High heels and couture bathing suits are a staple as this place as guests mainly go to be seen and not so much for the water action. A newbie to the Dallas pool crowd, SALT features an upscale pool lounge, adjoining private restaurant and bar called The Bungalow, palm trees, VIP cabanas and a salt-water pool (It all makes sense now!).
How to get in: Weekend sunbathing comes at a cost and this swanky pool requires a membership. Membership levels vary from Day Pass to Standard to Platinum Level, but bump elbows with one of the latter and you could score a spot on their guest list. Poolside dining is open to the public Tuesday through Friday from 4 to 10 pm and on the weekends for an entry fee. Special events are open to members and non-members alike.
What to eat and drink: A frozen mai tai with the Alaska cod and grilled pineapple-jalapeño relish.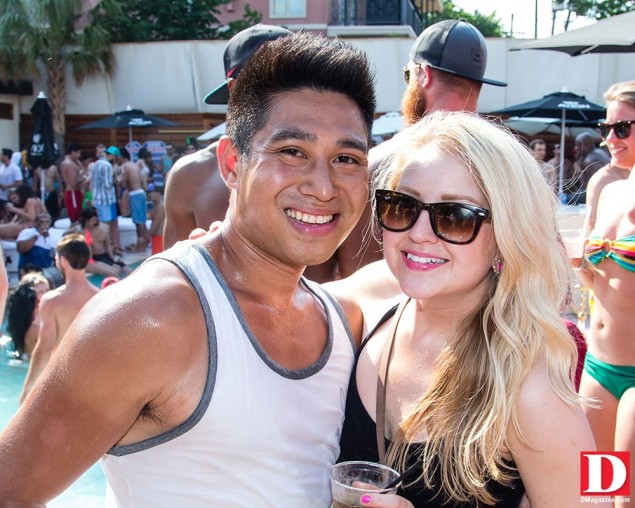 Fraternal Order of Eagles
Nickname: F.O.E.
The scene: A family-friendly attraction with an Olympic-size pool, kiddie pool, two volleyball courts and two outside bars. The crowd ranges from kiddos running wild to the tattoo-flaunting hipster to the parent getting a break from mommy duty. The F.O.E. is kind enough to allow outside food and non-alcoholic drinks in.
How to get in: Get there early to secure a spot in the parking lot before it fills, because this pool is open to the public for a mere $7 to non-members and $3 to members.
What to eat and drink: There is no better excuse to get your drink on than knowing your money benefits several charities. Down as many $1 Jell-O shots as you can (did I mention they are only $1?). Burgers and fries are at the ready.
DiP DayClub at Club 8
Nickname: Daylife
The Scene: A natural habitat for partygoers, socialites and Prima Donnas, Dip features 10 exclusive VIP cabanas, daybeds VIP suites, poolside bottle service and a 7,000 sq. ft. pool. Though the Night Hotel offers poolside pampering and relaxation, there won't be much downtime with guests DJs bumpin' music through their line array concert series sound system. A pool party destination, expect things like bikini contests, beer pong tournaments and most likely lots of drinking twenty-somethings.
How to get in: Dip Mega Pool Party does it big in the sense that partygoers need a full week to recover. Dip is open to the public every Sunday for a range of prices (depending on the day). However, the club likes to throw parties every chance they get, so you could easily find yourself there on a weeknight.
What to eat and drink: This is the Vegas of Texas, so indulge in the Grey Goose bottle service with a shrimp cocktail and chocolate covered strawberries to appease your swankier side.
Belmont Hotel
Nickname: Poolside Green or The hotel next to Smoke Restaurant
The Scene: A mix of vintage and hipster, these guests are looking for a chill party with lots of sun. A plush green lawn full of beach towels and filled lawn chairs surround Belmont's crystal oasis. Don't miss the KXT-sponsored Barefoot at the Belmont live music series every other Thursday night this summer featuring national and local acts.
How to get in: Normally pool access is only opened to hotel guests, but throughout the summer Belmont hosts events like their summer concert series that are open to the public.
What to eat and drink: Nothing says Texas summer better than The Big Rib from Smoke Restaurant next door accompanied by Bar Belmont's homemade cocktail Smokey & The Bandit, a Lone Star can and shot of any house infusion spirit.
SISU
The Scene: Land of the beautiful and home of the in-crowd, flock to this small pool for a more intimate club atmosphere. Think three bars, two floors and one quaint adult playground stationed around water. Sundays are the best day to grab your floaties for the AQUA series from 11 am to 7 pm with different DJs spinning each week. Although, ever since the opening of Uptown Truck Stop, SISU has become a hot-spot for those craving a lunchtime cocktail with their food truck grub.
How to get in: Look your best, because admission is really only guaranteed by SISU employees, even though the pool is open to the public. Come by for pool action 11 am to 8 pm Tuesday through Friday and 2 pm to 8 pm Saturday and Sunday. After 8 pm a strong club attire dress code will ensue for those looking to stick around for nighttime partying.
What to eat and drink: As you will most likely come during brunch hours, we suggest the Tiramisu French Toast with local brioche, espresso custard, amaretto mascarpone and fresh berries. That will go nicely with a Strawberry Fields cocktail or Lavender Martini.
Get the SideDish Newsletter
Dallas' hottest dining news, recipes, and reviews served up fresh to your inbox each week.