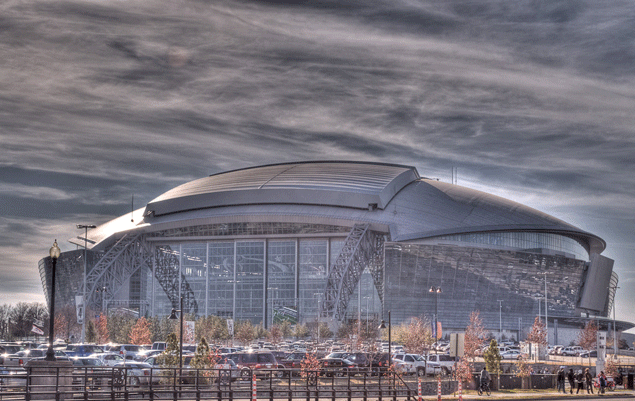 Grantland writer Bryan Curtis spent a few days in A-Town, over Final Four Weekend, to learn more about this strange place that's hosted the Super Bowl, two World Series, the NBA All-Star Game, among other major sports events, in the last few years, and which next year will host the college football national championship:
Yet no one raised outside "North Texas" knows much of Arlington — nor do they seem eager to find out. The NCAA's parties during March Madness took place 20 miles east of Arlington, in Dallas. ESPN built its open-air set in Fort Worth, 15 miles west. These slights activated Arlington's inferiority complex, as if the city were a puny referee throwing a tipoff between two all-conference centers. A former Arlington mayor once declared, "We're nobody's damn suburb."
The funniest bit comes when he talks to a couple who came to see Kentucky play for the national championship. They call Arlington "a beautiful town":
They were agog at the sight of AT&T Stadium. "I thought, Man, TV does not do this place justice," Bill said.

"I got a bigger kick out of the Walmart across the street," Jamie said. "It's not the place you would expect to see a Walmart."

The Beattys were ideal Arlington tourists. They were ready and willing to spend. The problem was, they were leaving Tuesday after the game. Arlingtonites have found that their city's shelf life is even shorter than that of Las Vegas.

Politicians like Charlie Parker would prefer to keep tourists here. Send 'em to the International Bowling Museum or have 'em try Babe's chicken downtown. But Arlington lacks a big, luxurious resort hotel that could glue tourists into place. So tourists like the Beattys will come to a game, have a great time, then leave. When they walk out of AT&T Stadium, they will hear a recorded message on a loudspeaker that says, "Thank you for attending the 2014 Final Four in North Texas! Please travel home safely!"
Read the whole thing.
Get the D Brief Newsletter
Dallas' most important news stories of the week, delivered to your inbox each Sunday.