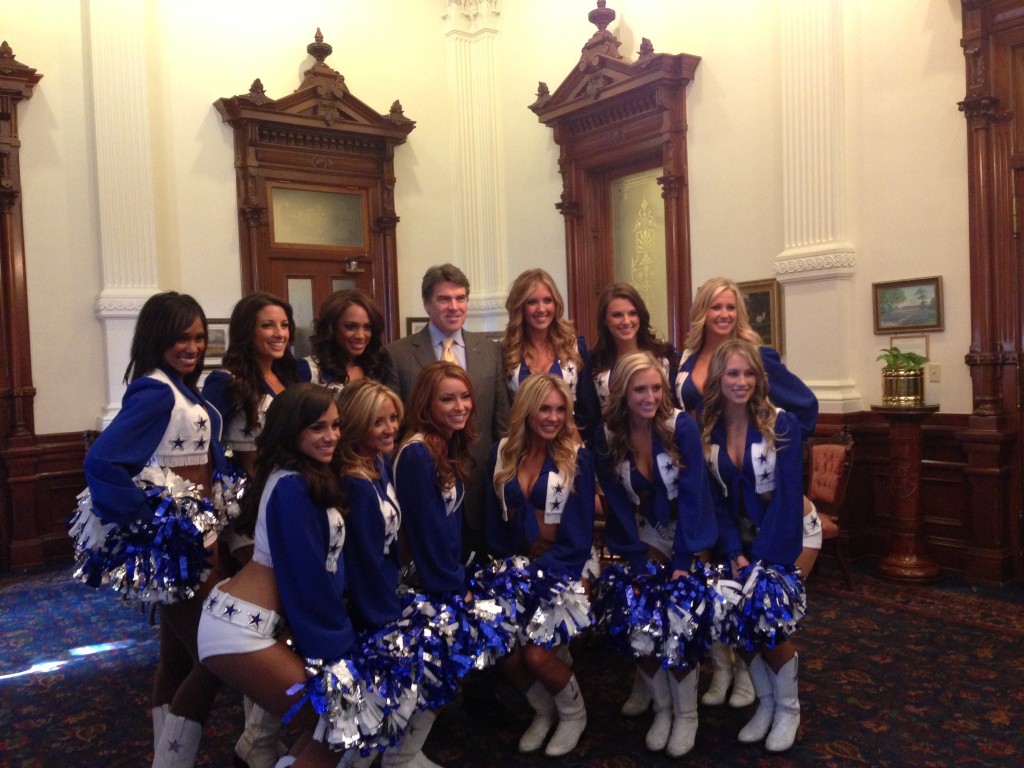 While my fellow interns were facing the perils of fact-checking, I spent my Hump Day jump-splitting on the steps of the Texas Capitol and schmoozing with Gov. Rick Perry. Why, you ask?
I'm one of 39 girls that have the honor of donning the blue and white star-spangled uniform as Dallas Cowboys cheerleaders. (Insert hair flip.) During the season we spend our weekends in Jerry's World, and in the off-season we can be spotted anywhere from hockey games in Georgia to, well, the steps of the Capitol.
As a rookie cheerleader born and raised in Louisiana, these past months have been similar to a ride on the old Texas Giant rollercoaster at Six Flags. Fast-paced, and a little bumpy and exhilarating. But, I digress. We'll save those stories for a different post.
Twelve cheerleaders, including myself, ventured to Austin on a windy Wednesday for a performance and appearance. The Texas Independent Producers and Royalty Owners Association, a collection of independent oil and natural gas advocacy groups, gathered in Austin this week to discuss issues affecting the oil and gas industry at its 67th annual convention. Naturally, they invited the Dallas Cowboys Cheerleaders to kick off the event… literally.
Despite a request from a young girl that we do "The Wobble," we performed our signature kick line and jump-split. Following our performance, we signed photos, met a few officials, and moved inside to meet Gov. Perry. He greeted us with a "Howdy," and I couldn't help but feel Texan. ("Howdy" isn't exactly a common word in Louisiana.)
Stay tuned for more tales. Meanwhile, here's a treat for those who don't quite grasp the concept of a jump-split. You're welcome.
Jacie Scott is a D Magazine intern, too.
Get the D Brief Newsletter
Dallas' most important news stories of the week, delivered to your inbox each Sunday.