There's a lot to consider when you're seeking fertility treatment, but it all starts with finding the right clinic. Follow this advice from CCRM Fertility, a global pioneer in fertility treatment, research and science, to make sure you receive the best treatment possible.
Start With the Numbers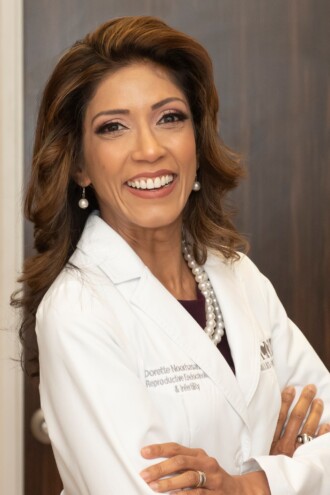 "The first thing you should do when evaluating a fertility clinic is check that it is a member of Society for Assisted Reproductive Technology (SART) and review its success rates," advises Dr. Dorette Noorhasan, an award-winning reproductive endocrinologist and medical director and co-founder at CCRM Fertility Dallas-Fort Worth. SART-associated fertility clinics must adhere to the highest standards for quality, safety, patient care, and even advertising. In addition, clinics must report all birth outcome data, which is then audited by SART. Clinics that are not SART members are, unfortunately, not held to the same standards. "As a SART member, CCRM Fertility is proud to stand behind our success rates and performance," says Dr. Noorhasan.
Patients should ask about the clinic's experience, too. How long have they been practicing certain techniques? It's important to inquire about specific data related to that treatment you're seeking. For instance, if you're thinking of freezing your eggs, you don't only want to understand how often the clinic has effectively frozen eggs—you want to know the rate of success for thawing those eggs and having the process result in a successful pregnancy.
Ask About the Full Spectrum of Services
You know the frustration of running around to a half-dozen stores to find everything on your grocery list? You don't want the same situation when it comes to your health care. Ask what services and treatments the clinic administers and which you'll have to go elsewhere for. Discuss how efficacy is monitored. What other resources does the clinic offer?
CCRM Fertility is unique in that it's a full-service fertility center with its own labs and genetics department; everything from initial assessments to developing embryos to genetic testing of embryos happens in-house. The clinic also tracks the progress of any attempted protocols to make sure they're working for the patient. "It allows us to have tight quality control. All of our patients' samples, all of their testing, all of their embryos are handled within our practice. We're not relying on outside labs or resources to do any of the evaluation," says Dr. Noorhasan.
Pay Attention to How You Feel
Dr. Noorhasan encourages patients to consider the following: Do you feel comfortable with your provider? What about the rest of your clinical team? Do you appreciate the way information is being conveyed to you? Do you leave the office with a good understanding of your fertility diagnosis and the treatment options that might be appropriate? If not, it may be time to seek a second opinion.
In addition to finding a fertility clinic with exceptional labs and success rates, Dr. Noorhasan shares that there are steps that patients can take on their own to help them not only feel more in control throughout the process but boost their chances of success. CCRM Fertility Dallas–Fort Worth, blends modern medicine with holistic healthcare for her fertility patients. It's a combination, she says, that has made a measurable difference through the years.
"The healthier a man and woman are, the healthier the sperm and egg will be—and the healthier the pregnancy will be," Dr. Noorhasan says. "We cannot change our age or our genetic predispositions. What we can control are the things we eat, how often we exercise, our exposure to toxins, our stress levels, and how we live our lives in general. As a fertility specialist, I have learned that controlling these factors has an additive effect on fertility."
Dr. Noorhasan became even more aware of the connection between holistic health and fertility when she completed continuing education training with the American College of Lifestyle Medicine. As she was exploring ways to improve the body's system for better health overall, she made a clear connection between one's health and fertility. While procedures, such as IVF, remain the gold standard for fertility treatment, Dr. Noorhasan is also prescribing adopting a healthier lifestyle for her patients.
Supplements for Fertility Health
Certain vitamins and supplements, such as CoQ10 and Omega 3 fatty acids, have been shown to improve fertility. In addition to these over-the-counter supplements, Dr. Noorhasan prescribes patients a unique supplement developed by CCRM Fertility. CCRM Açai is a 100% natural antioxidant made from acai berries sourced from the Amazon. Studies have shown that CCRM Açai can boost the odds of a successful pregnancy. 
According to Dr. Noorhasan, oxidative stress—an imbalance between free radicals and naturally occurring antioxidants in the body—is known to substantially contribute to aging ovarian dysfunction and diminished egg quality in women and sperm DNA fragmentation in men. Both can negatively impact IVF outcomes. Taking the CCRM Açai supplement for 90 days prior to treatment can help reduce oxidative stress and restore the delicate redox balance in the ovaries and testes. A peer-reviewed, published study of women ages 28 to 44 who took the CCRM Açai supplement prior to stimulation for their IVF cycle showed excellent outcomes, particularly in older women. A peer-reviewed, published study of 50 men ages 33 to 43 with abnormally high levels of sperm DNA fragmentation took the CCRM Açai supplement every day for 90 days prior to an IVF cycle. Seventy-six percent of men in the study tested in the normal range for sperm DNA fragmentation at the time of sperm collection for fertilization.
Natural Fertility Tips from a Board-Certified Reproductive Endocrinologist
In recent years, there has been an overall interest in holistic and natural care, including with fertility treatments. Dr. Dorette Noorhasan, medical director and co-founder of CCRM Fertility – Dallas-Fort Worth, says more of her patients are asking what they can do on their own to complement the treatments they receive in her fertility clinic. "Everything I recommend for my patients, I have done for myself and continue to do for my health," says Dr. Noorhasan, who underwent IVF 10 years ago to conceive her son. "I understand the desire my patients feel to become parents and their willingness to do whatever it takes to have a healthy pregnancy and baby."
When patients ask about holistic and natural care, Dr. Noorhasan recommends they incorporate the following to become mentally and physically healthier.
Nutrition. "Patients often ask me, 'What should I eat during my treatment?' A healthy diet in general leads to feeling better and having more energy. In theory, because you have more energy, your cells improve and are healthier," Dr. Noorhasan says. "Hopefully, the changes you see on the outside from a healthy diet are also happening on the inside. I always recommend eating leaner meats, eating foods rich in antioxidants, adding more fruits and vegetables to your diet, and staying away from environmental exposures, such as plastic water bottles. Switch to stainless steel and glass bottles and containers."
Exercise. "Exercising in moderation is great, but excessive exercise isn't a good idea," Dr. Noorhasan says. "You can be too lean and not have enough fat cells. Babies need cholesterol and fat cells to grow. One form of exercise I personally do myself and recommend to my patients is yoga for the stretching and meditation benefits. Look for exercises that are calming and provide a mental rest."
Sleep and relaxation. "Getting a full night's sleep is very important, but you also need mental rest so that you're not constantly engaged in stimuli," Dr. Noorhasan says. "I recommend massage or acupuncture. Patients often do better with embryo transfer after this because the nerves are calm."
---
Interested in speaking with a fertility doctor? Contact CCRM Fertility today and a representative will reach out to schedule an in-person or telehealth appointment. 
At CCRM Fertility, your care is our priority, and we will ensure you and your family always get the care you need.
Signup for D Exclusive
Get partner offers, discounts, and more delivered right to your inbox each week.
Author