Anyone who has spent more than a few hours working in their yard knows this is a job best left to the pros. It's hard work and goes far beyond the effort of planting pretty flowers and shrubs. A picture-perfect garden requires proper planning, intentional design expertise, and detailed execution. Whether you are looking for a summer refresh for your front yard, backyard, side yards—or all of them—it's important to seek the expertise of an experienced landscape design professional who has worked with the size, scale, and caliber of outdoor living spaces like your own. The planning and design that goes into the front end of the project can save you time and money—and best of all–help you achieve the outdoor space of your dreams.
Before you begin your outdoor living project, consider these five tips Davey Devlin, owner of Scapes Incorporated, a Dallas-based luxury landscape and hardscape services company.
Plan Ahead.
"Sometimes, clients will come to us after they have attempted to do their own landscape design, and the results didn't turn out the way they wanted them to. Other times, clients just aren't sure where to start. This is why we stress the importance of taking time in the landscape design process. It's easy to not take into account the full scope of work that is required; it's so much more than planting. We look at your site's topography, how your site drains, how you're your neighbors' sites drain, potential irrigation issues, and the level of the yard, among other things. So much goes into how the yard functions before we ever get to the aesthetic part."
Consider Your Goals.
"Do you plan to use your outdoor living space for parties and entertaining, or do you want a more intimate space for the family to privately enjoy? Many of our clients have standard-built homes from the 2000s, and they are really nice, but the backyard was somewhat forgotten—maybe a concrete slab in the back where they can put a grill and some chairs. Before we begin the redesign, we need to know how our clients plan to use the space."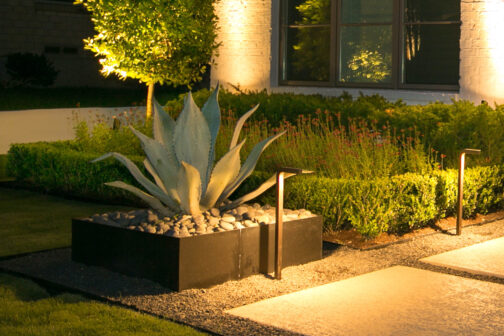 Create a Seamless Transition.
"One of the best parts about redesigning your outdoor living space is the ability to make a smooth transition from the indoors to the outdoors. The goal is for the outdoor space to be an extension of the home. We also want to incorporate functionality and make it practical for you in terms of maintenance. There should be designated areas for all the ways you'll use the yard—a place for entertaining, an area for the kids to play, a dog run, the patio area, the outdoor kitchen—we help seamlessly link together to create continuity."
Add Visual Interest.
"There is so much to landscape design that happens before the installation—grating, draining, and determining which types of plants and grass will grow best on your site. Once we have this determined, we can make the design visually interesting by layering ground cover, staggering boxwoods, creating clean lines, adding different heights for interest, and incorporating detailed elements. We can also design the site so that the less aesthetically pleasing parts of your yard can be hidden, such as AC units and trash cans."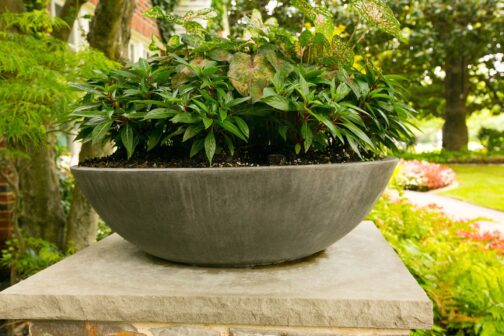 Work With an Experienced Pro.
"In addition to asking a landscape design professional about their experience and seeing their work, consider using a professional who is trained in landscape architectural software. For instance, we use 3D glasses that enable clients to experience the design we are proposing and actually 'walk through' their yard. This allows us to make any changes before the demo or construction begins. You also want to work with a professional who has extensive knowledge about the plants that grow well in your region. An experienced landscape designer will also look ahead—how will the landscaping age as the plants and trees grow and mature? Choose someone who has this knowledge and can put together an entire plan that is cohesive and well-designed for your specific needs and desires."
Ready to fall in love with your outdoor living area? Contact Scapes Incorporated for a consultation at https://www.scapesincorporated.com/contact and get design inspiration at https://www.scapesincorporated.com/projects.
Get our weekly recap
Brings new meaning to the phrase Sunday Funday. No spam, ever.
Author