A well-deserved spotlight shone on women during the month of March for Women's History Month, as we collectively celebrated the great strides that have been made. However, as most people know, the world needs more than one month to cover it all. Women in the workplace in Texas continue to be successful, but they—along with employers throughout the state—are recognizing a need to do more to encourage women's career growth.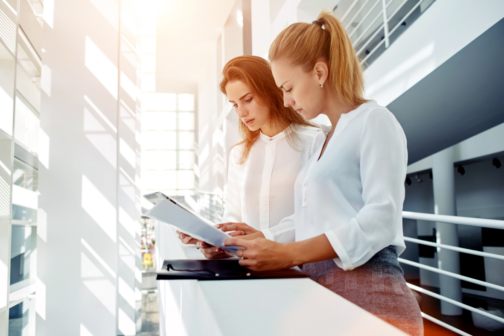 Research has shown that the COVID-19 pandemic disproportionately affected many women in the workplace. In addition to keeping up their career pace, many women, including those with children or other caregiving needs, had as much, or more, work to do at home with remote learning, healthcare concerns, and navigating the pandemic's challenges for their families. Now that the dust is beginning to clear from this two-year struggle, many women are facing the impact on their lives and careers. Deloitte Global recently published the results of its Women @ Work: A Global Outlook survey, which found that 51% of women are less optimistic about their career prospects than before the pandemic.
The takeaway: This is a critical moment for employers to understand the changes that many women want—and need—to see in the workplace.
Working women in Texas have their own set of challenges. More than six million jobs are held by Texas women—that's half of the state's jobs. However, according to Texas Women's Foundation, for every hour that women in Texas work, they earn $2.83 less than their male counterparts. The gap is even larger for Black and Hispanic women. And although 63% of mothers in Texas are working, full-time childcare can be very expensive—often more than $8,000 per year. The U.S. Department of Health and Human Services reports that childcare is considered affordable if it costs no more than 7% of a family's income. By this standard, only 16% of Texas families can afford year-round childcare.
"Work-life integration is based on the idea that when we bring our whole selves to work—whether in-person or remote—we don't have to choose between success in our work and success in other parts of our lives."

Jen Fisher, Chief Well Being Officer, Deloitte
Deloitte Global's study highlights the impact when organizations lag behind—and the impact on the women who work for them—with significant variances between how these women rate their experiences in comparison to those who work for gender equality leaders. From productivity levels and mental well-being to job satisfaction, the difference is often stark.
As we start to rebuild the way "going to work" looks post-pandemic, it is incumbent on employers to implement change in the way we work with gender equality in mind. If you are a CEO who wants to create opportunities for the women in your company to achieve equality and leadership roles, start here:
Demonstrate visible leadership commitment.
This includes setting goals to increase gender representation at the senior level. Deloitte Global's Women in the Boardroom report reveals that as of 2021, women hold just 19.7% of board seats globally. While this is a 2.8% increase from 2019, the pace of progress hasn't changed much in the last decade; at the current rate, we won't reach parity until 2045. Similarly, in Texas, there remains a wide gap that businesses should work to bridge in order to reach gender parity in the boardroom. Disappointingly, Texas comes in below the national average when it comes to board seats held by women(the national average is 26.7%, while Texas comes in at 23.9%).
Enable work/life integration.
Lack of work-life balance is the top reason women give for considering leaving their employer, according to the Women @ Work report. In fact, they cite "providing flexible working options that do not hinder my career progression" as one of the top three most important ways that organizations can support the retention of women. Organizations who want to lead in gender equity should consider establishing clear boundaries around working hours, normalizing flexible work schedules, and providing fulfilling development opportunities that include women, among other actions.
Invest in creating a pipeline of talent of diverse women.
Catalyst noted that at the beginning of 2021, racially and ethnically diverse women represented 17% of entry-level positions, yet only 4% of that group advanced to C-suite positions. This drop-off highlights the continued challenges to advancement that many diverse women face in advancing to senior roles within their organizations. This means that initiatives to help promote diversity should start early. By focusing on developing women into the next generation of leaders, the pathway to advancement can become clearer.
We've seen that employers have an opportunity to rebuild workplaces that are prepared for the future. Leaders in all industries can play in building a diverse and inclusive future take steps to bridge the gap to achieving gender parity at work. As we start to rebuild the workplace post-pandemic, it is incumbent on employers to rebuild the way we work with gender equality in mind: a workplace that works for all and is fit for the future.
To download the full 2021 "Women @ Work" report or to learn more, go to www.deloitte.com/womenatwork.
Signup for D Exclusive
Get partner offers, discounts, and more delivered right to your inbox each week.
Author