Online counseling allows you to engage with a mental health professional at your convenience. It was created to increase access to mental healthcare by connecting people to a professional who communicates with her/him via messages, phone calls, text, live video conferencing, or phone conversations.
Psychotherapy services are among the most frequently utilized telehealth services in the U.S., according to Kathryn Esquer, PsyD, the founder of Teletherapist Network, which is an association for licensed therapists practicing online therapy.
It is not easy to find a therapist, and not only is online therapy handy, but it is far less expensive than in-office therapy. Additionally, you can control how you connect with an online counselor, which gives you more opportunities to develop a therapeutic relationship.
Best 7 Online Therapy Platforms:
#1. BetterHelp – Overall Best Online Therapy Site
Overview
BetterHelp is the industry leader in online therapy. This eight-year-old firm, known for its database of thousands of therapists worldwide, has evolved from a tiny online mental health counseling service provider to a storehouse of the most diversified and extensive programs to date.
Each counselor is licensed, trained, accredited, and has extensive expertise. BetterHelp requires therapists to have at least three years of experience and 1,000+ hours of supervised clinical practice following their degree.
BetterHelp specializes in various areas of mental illness therapy, including anxiety, relationship issues, depression, addiction, and eating disorders, among others.
Features
First, you have to fill out a questionnaire about your present mental health conditions, which will take you around five minutes. After you have filled out the form, you will be brought to the homepage containing payment information. Here, you will see the weekly cost and the amount the supplier will charge you instantly, which is an upfront payment for four weeks.
This process may take anything from a few hours to a few days. Once matched, you will have access to a confidential counseling room where you may communicate or plan a live session. There is no issue if the therapist is not a suitable fit. Simply click on the "Change Counselor" option in your profile menu, and you will be presented with various new counselor profiles from which you can pick.
Live sessions take around 30 to 50 minutes. Depending on the psychiatrist's availability, sessions can be conducted by video, live audio (or phone), or live chat.
Pricing & Modes of Payment
The mental health services cost somewhere between $90 and $120 a week. However, we were charged $150 each week, with an initial fee of $600 to proceed. That is something to keep in mind if you go for the sign-up process. Financial help is offered to qualified students, and the application link is located in the payment section. Unfortunately, BetterHelp does not accept insurance. You will be invoiced for four weeks and have the option of canceling at any time. Financial assistance is available, too.
Unlimited text, voice, and video messaging are included in the weekly cost. You may schedule a real-time session by chat, phone, or video by selecting a time slot on your counselor's calendar.
Pros
Interact with a therapist via chat rooms, phone calls, live chat, and live video
Extensive expert network
Financial assistance is provided to those who qualify
Straightforward procedure for changing counselors
Some therapists give tasks between sessions to enhance the therapeutic experience
Cons
No insurance accepted
Online individual therapy for adults only
Some therapists place an excessive emphasis on homework assignments
#2. ReGain – Best Counseling Site for Couples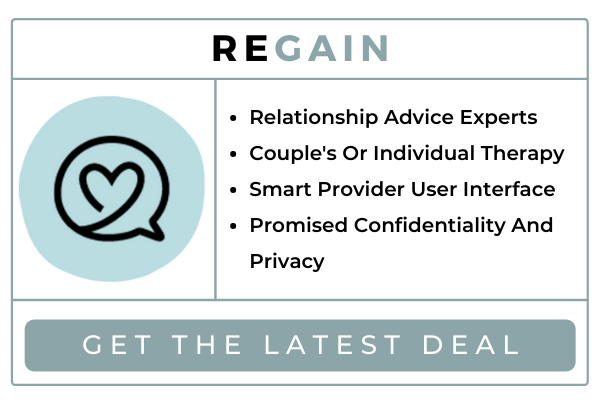 Overview
Improving your relationship via better communication might occasionally require expert assistance, which is where ReGain comes in. It was created to help you communicate more effectively with your partner or spouse and enhance the quality of your relationship. To help you tackle this, the psychiatrist provides couples counseling. But, therapists are also available for solo sessions if required.
Features
You need to complete a questionnaire about your present mental health condition, which will take you around five minutes. You may either finish the onboarding process independently and ask your partner to join in, or you, as a couple, can complete the questionnaire. In addition, you will be asked questions about your personality and connection.
Once that has been completed, you will be sent to the homepage, which includes payment information. You can see the weekly and instant (or first-time) charges, payable four weeks in advance. The payment section consists of a URL to the application.
Connecting with a Therapist
Matching with a counselor might take anywhere from a few hours to a few days. Each counselor is licensed, trained, accredited, and has extensive expertise. ReGain requires therapists to have at least three years of experience and 1,000+ hours of supervised clinical practice following their degree. You and your spouse will connect with the online counselor via a shared account, and both users and therapists have access to all information.
Unlimited voice, text, and video communications are included in the weekly fee. You may schedule a real-time session by chat, phone, or video by selecting a time slot on your counselor's calendar.
ReGain services cost between $90 and $120 each week. You will be invoiced for four weeks at one go and have the option of canceling at any time. Financial help is also offered to qualified individuals.
Pros
Couples therapy
Two individuals pay the same as one
Therapists and counselors are relationship specialists
Counselors promote the use of live video sessions
Cons
The sign-up procedure is devoid of live assistance/chat
Cannot support three-way live sessions
Insurance policies are not accepted
#3. Teen Counseling – Best for Parents and Adolescents
Overview
Teens require a secure environment to address mental health challenges, interpersonal difficulties, and family dynamics. Teen Counseling, an online counseling platform designed exclusively for adolescents aged 13 to 19, helps with stress, anxiety, depression, coping capacity, consumption disorders, and anger.
When your teen is connected with a counselor, they will meet in a virtual therapy room. It is a private place to which only your adolescent and the licensed therapist have access. Therefore, your teen's conversations with the counselor are confidential unless they reveal they are contemplating self-harm or inflicting damage on someone, are subjected to abuse or neglect, and are aware of being mistreated or neglected.
Features
A guardian or parent completes a questionnaire about the teen's present mental health state. You will then be taken to a webpage, which includes payment information. Additionally, you will see the weekly cost and the amount that will be charged instantly. After your payment is received, the site begins the process of connecting the teen with a counselor.
Once the onboarding procedure is complete, your adolescent will get an email inviting her/him to join the counseling room. It is critical to understand this online therapy platform does not provide diagnostic services to clients.
Unlimited voice, video, and text communications are included in the weekly fee. You may schedule a real-time session by chat, phone, or video by selecting a time slot on your counselor's calendar.
Teen Counseling is priced between $90 and $120 each week. You will be invoiced for four weeks and have the option of canceling at any time.
Pros
Designed specifically for teenagers between the ages of 13 and 19
Therapists are well-versed and experienced with this age range
Only the teen and the therapist have access to the counseling room
Parents may attend sessions with the teen's invitation
Cons
Insurance is not accepted
Therapists do not diagnose teens
The service does not apply to court orders
#4. Talkspace – Best for Those with Health Insurance
Overview
If you are searching for a one-stop shop for all things related to online counseling, Talkspace is a fantastic place to begin. This platform offers online therapy to couples, individuals, and adolescents aged between 13 and 17. Additionally, it provides adult psychiatric services.
Talkspace's extensive network includes experienced psychologists, marriage, and family therapist counselors, licensed clinical social workers, licensed professional counselors in mental health, and certified counselors.
The therapy platform specializes in mental health issues like depression, relationship problems, stress, anxiety, OCD, consumption disorders, persistent illness, rage control, substance abuse, childhood abuse, and family strife.
Counselors on Talkspace have at least 3,000+ hours of clinical experience, according to the industry norm.
Features
One area where Talkspace stands out from the other online therapy platforms is a client's option to select from a pool of licensed therapists.
Rather than the website matching you with a single counselor, the platform provides you with a list of available therapists based on your responses to the questionnaire. You can then examine them to determine which therapist would best meet your requirements and expectations.
After being matched, you can begin chatting with a psychiatrist in a private, secure online room. This website is available 24 hours a day, and you may communicate with your therapist by voice, video, or text message.
With that being said, you will need to wait for your therapist to react since they are not obligated to do so quickly. Along with texting, you may arrange for live video sessions, which are similar to therapist's office consultations. Between appointments, your psychiatrist may assign you homework, too.
Talkspace psychiatry is a network of specialists in the mental evaluation and medication treatment of individuals aged 18 and above. Given the emphasis on healthcare management, you could select one of the treatment programs in addition to the psychiatric care you are being provided and can also get a doctor on demand.
Messaging Therapy Plus: Five days a week, a therapist responds by video, text, and voice messaging.
Messaging Therapy Premium: Unlimited video, text, and voice messaging with a psychologist five days a week and a 30-minute live session per month.
Messaging Therapy Ultimate: Text, video, and voice messaging with a psychologist five days a week and four 30-minute live sessions per month with a therapist.
Couples Therapy: Five days a week, a therapist responds through text, video, or voice, and four 30-minute live appointments per month.
Teens Therapy (13 to 17): Five days a week, text, video, and voice messaging with a psychologist.
Unlimited Messaging Therapy Plus: $260 per month
Unlimited Messaging Therapy Premium: $316 per month
Unlimited Messaging Therapy Ultimate: $396 per month
Couples Therapy: $396 per month
Teen Therapy: $260 per month
Psychiatry: $199 for the initial examination and $125 for subsequent appointments
Pros
Accepts insurance
Provides counseling to adults, adolescents, and couples
Provides psychiatric services, such as assessments and medication management
Initial consultations with many therapists
Therapists possess a wealth of clinical experience
Text, voice, video communications, and live therapy sessions are included in the plans
Cons
It may take several days to match with a therapist
Psychiatry sessions are more concerned with drug administration than with therapy
Not every package includes live video sessions
Therapists may take hours to react to messages
#5. Online-Therapy.com – Ideal for Cognitive Behavioral Therapy CBT
Overview
Psychotherapy can be delivered in a variety of ways, including cognitive-behavioral treatment (CBT). While most online therapy companies use counselors with CBT training, Online-Therapy is a platform dedicated entirely to this psychological treatment.
CBT helps you recognize and modify complex ideas, emotions, and actions. Working with a therapist will help you build coping strategies to confront and overcome these ideas and behaviors. Several common concerns therapists handle include phobias, anxiety, insomnia, PTSD, depression, stress, anger, social anxiety, OCD, attacks of panic, and consumption disorders.
Features
When you register with Online-Therapy, you receive access to an online therapy program comprising eight sections, each of which is meant to help you confront and overcome issues. These portions are accessible by text, video, or audio. Additionally, you will get access to an online counselor, a daily journal and exercise plan, as well as meditation and yoga videos.
Depending on your subscription, you will have unlimited messaging access to your therapist as well as one to two weekly live sessions. The hours of therapists' availability vary, but the majority are available eight hours a day, Monday to Friday. If you are not comfortable with your therapist, you may ask for a change.
Basic: Worksheets that may be completed independently with daily input from the therapist
Standard: Includes all the benefits of the basic subscription, plus one live therapy session per week and unlimited therapist texting
Premium: Includes the same services as the basic subscription, plus two live therapy sessions per week and unlimited therapist texting
The entry-level package costs $39.95 each week.
The weekly rate for the standard plan is $59.95.
Premium is $79.95 per week.
Pros
Treatment utilizing CBT is evidence-based
Yoga and meditation are included in the treatment schedule
Comprehensive FAQs section available
Treatment of a wide array of behavioral health disorders with a high success rate
Cons
The fundamental package does not include actual therapy sessions with a therapist
No services for children or adolescents
Only individual treatment is available
Insurance policies are not accepted
#6. Calmerry – Most Flexible Online Mental Health Professionals
Overview
Calmerry is a relatively young platform providing therapy online. According to third-party consumer review websites, the firm rates well for user experience and frequently receives favorable feedback from clients.
The expert network comprises licensed clinical psychologists, licensed marriage and family therapists, social workers in clinical practice, and certified counselors.
Calmerry encompasses various specializations, including depression, anxiety, relationship, OCD, anger, trauma, consumption disorders, family strife, PTSD, and panic attacks.
Features
Accessibility and Convenience
Calmerry's philosophy, like that of competing providers, is to make mental healthcare accessible and affordable for everyone. It does this in part through text-based treatment. Both membership options include unlimited text messaging, which makes communicating with a therapist convenient and straightforward.
Additionally, Calmerry ensures a prompt response from your counselor — often within a few hours. It is a fantastic alternative if you are hesitant to speak with a therapist face to face.
Calmerry's onboarding procedure is simple. After completing a questionnaire, patients receive a survey summary, including an emotional health score and a predicted progress summary. Additionally, it provides a success rate for Calmerry. The greater the number (between one and ten), the higher your anticipated success rate.
Then, you select the membership plan that best suits your requirements, and the matching procedure begins after payment is received.
Although Calmerry promised a match within one day, we were paired with a counselor in less than ten minutes and were ready to begin testing in our therapy session. This seemed to be the fastest service provider in this category, which can be quite helpful for people looking for quick help.
Although getting help fast is easier on this site, switching therapists is not as simple as it is on other sites. Calmerry requires you to reach out to the customer support service and offer a legitimate reason to allot a different therapist for you. Nevertheless, Calmerry customers regularly rate the program highly for customer satisfaction.
Messaging Basic: It includes unlimited text chatting with a qualified counselor five days a week, free counselor switching, and a customized therapy plan.
Messaging Plus Four Live Videos: Includes all of the basic plan's features plus four live video sessions.
Messaging Basic: $234.80 per month or $59.95 per week for a messaging-only service. The firm is now offering a $60 discount on the first month, bringing the price down to $41.99 a week or $167.96 a month.
Messaging Plus Four Live Videos: $379.96 per month or $94.99 per week for texting plus four live videos. The firm offers a $90 discount on your first month, bringing the cost down to $269.96 per month or $67.49 a week.
Pros
Rapid connection to a counselor
The simple registration process takes around five minutes
Positive client experience overall
Attentive and helpful customer care team
Daily response from a therapist is guaranteed
Discount on the first month's subscription
Cons
No services for children or adolescents
Health Insurance policies are not accepted
Cannot cancel your package at any time
Process for matching with a new counselor is inconvenient
No telephonic sessions
#7. Pride Counseling – Best for LGBTQ+ Counseling
Overview
Pride Counseling was founded specifically to give online therapy to the LGBTQ+ community. It is both accessible and welcoming to all people. The firm provides online treatment for various mental health concerns, including depression and anxiety, addiction, consumption disorders, bereavement, trauma, intimacy, and substance abuse.
Features
To begin, you have to fill out a questionnaire about your present state of mental health. Additionally, the questions inquire about your sexual orientation, identity, and pronouns. Once completed, you will be sent to the payment page. You will see the weekly cost and the amount that will be charged instantly in advance. The payment section contains a link to the application.
In most cases, you will be assigned a counselor within 24 hours. All counselors are licensed, trained, certified, and extremely experienced, with an emphasis on dealing with members of the LGBTQ+ community. Pride Counseling mandates therapists should have at least three years of experience and 1,000+ hours of supervised clinical work after graduation.
Unlimited voice, video, and text communications are included in the weekly fee. You may schedule a real-time session by chat, phone, or video by selecting a time slot on your counselor's calendar.
The cost of Pride Counseling ranges between $90 and $120 each week. You will be invoiced for four weeks and have the option of canceling at any time. Financial help is offered to qualified students.
Pros
Communicate with a psychiatrist via chat rooms, live chat, video chat, or phone calls
Therapists are LGBTQ+ community experts
Provides financial assistance to those who qualify
Changing counselors is a simple procedure
Cons
Insurance policies are not accepted
Age must be at least 18 years
How We Made the List – Our Selection Process
We spent over 1,000 hours studying hundreds of online therapy platforms, talking to industry experts, and becoming users to assess each service's quality and unique therapeutic alternatives.
Selection Criteria for the Top Online Therapy Platforms
Our selected online therapy platforms employ qualified and board-certified therapists with demonstrated expertise. It is preferable to engage with sites that hire licensed mental health professionals, including psychologists, psychiatrists, licensed social workers, marital/family therapists, and certified counselors.
Online therapy platforms maintain a high degree of security to safeguard private information. Policies on privacy should be easily accessible.
The chosen platforms include many modes of communication with therapists, such as messaging, live video, texting, phone calls, and live chat.
Customers can attend live therapy sessions as part of their subscription package or on an a-la-carte basis. The nearest in-person experience is a live video session.
Our selected online therapy platforms maintain a national network of certified therapists.
The onboarding and sign-up processes should be straightforward and quick. It includes the time required to find a psychiatrist match and the therapist's average response time.
All of the listed online therapy sites accept various payment methods and plans. However, only a few accept insurance.
You have access to friendly and responsive customer support representatives.
The cancellation policy for changing psychiatrists should be simple.
Things to Consider While Selecting a Platform for Online Therapy
Therapist Change
Make sure you can switch therapists. While no single therapist represents the whole business, selecting a platform that enables you to change therapists is essential. If the counselor allocated is not a good match, request a different one.
Cancellation
Cancellation should be simple and accessible. The online cancellation form should be easy to locate and complete.
Suitability
The online counselor should be a good fit for your situation. As with any product, experts emphasize the importance of finding the proper fit. For instance, are the physicians culturally aware and responsive to your unique needs? Are they able to communicate in your language? Have they been trained and certified by reputable mental health institutions?
Expertise
Seek out individuals who have expertise in internet counseling, and inquire about the therapist's expertise with internet counseling. Ascertain that they receive training and education in teletherapy regularly, and also make sure the therapist's availability corresponds to your requirements. While working with internet therapists, ensure their availability fits yours, as that is among the most challenging aspects of therapy.
Reviews
Reviews are available on the therapy site and several third-party sites such as Trustpilot, Reddit, Google Reviews, Better Business Bureau, Best Company, and Consumer Reports. The American Psychiatric Association (APA) maintains an app advisor who evaluates various online teletherapy apps. So, verify the platform in question is listed.
Technology
Examine your technological configuration, and ascertain that you have adequate bandwidth, router capabilities, and current equipment. Some platforms make it easier and more tech-equipped to allow individuals to connect with counselors faster.
What Is Online Therapy? Does It Really Help?
Cyber-counselling, teletherapy, and e-counseling are terms used to describe online therapy. Whichever term you use, the procedure is the same. Therapists provide mental health support and care via video, text, phone, and email.
Online therapy operates in the same way as traditional therapy, except that the participants are geographically separated. You may communicate with your psychiatrist in real-time and discuss concerns or everyday struggles. According to research published in the World Journal of Psychiatry, those who utilize teletherapy services express "extreme happiness."
Benefits of Online Counseling for Mental Health
Online therapy has several advantages over in-person treatment. To begin with, it is far more convenient, as you do not have to worry about transportation or scheduling conflicts. In addition, numerous companies provide 24/7 chat and limitless texting to ensure you receive assistance when you need it the most.
It lowers the hurdles of seeking help for mental problems. In addition, you may conduct live sessions with another person from the comfort of your home. These consultations help you avoid the stigma of discussing mental health.
Finally, teletherapy is less expensive than in-person therapy. Online therapists are not required to pay for overhead expenses such as office space and furniture. As a result, you will benefit from decreased total costs.
Best Way to Communicate with an Online Therapist
Phone
Are you prone to lengthy phone conversations with your family and friends? Then, telephone-based internet counseling may be perfect for you. It gives you immediate insight and help, even while you are on the move.
Texting enables you to communicate with your psychiatrist at any time of the day or night. Certain teletherapy companies provide unlimited message services to guarantee consumers receive help 24 hours a day. It is the ideal solution if you want a safe environment that does not demand a quick reaction.
Video
If you want to mimic the in-person experience, video is the greatest option. You may hear and see your psychiatrist in real-time, which creates an atmosphere of intimacy and connection. While these counseling sessions are not the same as meeting with a therapist in their office, they are the second-best thing.
Email
You may not require or even desire a prompt answer from your counselor. In such a scenario, consider email as your preferred therapeutic medium. You may obtain in-depth emotional assistance without committing to a virtual session's time commitment.
FAQs: Best Online Therapy
Q: What Are the Costs of Online Counseling Services?
A: The cost of virtual therapy varies according to the platform and the mode of communication. The majority of providers charge a premium for video conversations in comparison to text messaging. Each session will cost between $40 to $120 each week.
Note that the fee for each session for traditional in-person counseling is significantly higher. Patients spend an average of $90 to $150 per hour for personal consultations, which increases dramatically if they live in big metropolitan areas such as New York City or San Francisco. If you wish to save money on the next treatment session, look for an insurance-accepting therapist.
Q: Does Insurance Cover Online Therapy?
A: It depends on the services of the website or platform you are using. You must determine first whether the firm accepts insurance, and second, if your insurance covers this type of treatment.
You should contact the insurance provider to determine your eligibility for coverage. If it does, you can choose a therapist within your insurance network and have the insurance company cover a percentage of the cost. Otherwise, you are financially liable for the expense of therapy.
While finding a therapist who accepts insurance might be difficult, it should not be the deciding factor. Financial aid is available to low-income individuals through organizations such as BetterHelp. These subsidized programs enable those who would not afford therapy on their own to get it.
Q: Are All Online Therapists Licensed Mental Health Professionals?
A: Qualified therapists are licensed at each platform on our list. The licensing procedure is critical for consumer protection, as the terms "therapist" and "psychotherapist" are not protected by law in some states. In certain states, anybody can assert that they possess the necessary credentials without really possessing them.
Each therapist must be licensed in the state in which they practice. Before assisting actual patients, healthcare workers must undergo training and certification. Most websites include information about a therapist's license, such as when they obtained it and their license number.
Your mental health deserves adequate attention and care. Investing effort in researching a therapist's credentials can significantly improve your entire experience. If you cannot locate information on a therapist's license, consider it a red flag.
Q. Is Virtual Therapy Effective?
A: According to research, virtual treatment may be more successful than face-to-face counseling. In addition, it enables therapists to make more accurate diagnoses and give appropriate assistance.
There are a few reasons why internet treatment may be more successful than traditional therapy. To begin, video conferencing with a virtual therapist eliminates the stigma related to treatment. You may have a relaxed chat without the fear of running into an acquaintance at the clinic.
Secondly, virtual treatment fosters a sense of security. For example, a video session may provide you with the confidence necessary to divulge confidential or intimate information. If required, you can enroll under a nickname to safeguard your identity.
Finally, individuals are more inclined to seek assistance online. The ease of the medium may make it simpler for therapists to identify and treat difficulties when they are still in their infancy. In addition, virtual therapy's proactive approach may help you avoid more extensive or complex problems in the future.
Conclusion
We could have suggested more such platforms or websites. However, the seven online therapy platforms listed above can assist you 24/7 with mental situations, such as grief, low self-esteem, schizophrenia, insomnia, etc. Read our guide and the FAQs to stay on the safe side while choosing a suitable platform. We highly suggest seeking help from platforms like BetterHelp, ReGain, and Teen Counseling.
But remember, it is best to overcome your mental health issues in time to allow yourself the happiness you deserve!
Signup for D Exclusive
Get partner offers, discounts, and more delivered right to your inbox each week.
Author