You know what they say: You don't get a second chance to make a first impression. To make your first impressions as memorable as possible, you need to feel as confident as possible. If your skin is smooth and glowing, and those fine lines are hidden away, you might even feel confident enough to strike up the conversation that will change your life.
We can't guarantee that using one of these incredible face care products is going to make your small talk witty, but we can promise that they will leave your face radiant and full of life. Finding face care products that actually work as intended can be a challenge, and that's why we've done the research for you. Read through our list of the best face products, and we're sure you'll find a product you can't resist—be it a lotion, serum, exfoliating foam or another innovative face-care solution.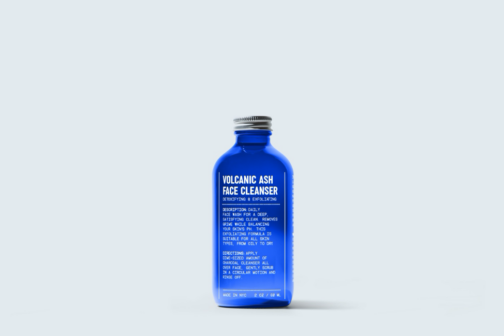 By providing a no-nonsense, all-natural facial cleanser, Blu Atlas cut the line and got to No. 1 on our list. Their Volcanic Ash Face Cleanser does everything you need a cleanser to do: It balances your skin's pH, buffs away dead skin cells, and removes dust and grime from your pores. Oh, and it does all that for an affordable price. Effective, natural, straightforward…it's easy to see why we love this Blu Atlas product!
The unusual but potent combination of volcanic ash and pomegranate seed oil makes this cleanser ultra-effective. The ash attacks dead skin cells and restores skin's elasticity at the same time. The cleanser's pomegranate seed oil then steps in to provide hydration, leaving you with a natural glow.
Not only does Blu Atlas make simple and effective products; they're also incredibly committed to their customers. They have a responsive customer service team and offer 100% money-back refunds if you're unsatisfied with your purchase. If you like their products, you can sign up for their subscription service and save up to 20% on all items. Check them out!
#2. Crème de la Mer by La Mer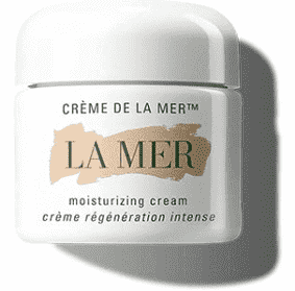 After a brutal lab accident left a physicist badly burned, the resulting twelve years of experimentation led to the creation of a Miracle Broth. No, we're not talking about a sci-fi flick that you scrolled past on Netflix the other night; we're talking about La Mer, the world-famous cosmetics brand. The story may sound too wild to be true, but that's how La Mer was founded. And the Miracle Broth that Dr. Max Huber invented after more than 6,000 experiments is at the core of Crème de la Mer, La Mer's signature product.
If you use this moisturizing cream daily, you're sure to feel the Miracle Broth at work almost instantly. Your dry skin will begin to moisten up, thin lines and wrinkles will fade, and your skin will be rejuvenated. For many of the ingredients, Dr. Huber turned to both the land and the sea, which is why this cream includes ingredients like algae, alfalfa, sunflower, and sweet almond. Together, these ingredients will leave you with firmer skin and a fresh glow.
In addition to Miracle Broth, you'll find the antioxidant-rich ingredient of lime tea. This helps create a natural barrier around your skin, keeping out pollutants and toxins. We promise you'll love Dr. Huber's powerful creation, which is free of phthalates and parabens. For the best results, make sure you pay close attention to the application directions. Crème de la Mer works best when you take your time and apply it correctly.
#3. Advanced Génifique Face Serum by Lancôme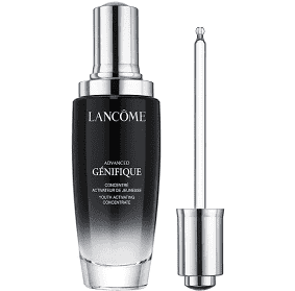 Lancôme has become an iconic name in the skincare industry. The company was founded in France in the 1930s, but they are now part of L'Oréal's Luxury Products division, which has been responsible for a number of breakthrough skincare formulas.
This particular serum has been 20 years in the making. What we love most about the product is that it is designed for all people. It doesn't matter your age, ethnicity, or skin type; this product is going to work. The serum is loaded with hyaluronic acid, as well as seven natural prebiotics and probiotics. Together, these ingredients will leave your skin radiant and protected from toxins that fill the air around us. If you want firmer skin, a more even skin tone, and better skin texture, consider trying this Lancôme serum. 
To begin looking and feeling younger, and to give your skin the ultimate protective barrier, apply this serum in the morning before you start your day, and at night when you end it. Lancôme is the height of luxury skincare. Treat yourself!
#4. Facial Treatment Cleansing Oil by SK-II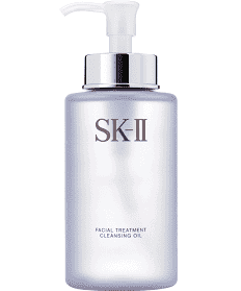 SK-II has long been an industry leader in Japan and throughout Asia. Luckily for us, SK-II products are now available around the world. The company got its inspiration from elderly workers at sake breweries in Japan. Scientists had noticed how smooth and healthy the brewers' hands appeared after years of dipping them in the fermented yeast. Working in laboratories, scientists isolated the yeast, calling it Pitera™. This is the ingredient that makes SK-II products so effective.
This particular facial cleanser is an award-winning product from SK-II. It will remove even tiny amounts of oil and other impurities from your facial pores. Your skin will have a brighter glow and a smoother texture. Over time, this cleanser will improve the texture of your skin as well. This is all thanks to SK-II's secret weapon, Pitera™, which is packed with vitamins, amino acids, minerals, and organic acids that help to make your skin as healthy and radiant as possible.
This cleanser also contains apple-seed extract to add antioxidants to the already-potent Pitera™. And to top things off, Moringa pterygosperma seed extract is included. This extract is an impressive skin cleanser that will burrow deep to ensure a thorough clean. For the best results, apply the cleanser in the evening when you're washing your face.
#5. Super Anti-Aging Face Cream by Dr. Barbara Sturm

For many years, Dr. Barbara Sturm practiced privately, keeping her so-called "Kobe Procedure"—named after the late NBA legend—and other sought-after beauty and cosmetic treatments for her lucky clients. Thankfully for all of us, Dr. Sturm has decided to release her formulas and treatments to the public. She uses her background in orthopedics and aesthetics to mobilize the body's own proteins to treat the skin and visibly remove signs of aging.
This anti-aging face cream works immediately as well as over the long term, giving you results you're going to love. It utilizes a unique formula that copies the body's natural skin defenses to create a tough barrier around your skin. One of the active ingredients—meadow knotweed extract—will restore your skin's natural vibrancy, while the purslane acts as an anti-aging workhorse to fight free radicals. The cream also uses a special combination of plankton and hyaluronic acid to keep your skin hydrated.
Using (and strengthening) the skin's natural functions to defend against the signs of aging makes this a one-of-a-kind product. Dr. Sturm recommends that older users put the cream on both day and night, every single day. However, if you're younger, you can get away with only using the cream a couple of times a week, as long as you use another moisturizer in between. Note that this cream is fragrance-free, so if you prefer a scented solution, we would recommend looking into another of Dr. Sturm's excellent moisturizers.
#6. Soothing Cleanser by SkinCeuticals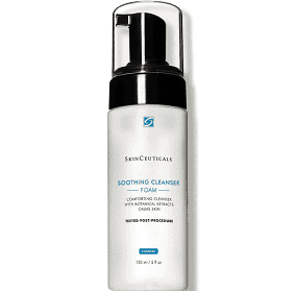 After decades of cutting-edge skin-cancer research, the doctors at SkinCeuticals decided to combine their breakthrough findings with everyday consumer products. The result is what they call "cosmeceuticals." Cosmeceuticals lie at the intersection of cosmetics and pharmaceuticals and are clinically proven to make your skin better. Essentially, SkinCeuticals is giving you products that are at the forefront of skincare science. In addition to their highly effective products, SkinCeuticals gives back to those in need by partnering with a global nonprofit to secure access to medical education for women in developing countries. 
SkinCeuticals' soap-free cleansing foam is great for giving your skin a deep wash and clearing out your pores, so the toxins and oils don't create blemishes and irritation. The best part is that it is designed with all skin types in mind, and it will not just clean your skin but will also hydrate and repair it as well. Made with amilite surfactant and other concentrates, this formula is great both for daily use and after you've had procedures such as a chemical skin peel, laser treatment, or injections. Because the foam is soap-free, it will not irritate your skin post-procedure.
#7. Kiehl's Cactus Flower & "Tibetan Ginseng" Hydrating Mist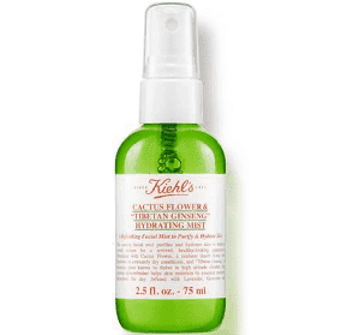 Of course, we had to include a Kiehl's product on our list. The company, which opened its doors in 1851 in New York City, is now a mainstay in skincare, and for good reason. They have products on the shelf today that have been around since at least the 1960s. The company has always gone against the grain, such as when they began listing their ingredients on their packaging in the 1920s—a rarity at the time. The important things have not changed since their founding: Kiehl's is still committed to providing consumers with effective, science-driven products that help keep skin radiant and healthy.
This hydrating mist is made for when you're on the go. If your morning moisturizer or serum starts to lose its power, just keep this spray nearby to keep your skin feeling soft and smooth all day long. The mist hydrates using cactus flower, an ingredient loaded with amino acids, vitamins, and minerals that will help your skin retain moisture, just like the plant. The addition of Tibetan ginseng shocks the skin with a boost of energy that will last the entire day.
For a quick pick-me-up while you're out with friends or at the office, be sure to keep this Kiehl's hydrating mist close by.
#8. Hydrating Toner by Murad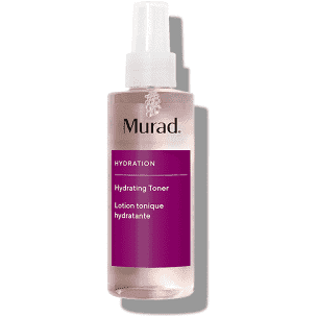 Dr. Murad spoke at the 1990 Esthetics' West Expo, where he launched his skincare revolution with the dictum "Skincare is healthcare." Ever since, Dr. Murad has been bringing together scientific and healthcare professionals to create top-notch skin care products for the masses. Dr. Murad holds a whopping 19 patents for skincare products, so you can trust him to take care of your skin's needs.
One interesting feature of this Hydrating Toner is that it seeks to balance out the pH levels in your skin. It achieves this by using sodium PCA while leaving out any alcohol and parabens, which only serve to hurt our skin, bodies, and the environment. Additionally, the formula includes osmolytes to regulate the water balance in your skin. The spray also uses peach and cucumber fruit extracts to rehydrate your skin, while lecithin and grape seed extract serves to keep the moisture locked in all day. There are no animal products whatsoever in the toner.
The toner is meant to be used both in the morning and the evening following a facial cleanse. To apply, hold the spray eight to 10 inches from your face, close your eyes and spritz an even layer onto your skin. Just make sure to avoid spraying your eyes. No matter what type of skin you have, it will benefit from this Hydrating Toner. And remember what Dr. Murad says: Skincare is healthcare.
#9. Active Serum by Shani Darden Skin Care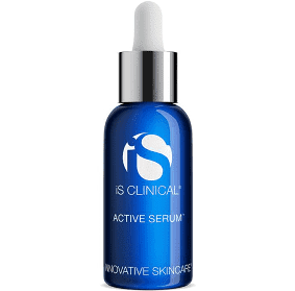 If you want a product with star power, check out Shani Darden's collection. Darden has built up a reputation as one of the leading estheticians in Hollywood. She started out working for a dermatologist, but instead of sending clients home with name-brand products, she mixed her own creations and quickly built a following. Her brand only recently began retail operations but has already seen huge success.
One of the flagship products from Shani Darden Skin Care is this versatile Active Serum. The ingredients, which include salicylic, lactic, and glycolic acid, not only work to exfoliate your skin by cleaning your pores, but also liven up your skin and fight fine lines. Other active ingredients include bilberry extract and white willow bark extract, which go deep into your pores for a thorough clean, all without irritating your skin. And the arbutin and mushroom extracts work together to even out your tone while making your skin radiant.
One thing worth noting is that when you apply this serum, the tingling you feel is normal. In fact, that means the Active Serum is working. Apply in the evening after your normal cleanser for an even deeper, more revitalizing clean and rehydration.
#10. Squalane + Glycolic Renewal Mask by Biossance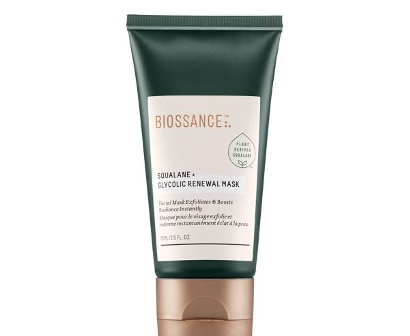 The story behind Biossance is almost too wholesome to believe. Back in 2003, their scientists had originally set out on a mission to find a cure for malaria. Thankfully for humanity, they achieved their goal and have since given out more than 120 million royalty-free treatments. After saving countless lives, some of these scientists turned to skincare. Using rigorous scientific methods, Biossance produces skincare products that do not in any way harm animals or the earth. As a company, they are wholly committed to protecting our planet.
Biossance is more than a cool story; they also make incredible products. In a clinical report of 31 women aged 30-60, 100% of respondents saw an improvement in their skin texture after using this Renewal mask. And the best part is that the mask is a simple one-step process that takes just 10 minutes. The glycolic acid and minerals in the formula work together to peel away dull, rough patches from your skin while hiding fine lines and discoloration. These ingredients also work to enlarge your pores, making your skin appear extra smooth. Lastly, the squalane comes in to carry moisture down to the depths of your skin.
Pop on the Renewal mask just once a week, and you'll begin to see results almost immediately.
Signup for D Exclusive
Get partner offers, discounts, and more delivered right to your inbox each week.
Author