Sometimes our dry skin needs some serious help, but a face wash or a moisturizer does not always do the trick. Face oils provide an extra layer of protection for your skin, and can also offer profound benefits by repairing damage through intense hydration and nourishing. Whenever you begin experiencing dry skin, look for an oil, which is the ideal antidote.

The problem with selecting a facial oil is the vast array of choices that exist on the market. It's easy to get caught up in deceptive marketing and skip over quality products. We know how tough it can be to find the right face oil for dry skin, so we prepared this guide just for you. Having scoured the internet and sampled some of the most popular face oils for dry skin on the market today, we came up with this list of the 10 finest. Read on to learn about these incredible products.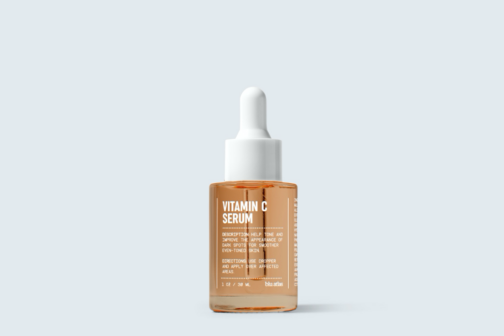 A powerful skin serum is a perfect product to top off your skincare routine. "Serum" may sound like something brewed in a lab. However, while Blu Atlas' Vitamin C Serum is certainly lab-tested, it's crafted from all-natural ingredients and is sure to leave your skin looking smooth and even.
What makes this product so effective is that it is based on vitamin C, one of nature's finest remedies for removing dark spots and free radicals. But this serum is also made with various fruit and citrus extracts, all of which are loaded to the brim with antioxidants, to form a natural barrier that keeps out toxins and pollutants. It also includes hyaluronic acid for healthier and more supple skin, and aloe leaf extract, which is a potent hydrating ingredient.
Serums can be an expensive add-on to your routine, but this one won't break the bank. Give this product a shot, and you absolutely will not want to leave this Blu Atlas Vitamin C Serum behind. We especially like this serum because, if you enroll in Blu Atlas' subscription service, you get up to 20% off listed prices.
#2. Lancer Skincare | Omega Hydrating Oil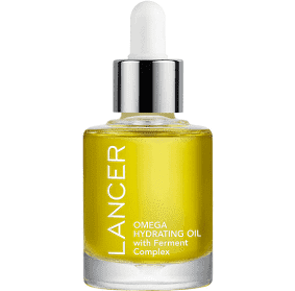 Lancer Skincare is the brainchild of celebrity dermatologist, Harold Lancer. After years of clinical experience, Dr. Lancer went "from practice to product" and invented a skincare line that aimed to solve everyday skincare concerns like fine lines, redness, and puffy eyes. From the heart of Beverly Hills, Dr. Lancer successfully developed his line of award-winning products that simulate the treatments he would provide out of the Lancer Dermatology Clinic.
Lancer Skincare's Omega Hydrating Oil is a lightweight oil that can hydrate skin like nobody's business. It promotes a healthier complexion for any skin type. The product contains a 10% ferment complex—a calculated blend of fermented oils, including olive, argan, and licorice. Together, these ingredients lock in moisture and soften fine lines to leave your skin with a dewy, healthy glow.
The focal point of this wholesome face oil is the Omega content. Relying on a blend of omega fatty acids 3, 6 and 9, the formula improves skin's elasticity and suppleness, while a turmeric component works to minimize redness and irritation. It works with a chlorophyllin-copper complex that improves both pore appearance and skin texture. If used regularly, this unique product is sure to breathe new life into your skin.
#3. Avène | Skin Care Oil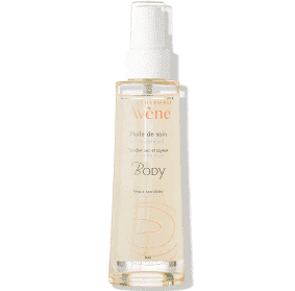 Avène is named after the town in the south of France where the cosmetics brand had its beginnings. Legend tells of a horse that had been suffering from alopecia and would bathe in the waters of the town's thermal spring to restore its coat. Avène became a top destination for tourists suffering from conditions like atopic dermatitis, psoriasis, eczema, and burns, who would immerse themselves in the town's spring baths. The brand Avène now brings the magical healing properties of the storied springs to your skincare routine.
The brand's multi-purpose skincare oil works effortlessly to nourish the skin while actively enhancing it. It benefits from a non-sticky, non-greasy formula, and easily absorbs into the skin to facilitate long-lasting hydration and a silky-smooth touch. The ingredients in this product work together to promote healthier skin, thanks to inclusions like shea oil, camelina oil, safflower oil, and, of course, Avène thermal spring water.
The oil can be used on pretty much any part of your body to provide meaningful results, but the face is where it really shines. Use it daily, regardless of your skin type, and start seeing long-lasting benefits. An added benefit of this oil is that it's infused with scents of jasmine, rose, and bergamot. You'll look, feel and smell great thanks to Avène.
#4. Good Molecules | Ultra-Hydrating Facial Oil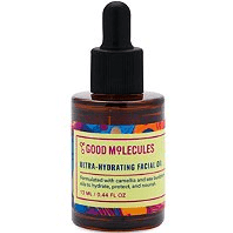 Good Molecules has a mission, which is to provide cost-effective skincare products that are backed by science and are safe for both your skin and our planet. The company wants everyone to have access to good skincare products. It's an admirable goal, but how does their ultra-hydrating facial oil fare in a crowded market of quality face oils?
This oil does a great job of providing your skin with a multitude of benefits. It does precisely what face oil is meant to do: nourish and hydrate your skin. The product features a blend of sea buckthorn oil, Hippophae rhamnoides oil, and Camellia oleifera seed oil, which work together to eradicate dryness and dehydration. The camellia oil seals in moisture while protecting against free radical damage. The sea buckthorn oil provides your skin with much-needed support for healthy barrier function. After using this Good Molecules product, you'll have a smooth and fresh glow about you that will turn heads.
This lightweight product is vegan, gluten-free, and fragrance-free. You'll be able to use it without having to worry about whether it's interfering with your fragrance. True to its word, Good Molecules delivers an oil that not only works, but that is easy on the wallet.
#5. Farmacy | Honey Grail Ultra-Hydrating Face Oil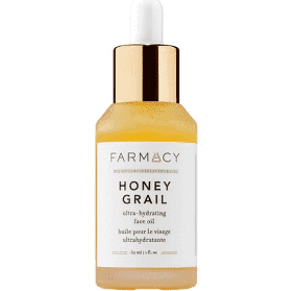 Farmacy is all about sustainability. They've set lofty goals to ensure their brand is one of the greenest in the business. Zero-waste packaging, non-virgin materials, and conflict-free ingredients make it easy to support this brand. You can rest assured that whenever you buy a Farmacy product, you're supporting action to reduce waste, combat food insecurity and incentivize ethical production.
Farmacy's highly rated Honey Grail antioxidant facial oil is an excellent example of its commitment to quality. This is a fast-absorbing facial oil that provides a superior glow and leaves your skin so hydrated that you'll forget what chapped skin felt like. The oil features honey, a five-flower oil blend (rosehip, hibiscus, sunflower, crambe, and evening primrose), and sea buckthorn to hydrate your skin. After using the product, you will enjoy a non-greasy, glowing complexion, and will see a near-instant difference in skin quality, as this oil reduces wrinkles and fine lines while plumping up your skin.
Consistent with Farmacy's commitment to conscious beauty, this product is free of parabens, mineral oils, synthetic fragrances, phthalates, and formaldehyde. Pick up a bottle today.
#6. Biossance | 100% Squalane Oil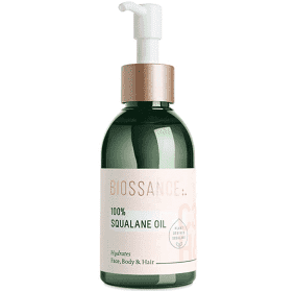 Biossance is one of the more interesting companies on this list. This company is serious about its commitment to sustainability, and they really walk the talk. A good example is their development of an ingredient called squalane. Haunted by the fact that sharks have been hunted regularly since the 16th century for squalane, the company's team of scientists developed their own version, derived from sustainable sugarcane. According to the brand's estimations, their sugarcane-derived squalane saves the lives of 2 million sharks a year!
Biossance's 100% Squalane Oil is a vegan product that hydrates the face and body to great effect. When you apply it to dry skin, you can instantly expect the oil to hydrate the area and lock in essential moisture. Squalane is a weightless, powerful, high-performance ingredient known to moisturize, hydrate, and calm skin. It is also known to promote microbiome diversity, which will give you healthier-looking skin.
How did Biossance achieve its reputation as a quality-oriented skincare brand? It has pledged never to use over 2,000 ingredients it deems unworthy of being included in skincare products. Additionally, the company has obtained the My Green Lab Certification, meaning its formulations are developed in certified facilities that reduce the environmental impact of its production activity. Making your dry skin glow while saving sharks in the process—what could be a better combination? Check out Biossance's squalane oil today!
#7. Aesop | Fabulous Face Oil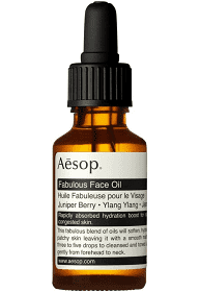 Established in 1987, Aesop is a Melbourne-based company with a global presence. The Aesop brand's mission is to develop skincare products of unmatched quality, leveraging carefully engineered ingredients that are safe and efficient. Aesop puts painstaking detail into optimizing and overseeing every step of a product's life cycle, from the time it's recorded as an idea until it hits the shelves.
Aesop's Fabulous Face Oil shocks the skin in the most positive way. Their concentrated formula of ylang-ylang, juniper berry, and jasmine petal translates to an ultra-hydrating oil. This product is loaded with botanicals that are capable of balancing and purifying your skin and giving it a silky-smooth texture. Overall, the oil is suited for a variety of skin types, including even congested or dull skin. Paraben-free and completely vegan, this lightweight Fabulous Face Oil is destined to become a household favorite!
Apply between three and five drops every few days for noticeable results in no time. With its floral aromas and herbaceous finish, you'll also experience a calming sensation you didn't know was possible from a skincare product. You'll have less congested, detoxified and more balanced skin as a result of this powerful face oil.
#8. True Botanicals | Renew Pure Radiance Oil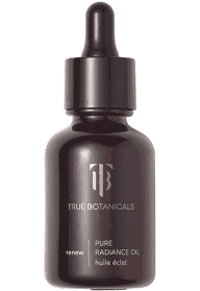 True Botanicals is all about natural, biocompatible skincare. You will never find toxic chemicals or harmful preservatives in this brand's products. Their luxury oils and other skincare items are designed to treat your skin in a clean and sustainable way. The company is serious in its mission and repeatedly pits its products against those of major skincare companies in third-party clinical trials. The company collaborates frequently with researchers to develop cutting-edge solutions for the anti-aging industry.
Pure Radiance Oil is one of True Botanicals' best-selling products, and for good reason. It selectively targets signs of aging and outperforms even the best-known anti-aging moisturizers on the market. Some of the numerous ingredients in this incredible product include passion fruit oil, papaya seed oil, algae extracts, kiwi seed oil, and chia seeds. High in various omegas and vitamins, the formula nourishes, hydrates, and repairs healthy skin.
You can use the pure radiance oil on a daily basis, both in the morning and the evening. Simply apply several drops and wait for the magic formula to revitalize your skin in a way you've yet to experience. This easily absorbed oil will give your skin a natural glow while tightening it up and reducing the appearance of wrinkles and fine lines. This brand and product are certainly worth the investment.
#9. MAELOVE | Love 31 Precious Face Oil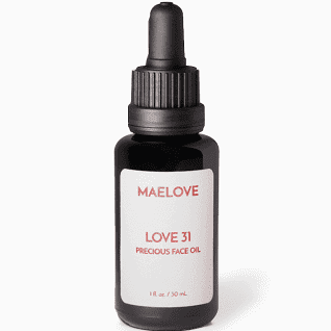 Maelove is the brainchild of a group of friends whose purpose was to make people look and feel great. Their idea was to create a brand that brought luxury to the masses, without compromising on quality or simplicity. By leveraging the latest in science and using exceptional ingredients, and with a deep understanding of the modern consumer, they've made products that are revered by their loyal customers.
Love 31 is one of their highest-profile products—a luxurious oil designed to do serious maintenance on your skin. The product gets its name from the 31 botanical extracts that go into it, all of which work together to repair, hydrate, and protect your skin. The extracts include jojoba, argan, hazelnut, rose, baobab, and even Cannabis sativa. In the end, you're left with skin that is heavily moisturized, without any of the residues that you might get from other face oils.
An interesting aspect of the Love 31 oil is that it took a mind-boggling amount of testing before the Maelove team was happy with the product. In total, over 90 versions of the oil were made before the pinnacle was reached. According to Maelove, this is largely due to the product's complexity and the high number of ingredients. The fact that the process was such a painstaking affair shows the company's motivation to bring their customers nothing but the best.
#10. Clarins | Blue Orchid Treatment Oil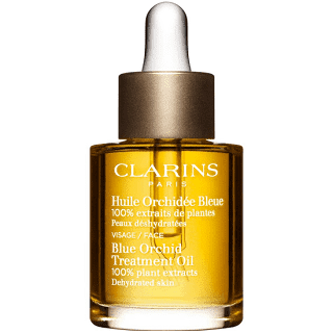 Clarins was founded in 1954 by cosmetics-industry legend Jacques Courtin-Clarins. He based the company on two simple principles: It would always serve customers' needs, and it would respect and leverage the wonders of Mother Nature. Clarins oils made with 100% pure plant extracts have been available to the public since the 1960s. Since then, the company has become a cosmetics powerhouse, with nearly 10,000 employees worldwide. Clarins makes just about every type of skincare product imaginable and commands a high degree of brand loyalty among its customers around the globe.
The Blue Orchid face treatment oil is incredibly effective at restoring your skin by increasing vitality, freshness, and radiance. The treatment oil is made from 100% pure plant extracts, including patchouli, which is famously used to treat conditions like dermatitis, acne, and dry skin. The inclusion of hazelnut oil protects against future dehydration and gives the skin a supple, soft feeling. Rich in vitamin E and omega-9, the oil seals in moisture while tightening your skin and removing fine lines.
This preservative-free oil from Clarins is a fantastic product that manages to get striking results. Your skin will go from dry to hydrated in moments, and with regular application day and night, you'll see long-lasting results that will do wonders for your face.
Signup for D Exclusive
Get partner offers, discounts, and more delivered right to your inbox each week.
Author