Taqueria El Arquito, is a family-owned restaurant founded in July 2020 during the COVID-19 pandemic crisis, we have 7 locations in DFW and more expected to come in 2022. Our menu offers breakfast, lunch, and dinner options and daily Trompo specials. Our Trompo pork meat is prepared and marinated using three types of peppers and up to ten different spices. Our taqueros slice and cook the meat using Mexico City's popular technique by slicing the meat fresh from the Trompo as each taco is ordered until the Trompo is too thin to slice, then our taqueros put the meat on the grill to finish cooking it (If you are lucky enough, you'll catch one of those tacos). Our taco orders come with fresh cilantro and cebolla, grilled onions, and grilled serrano peppers. Our Trompo specials come with complimentary pineapple, radish, and fresh cucumber slices. We also include our savory salsas— roja, cremosa, and avocado with each order.
We pride ourselves in our signature recipes created from scratch by our co-founders and executive chefs Juan Diego Gutierrez and Jose Angel Avila.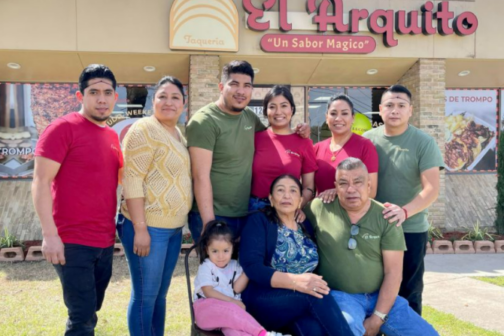 Our family is originally from a small town near Taxco, Guerrero in Mexico. Taxco is known for its colonial architecture and is full of arches, hence the name "El Arquito," which means "small arch." Look closely at our logo, and you'll spot tacos and arches!
You can visit one of our 7 locations in DFW and order online at www.taqueriaelarquito.com.
Signup for D Exclusive
Get partner offers, discounts, and more delivered right to your inbox each week.
Author