Whether you are running an e-commerce store or a physical retail business, credit cards still remain one of the most popular payment methods among customers across the nation. But taking payment through a credit card requires the merchant to opt for a credit card processing service. The best credit card company can not only bring your payment processing rates down but also give your customers more payment options.
But with thousands of credit card processing companies to choose from, how do you know which one is the best for your unique business? Let us help you figure that out. We've compiled reviews of some of the best credit card processing companies on the market along with some more valuable information to help you select the right one.
Top 5 Best Credit Card Processing Companies
#1. Helcim: Overall Best For Credit Card Processing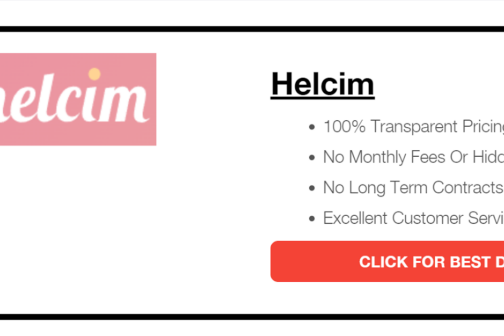 Overview
Helcim is a Canadian credit card processing company that was launched in 2006. Since then, it has expanded and served various US-based merchants and businesses. It has been especially popular among established small businesses that process at least $5000 a month.
This company has transparent interchange-plus rates along with a price-lock guarantee until your account is alive. Helcim doesn't offer any long-term contracts and only has month-to-month service, so you pay as you go. You don't get charged anything extra for additional features like gateway access, virtual terminal, and recurring payments.
Helcim allows you to facilitate contactless payments than in person payments by providing QR codes with the website and payment pages. You can easily log in to your merchant account on Helcim from any device. On this portal, you can easily authorize and process credit card payments in real-time.
Features
A Wide Range of Services

At Helcim, you get a full range of merchant services to enable easy payments. It provides you merchant accounts using its partnership with Elavon. The built-in payment options allow you to accept payments from customers across the globe without worrying about currency conversion.
Furthermore, you can install Helcim's Point Of Sale (POS) system to your preferred device for full POS functionality without expensive hardware. This way, you can avoid the expensive subscription fees that traditional POS systems charge. Their POS software has a wide range of features like inventory tracking, invoice creation, email reminders, virtual terminal, and more.
Third-Party Integrations

If you choose Helcim for your credit card processing, you'll also get the benefit of a handful of third-party software. These include QuickBooks Online and Desktop, shopping carts such as WooCommerce, and more. You also get access to its API so that you can integrate it into your own web store or app. Integration testing can be easily done by requesting a developer sandbox.
User-Friendly Mobile App

Helcim is one of the few credit card processing companies that offer an excellent Android and iOS mobile app. As a merchant, you get to use Helcim's Payments app at no extra charge. It can be connected to the Helcim card reader and receipt printer to activate its POS features. It helps you to check out consumers and accept payments seamlessly.
Highly Secure

Helcim is a PCI Level 1 company, which means it complies with the PCI data security standards to the highest level. Your account is secured using two-factor authentication, and your credit card data is kept safe using tokenization technology. The payment data is stored in a card vault on Helcim's servers, so you don't have to worry about data storage.
Additionally, each transaction is scanned for fraud risk by their tool called Helcim Fraud Defender. It automatically declines risky transactions as per the risk threshold you set. This is an essential tool given that payment frauds have been prevailing in the online payments industry for a while now.
Pros
Exclusive interchange-plus processing charges
No early termination fees
Processing costs come down as the business grows
International payments are accepted
Pricing and fees are clearly outlined on the company website
No long-term contracts
Cons
Not well-suited for high-risk industries
Customer Reviews
Helcim has some pretty fantastic reviews on various online forums. Most of their customers have appreciated the company for having a terrific customer support team in place. A lot of users who were using other processing companies switched to Helcim for being affordable and transparent with the fees.
It's also loved for providing a rich and searchable knowledge base on its website for those new to the industry. Their card terminal isn't the most popular thing among their users, but many love the quick and easy setup of the whole system.
#2. National Processing: Best For Small Businesses, Runner Up
Overview
National Processing was created in 2007 and is currently based in Utah. It's a full-service provider that not only does credit card processing but also provides various other merchant services. The company has become one of the best credit card processing companies and a favorite for hundreds of businesses across the U.S. in the past decade.
Although National Processing is a relatively small company compared to some giants on the market, it surely packs a punch. It's great for small and medium-sized businesses for its excellent pricing. If you value transparent interchange-plus pricing, National Pricing is the company to go for.
We love National Processing the most for being a socially responsible company. It contributes to the community by regularly donating a portion of its income to charity. It also offers discounts for non-profit organizations if they qualify for it. It works with both new and established businesses, so you can confidently connect with them regardless of the age of your business.
Features
Termination Fee Waivers 

National Processing is quite affordable as it waives early termination fees in the following cases:

(1) If you sell or close your business.
(2) If National Processing can't beat a competitor company's rates.

If you cancel your services with National Processing without giving them a chance to give you a better price, you are required to pay the standard fee. 
Cash Discount Program

This company has a cash discount program for less than $40 per month. If you opt for it, you can offer two prices to your consumers. You can offer them a lower price if they are paying in cash or a higher price if they're paying using a credit card. The higher price will include the processing fees. Want to knock out all processing fees? Then this program is for you.
To qualify for this, the minimum monthly transaction limit is $3000. You'll also have to pay $30 in fines if you don't meet this minimum.
Well-Equipped merchant account providers

National provides its merchants with a very well-equipped merchant account. With this account, you get access to invoicing and billing software. This allows you to send recurring bills and accept online payments without any hassle.
You also get access to chargeback and fraud reduction tools with your merchant account. These are essential to minimize losses incurred by fraudulent customers and reversed transactions.
ACH Processing Available

If you're looking for a processing company that not only allows you to accept credit card payments but also ACH payments, then National Processing is your best bet. Through this, you can send money to your employees via direct bank transfers. You can set up recurring payments and accept check payments with great ease. This service comes at an additional fee.
Pros
Month-to-month billing
Interchange-plus and membership pricing offered
Low-cost ACH processing is available
A good option for small merchants
Next-day funding is available
Free payment gateway setup
Free reprogramming of existing equipment is available
Cons
Free equipment has an early cancellation fee
Customer Reviews
Their award-winning merchant processing solutions and excellent customer support have won many hearts on the internet. Many customers have commended National Processing for providing an itemized charge list and staying 100% transparent about all their charges. They have numerous loyal customers who proudly recommend this company for all merchant credit card processing services.
#3. Square: Ideal for Various Types of Businesses
We chose Square as the best credit card processing service for our growing business because we don't charge the monthly or annual account maintenance fees charged by most companies, such as checkout fees, payment gateways, and PCI compliance fees. Even the smallest businesses can use it inexpensively, as it pays only a fixed transaction fee. There are also no unusual chargeback fees from mobile credit card processing companies.
Features
Square is primarily known as a mobile credit card company, but it also provides data processing solutions for both offline and online businesses. Here are some of the features:
Easy Application and Setup

It only takes a few minutes to register online with Square's processing service. All you need is some basic information about you and your business. There are no credit checks and you do not need to provide documents such as previous statements of processing or marketing materials. We can quickly approve your application and start processing the same day you sign up, sometimes even in less than 5 minutes.
Free Point-of-Sale Software

The Square Point of Sale (formerly Square Register) payment application is compatible with Apple and Android smartphones and tablets. It is free to download and includes a full set of POS features to help you run your business.
Here are few things it can do:

Accept cards, mobile wallets, cash, paper checks, and gift cards
Open and split tabs
Set discounts and taxes
Issue refunds
Immediate customers for tips with suggested tip amounts
Manage customer information and feedback
Print, email, or text receipts
Send invoices and accept card payments
Inventory management feature to track amounts in real-time
Show sales data and create reports
Third-party business tools integration, like accounting software and e-commerce platform
Instant Deposit

Square usually takes a day or two to transfer money from your transaction to your bank account. However, we do offer the option to deposit funds immediately for an additional 1.5%. Alternatively, you can book a same-day deposit for a fee of 1.5%.
Chargeback Protection

Square doesn't charge a chargeback fee, but it helps solve the problem. If a customer initiates a chargeback, you must promptly respond to Square's request for information by providing appropriate documentation. Dispute funds will be blocked and it may take up to 90 days for your bank to review your claim and render a verdict.
Pros
Predictable flat-rate pricing
Ideal for low-volume merchants
No monthly fees
Impressive feature-set
Affordable chip card readers
Enables omnichannel selling
Available to Canadian merchants
Cons
Account stability issues
Not suitable for high-risk industries
Customer Reviews
Square has great reviews on various online forums. Most of our customers praised the company for having an amazing customer support team. Many users who used to use other processing companies switched to Square because it is cheaper and payments are transparent.
He is also loved for providing an extensive, searchable knowledge base on his website for newcomers to the industry. Their card terminals are not the most popular among users, but many like the quick and easy setup of the whole system.
#4. Payment Depot: Best for Merchants Processing Over $10k Monthly
Payment Depot differs from other credit card processing services in that the provider uses a wholesale subscription model, where most of its competitors use an exchange plus pricing structure. "Exchange plus" means that service providers benefit by increasing fees charged by credit card companies, which are usually fixed. The wholesaler passes this fixed fee on to the seller for a small transaction fee and a relatively low monthly subscription fee. The payment terminal is suitable for merchants that process at least $10,000 per month. Small businesses are encouraged to use fixed payments like Square or Interchange and services like National Processing.
Features
Hardware

Payment Depot sells a variety of credit card terminals from $49 through its website. From mobile card readers and standard terminals to full-fledged POS terminals.
If you already have a compatible credit card terminal, you can reprogram it for free. We also offer a free virtual key terminal that accepts manual credit card payments.
POS system

Payment terminals are integrated with various POS systems and equipment. TSYS, First Data, and Authorize.Net are the three main names on the list. He recommends contacting your POS provider for integration.
Virtual terminal

Members are provided with a virtual terminal at no additional charge where they can process payments by entering their credit card information into any device connected to the network.
Customer service

The payment terminal provides 24/7 customer service. Enterprise membership includes a dedicated account manager and all customers can reprogram their current POS hardware free of charge if compatible, although many may not.
Pros
Transparent membership pricing
True month-to-month billing
No application or setup fees
Free payment gateway included
Good customer support
Very few public complaints
Cons
Accepts US-based merchants only
Does not accept high-risk merchants
Expensive for low-volume businesses
Customer Reviews
We have been employing Payment Depot for many years. All the staff I dealt with were really helpful and responded quickly to questions and concerns. Recently, a credit card processing company kept calling me, offering better rates, huge discounts, and more, and they didn't leave us alone. After we repeated that we had no intention of changing companies, a sales representative called the company and asked them to hang up.
#5. Stax: Best Value Payment Processing Companies
Stax is a great credit card processor for businesses looking to save on processing fees. Accept payments online, by phone, on the go, and directly using Stax terminals and payment platforms.
However, Stax's expensive monthly fee means your business must do a reasonable amount of processing each month to save money. So, if your business is already doing a lot of processing each month, no solution is cheaper than Stax.
Best For:
Businesses looking to pay monthly fees to reduce transaction cost
Companies that want integrated e-commerce support
Organizations with a need to integrate various POS system
Not Recommended For:
Companies not willing to pay a monthly fee
Businesses seeking an all-inclusive package with no extra cost
Companies want services that have free card readers
Features
Flat-rate processing

Some processing companies like to charge their customers a hidden fee. After researching Stax's business practices, we can confidently say that it has a good reputation for transparent pricing and fees. No hidden fees:

No batch fees
No cancellation fees
No PCI compliance fees
No statement fees
Cloud payment system

Stax provides the Dejavoo terminal. This handset must be purchased immediately, but once purchased, you become the owner of the handset and will retain it across processor changes. In comparison, many companies charge a terminal rent and then ask you to change the processor again.
However, since there is no terminal price information on the Stax website, it is impossible to determine whether the terminal is cost-effective. However, Stax also offers a mobile payment terminal that can be connected to a mobile phone.
Customizable online API

Are you looking for an online terminal for your website? Stax offers an API that could be integrated with your website.
APIs are available for mobile apps, websites, software, and hardware solutions, giving you the freedom to add payment processing capabilities wherever you are. The API also includes features for customer management, inventory tracking, billing, and recurring billing.
What is an API?

API stands for Application Programming Interface. APIs are what programmers use to connect their applications to websites. The payment processing API allows programmers to connect a payment system to a website. Programming experience is required to add a payment processor to your site using the API.
Analytics

Stax's Omni software provides both a way to accept payments by key and a way to create analytical reports based on transaction data. This report helps you identify the strengths and weaknesses of your sales process and guides you to data-driven solutions.
Point-of-sale integration

Stax payment processing is integrated with 90% of POS third-party systems, including some of the most popular systems in the industry.
POS systems are useful because they can provide inventory management, cash register, accounting integration, and customer management functions.
Pros
Wholesale payment processing rates
Automatically update expired and changed card numbers
Low-cost ACH processing
Same-day funding
Cons
High monthly fee for most plans
ACH feature is only available upon request
Invoicing and billing features requires an upgrade
Not ideal for new businesses
Customer Reviews
Stax is quite popular among folks with less-than-perfect credit scores. Their customers are delighted by the simple and quick registration process. Many customers have mentioned that their application was approved in less than a minute, which was amazing.
---
Choose The Right Credit Card Processing Company
Fees
When looking for a credit card processing organization, it's important to pay close attention to pricing transparency. All processing companies charge an interchange fee for every transaction. The fee varies depending on a few factors like the type of card and the size of the transaction.
Another thing to check is, if they charge monthly fees, what's the minimum transaction amount a merchant must meet. Also, check for additional fees like statement fees or payment gateway fees, early termination fees, credit card processing fees, etc.
Setup
The best credit card processing companies have a quick and painless setup process. You must gather all the details about integration and installation before signing up. You would also want to know how much time it will take for the company to get up and running with your transaction processing. That's because delays in processing can cause your business to lose money.
Security
Security ought to be at the top of your mind when sifting through credit card processing firms. Make sure you check what fraud prevention tools the company is using. Look for the one that offers encryption and tokenization for both offline and online transactions.
For online purchases, you need a company that provides CVV2 verification and SSL certificates. Also, make sure you check if the processor is PCI compliant or not to keep your data safe.
Payment Types
Gone are the days when consumers didn't have much choice in how they preferred to pay. These days, there are many ways to pay a business, and your customers should be able to access those. Make sure you confirm with the processing company what payment types they accept.
Having all major credit and debit cards on your list of accepted options would be great. Also, check if prepaid and gift cards are accepted or not.
Industry Relationships
This is one of the most overlooked factors–checking the processing companies' industry relationships. This information is essential for you to understand all benefits the company will bring to your business in the future.
So, check which sponsor banks they have tie-ups with, so you can use them to grow your network. This can prove to be quite fruitful for your business in the long run.
Customer Support
The customer support aspect is very important when zeroing down on a credit card processor. How often will they be available to solve your technical issues? What level of support does your business require, and will the company be able to provide it to you or not?
These questions can help you understand their approach to customer support. Technology can be tricky sometimes, and it's likely that you'll need help with the system. Having an experienced customer service team can be a great helping hand in a payments relationship.
Who Is Involved In Credit Card Processing?
The Issuing Bank
The issuing bank, as the name suggests, issues the credit card to the user. So, if you have an account with Xyz bank, you also receive a credit or debit card from them. Most of the interchange fees charged by card companies go to these banks.
Credit Card Brands
Brands like Visa, MasterCard, American Express, and Discover come into this group. These firms regulate the use of credit cards by working with the government. They also have a hand in determining the interchange rates and making rules for maintaining the security of cards.
Payment Processors
A payment processor is a middleman company that transfers the information to the card brands and banks. They connect to the businesses through appropriate hardware and software. When a customer pays hrough card, they route the information to the correct network. the business, the processing company routes the information to the appropriate network.
As a merchant, when you batch or close your sales for the day, your earned funds are transferred from the issuing bank to your bank. Then the interchange fees will be calculated, and the data will be provided to you and the card company.
Payment Gateway
Payment gateway is the software that connects the payment technology like terminals and shopping carts to the card processing networks. You can integrate a payment gateway to your online store using its API (Application Programming Interface). Various credit card processing companies also have their own payment gateway.
Sponsor Bank
The sponsor bank makes the funds available to you, the merchant. It's also responsible for getting the ACH payments to the credit card processing company. Other than that, sponsor banks pay a share of the interchange fees to the card brands and the issuing bank.
FAQs About Credit Card Processing
Do I Need A Merchant Account?
Are you looking to start accepting payments from your customers through credit and debit cards? Then yes, a merchant account will be essential to your business. It's basically a bank account that helps you process the money that comes in through a customer's credit or debit card.
Is Credit Card Processing Secure?
Handling and transmitting sensitive payment data can always be risky. However, reputable credit card processing companies ensure that your data is safe. They also provide you with information on securing your terminals and networks.
One way you can secure your data is by upgrading your card reader to accept credit cards such as Europay, MasterCard, and Visa chip cards. These days, credit cards come embedded with a chip on one end, which is read by the reader. This technology makes the transaction significantly more secure. That's because the chip is harder to counterfeit as compared to the magnetic strip.
What Type Of Pos Terminal Should I Get?
Your choice of Point Of Sale terminal will depend on the type of payment options your business wants to accept. Another factor is where and how these payments will be collected. A countertop model will be good for your business if you are only accepting user payments from a physical location.
However, if you want to accept payments at different locations, you can go for a mobile POS system. For electronic payments done via mobile phone, you can look into a virtual terminal for your business.
What Is PCI Compliance?
PCI compliance means complying with the regulations of the Payment Card Industry Security Standard Council. This global organization makes sure the credit card data processing is done safely, and consumers are protected from fraud. If you want to keep processing credit card payments smoothly, you must only use the service of providers who are PCI compliant.
As a business, you also have to meet certain criteria set by PCI DSS to ensure that your transactions are secure. There are different levels of PCI compliance that you must have knowledge about to understand the compliance structure properly.
Final Thoughts
Whether you've been riding several businesses for years or just establishing your first business, it's always good to learn about the newest technology associated with credit card processing. Having a great credit card processor can take away unwarranted stress and save your business quite a lot of money. So, what are you waiting for? Use this guide to find the best credit card processor for your business and make your money game seamless. We personally suggest Helcim for its flawless services.
Signup for D Exclusive
Get partner offers, discounts, and more delivered right to your inbox each week.