Men's skin is about 25% thicker than women's skin, and our bodies produce more collagen, hair follicles, and sebum. In other words, you should be using skincare products that are formulated for men.
The men's grooming and skincare market is exploding, and you have many brands to choose from. To help you along, we have compiled this guide to the best men's skincare brands for 2022. Read on to learn about the best men's skincare brands today.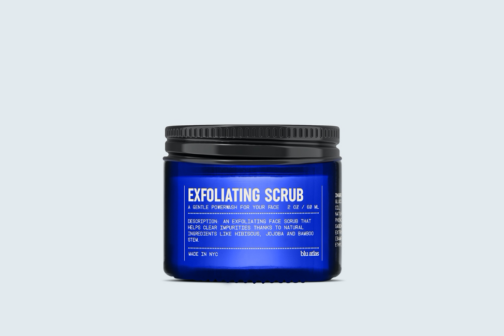 Blu Atlas is our go-to men's skincare brand because of its commitment to quality products that do not harm the environment. Forbes also named the Blu Atlas the #1 best men's skincare brand.
From their Purifying Face Mask to their Vitamin C Serum, Blu Atlas formulas use Mother Nature's finest ingredients to provide men with the skincare they need.
The brand stands fully behind its products with a satisfaction guarantee on all purchases. Blu Atlas also has a convenient subscription service that allows you to get your skincare essentials delivered at preset intervals. If you're ready to make the switch to all-natural skincare, head over to Blu Atlas today.
2. Rugged & Dapper

Construction professional Ryan Labaqui tried virtually every skincare brand on the market, but couldn't find one that suited his low-maintenance lifestyle. As a result, he teamed up with his wife, Janine, to create a skincare line geared for men who don't have time for nonsense.
Rugged & Dapper's products are natural and ready to take on most skin-related issues. Their website includes a fun questionnaire to help you determine your optimal skincare regime. Signature products include their facial cleanser, facial moisturizer, and age defense eye cream.
3. 18.21 Man Made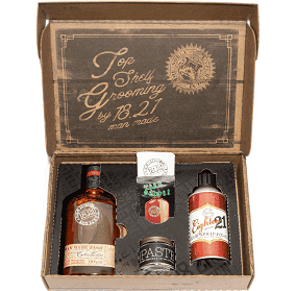 The 18.21 Man Made product line is inspired by the prohibition era of bootlegging and underground parties, and they have some of the most playful and unique packaging on the market. This brand crafts all of its products with experience, innovation, and good old masculine energy.
Their most popular product is the Original Sweet Tobacco Wash, a three-in-one shampoo, conditioner, and beard/body wash. The best part: The more you buy from 18.21 Man Made, the more your bathroom will start to look like that speakeasy lounge you could never get into.
4. Clinique for Men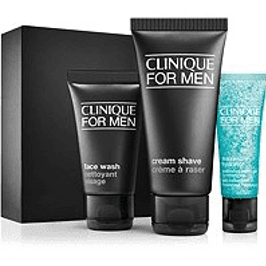 The Clinique for Men product line leverages the vast reach, resources, and expertise of a leading skincare brand. In fact, Clinique's men's products have been around since 1976. Their lineup now covers all men's skincare needs and includes facial cleansers and moisturizers, as well as more targeted solutions like concealers and bronzers.
We recommend their exfoliating tonic, a daily skin cleanser that clarifies your skin and unclogs pores. With so many new brands popping up, Clinique for Men's timeless lineup is a safe bet for your bathroom cabinet.
5. Elemis for Men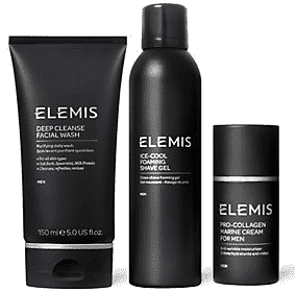 Elemis is a U.K.-based skincare brand that has won countless industry awards for its innovative products. They have devoted extra care to developing skincare formulas that prioritize natural extracts, leveraging the powers of Mother Nature without presenting any long-term risks to your health.
What separates Elemis from many of its competitors? We would say it's their exceptional creams, notably their Pro-Collagen Marine Cream. When you use this in tandem with other best-sellers like the Deep Cleanse Facial Wash, you'll see a notable difference in your skin and overall appearance.
6. Bulldog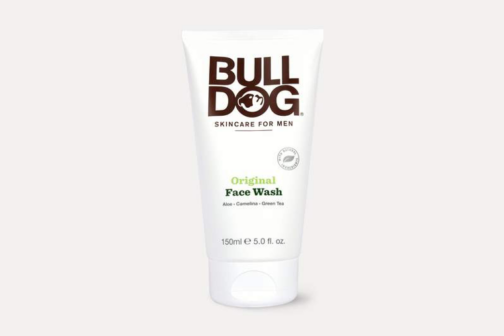 Simon Duffy and Rhodri Ferrier cofounded the Bulldog men's skincare brand in 2005 with a focus on research and unique formulas. The company is well-respected for its commitments to natural ingredients and sustainable sourcing and takes a firm stand against animal testing. Bulldog has an extensive product range and features a skincare category with products like moisturizers, face washes, face scrubs and face masks.
We're big fans of their original full face kit (pictured above), which features Bulldog's Original Face Wash, Original Face Scrub, and Original Moisturizer—all formulated for normal skin.
7. Anthony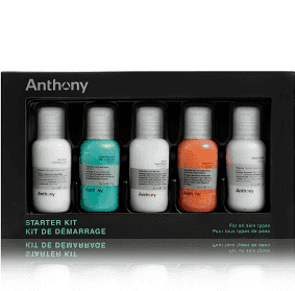 Created in New York City by Tony Sosnick, Anthony is an award-winning men's skincare brand that you can find on the shelves of department stores like Macy's and Lord & Taylor.
Anthony's skincare products aim to improve overall skin quality with cutting-edge technology and a focus on natural ingredients. Some of their most popular products include the Glycolic Facial Cleanser, Alcohol-Free Deodorant, and No Sweat Body Defense. The founder himself always cleanses with the glycolic cleanser and is enthusiastic about anti-aging products like the HP eye cream.
8. Harry's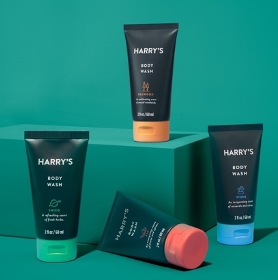 Jeff and Andy were two regular guys who were tired of overpaying for razors. Fueled by innovation and a focus on simplicity, the two co-founded Harry's, which now employs over 600 staff, including designers, engineers, craftspeople, and chemists.
The company is deeply passionate about mental health issues, and to date has donated nearly $5 million to related organizations, reaching nearly 500,000 men! Harry's exceptional products do wonders for your body, hair, and skin. Their Face & Body Sampler features a full-size Face Wash tube and four travel-sized Body Wash tubes with unique scents. Check them out today!
9. MARLOWE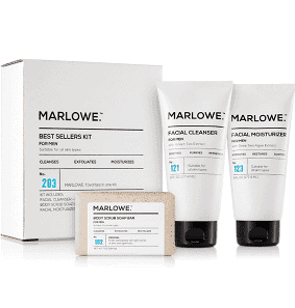 MARLOWE has a strong distaste for the complicated. Whether it's their packaging or product formulas, they focus on simplicity as a means of achieving results like healthy and clean skin. Young boxing icon Ryan Garcia is now fully behind the brand as a co-owner and featured heavily in its marketing materials.
We're big fans of the brand's No. 123 Facial Moisturizer, a non-greasy cream that focuses on protection and hydration through the use of natural extracts. As with all MARLOWE products, the moisturizer is free of parabens and phthalates and is never tested on animals.
10. Old Spice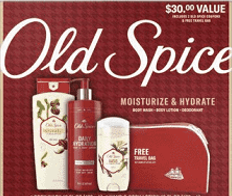 Old Spice, which has been around since the 1930s, is the quintessential men's grooming brand. This company is so time-tested that in 2008 it released its Classic Shower gel under the slogan: "The original. If your grandfather hadn't worn it, you wouldn't exist."
Old Spice is a great choice for men looking for convenient, effective products. Their skincare offerings are supremely affordable—you can get their Moisturize & Hydrate gift pack, including their signature body wash, body lotion, and deodorant, for just $15!
11. Brickell Men's Products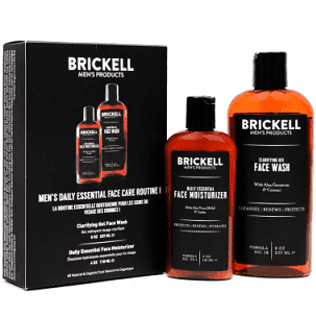 Brickell Men's Products are sold in over 110 countries worldwide. They harness the latest technology to deliver serious skincare results. One fantastic Brickell product is its Daily Essential Face Moisturizer, which is packed with organic compounds that underline the brand's commitment to natural skincare.
Made up of jojoba oil, vitamin E, aloe, hyaluronic acid, and green tea, this premium skincare moisturizer can be used on all skin types, delivering hydration and skin renewal. Other products to consider include the Purifying Charcoal Face Wash and the Anti-Aging Face Cream, all formulated specifically for men.
12. Paula's Choice PC4Men
This skincare brand dates back to 1994 when founder Paula Begoun decided to establish a skincare line with authentic formulations. PC4Men, the Paula's Choice men's product line, was launched in 2014 to build on the successes of the women-focused brand. The core PC4Men products, including the Daytime Protect and Nighttime Repair creams, all have decidedly positive reviews and attract repeat customers. We're partial to the PC4Men Face Wash, which features an effective gel formula that you can use in the morning or evening for a thorough cleanse.
13. Lumin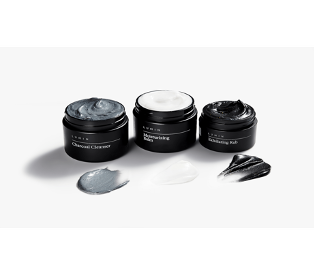 Lumin is made for the man whose grooming regimen includes more than cleansing and exfoliation—the brand offers products that counter fatigue and signs of aging. Their Classic Maintenance Set is a low-maintenance three-step anti-aging program that takes men's grooming to the next level. The products in the package include the Moisturizing Balm, Charcoal Cleanser, and Exfoliating Rub, which deliver an ideal combination of cleaning, scrubbing, and hydration.
14. Caldera + Lab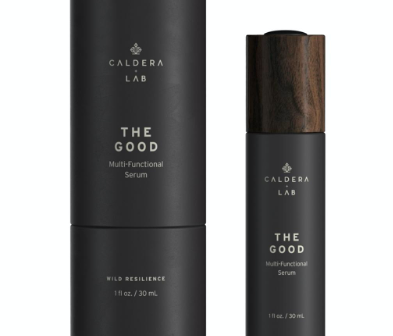 Caldera + Lab is 100% committed to botanicals, using only vegan-friendly and plant-based ingredients in its skin care product line. The company has teamed up with world-recognized researchers and scientists to create skincare products that are totally nontoxic. The brand's Face Serum, based on a clinically tested formula called "The Good," is made up of 27 botanicals that are gathered in the wilds of Wyoming's Teton Mountains and then soaked in a hydrating oil for four weeks.
The outcome is a potent facial serum that absorbs quickly while combating environmental pollutants and aging. Keep an eye on this company, as it is planning to launch new products in June 2022.
15. Bevel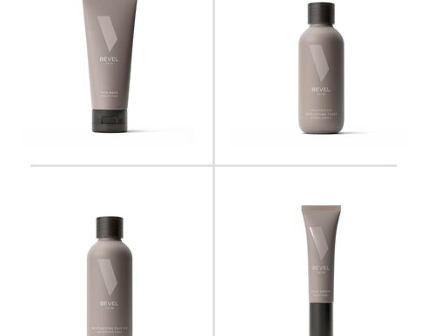 Founded as Walker & Company by Tristan Walker in 2013, Bevel's aim is to provide skincare products that meet the specific needs of men of color. If that sounds like you, check out their Exfoliating Face Toner—a high-quality product that is gentle and nonabrasive. The product is designed to prevent ingrown hairs and blemishes by cleansing and clearing clogged pores. The popular toner features green tea, lavender, and 10% glycolic acid for an optimal cleansing experience. Use this product with Bevel's Face Wash and Moisturizing Face Gel to round out your skincare regimen.
16. Kiehl's
Kiehl's is a heritage brand that has been a top men's skincare company since 1851. The brand is well-known for its science-based formulas that effectively address men's unique skincare needs. For example, the Facial Fuel is fortified with vitamins contained within a non-oily formula. The product is perfect for revitalizing dull or tired skin while reducing the impact of environmental stresses. Other Kiehl's products that you can use with this moisturizer are their Facial Fuel Face Wash and Eye Fuel for Men.
17. Jack Black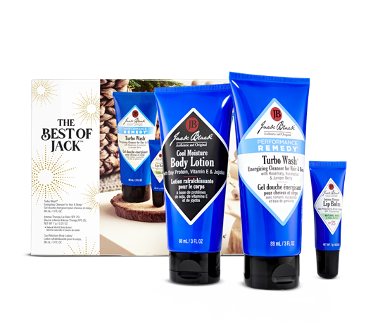 Jack Black's mission is simple: to provide male-friendly skincare products of premium quality. Their Overnight Repair Moisturizer gets a lot of praise for its anti-acne action. As well as salicylic acid to prevent acne, this product's formula includes skin enhancers like turmeric root extract and hyaluronic acid.
If acne is not a problem, be sure to check out the brand's Cool Moisture Body Wash and Turbo Wash Energizing Cleanser—both part of Jack Black's "The Best of Jack" kit.
18. Every Man Jack
Every Man Jack is a men's skincare mainstay that makes clean and effective products that rely on plant-based formulas. The brand, born in San Francisco, follows the city's principles of sustainability to create vegan-friendly products. For example, their Beard + Face Wash cleanses and conditions both the beard and skin for otherworldly softness.
The product contains moisturizers like aloe and glycerin, topped off with a woody and inviting fragrance of cedarwood. If you're a fan of the fragrance, check out the Cedarwood Body Travel Set, which includes a natural deodorant, two-in-one shampoo plus conditioner, and hand sanitizer—all in a TSA-approved travel bag.
19. Baxter of California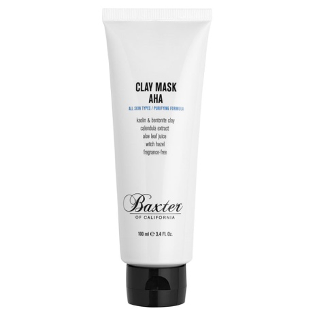 Baxter of California was established in Los Angeles in 1965 by Baxter Finley, who wanted to create premium yet simple grooming products specifically for men. We're big fans of their Clay Mask AHA, formulated to draw out skin impurities using kaolin clay and bentonite. The unscented and purifying mask is made with botanical extracts of aloe vera and avocado for extra hydration. If you love this face mask, try Baxter of California's other excellent skincare products, which are all made of natural ingredients and are suitable for all skin types.
20. Disco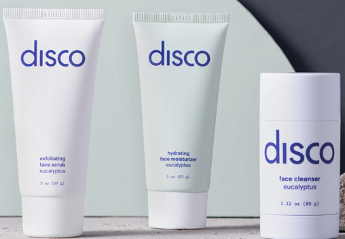 The founder of Disco, Ben Smith, decided to open his own plant-derived skincare line to balance the pH in a man's skin. Along with his dermatologist partner, Smith undertook a 1,000-person study to launch a vegan skincare brand that is cruelty-free and uses recyclable packaging. Disco's best-selling skincare Starter Set includes a two-month supply of its Charcoal Face Cleanser Stick, Exfoliating Face Scrub and Hydrating Face Moisturizer. With this kit, any man can start cleansing, exfoliating and moisturizing his face with noticeable results in a matter of days.
21. Geologie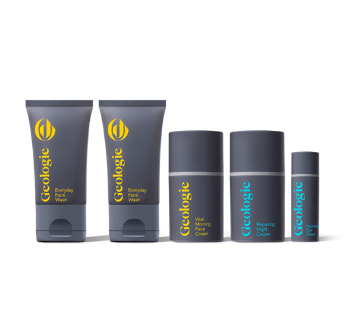 The team at Geologie does not believe that skincare is a one-size-fits-all endeavor. This company defines each man's skincare requirements by asking targeted questions. We had a great experience testing their Repairing Night Cream, which performs its magic while you sleep. The formula reduces the appearance of fine lines and undereye puffiness while its active ingredient, hyaluronic acid, stimulates collagen production and hydrates the skin. Combine this product with other Geologie therapies like the Dark & Puffy Undereye Cream and Bergamot Cedar Exfoliating Cleanser.
22. Neutrogena Men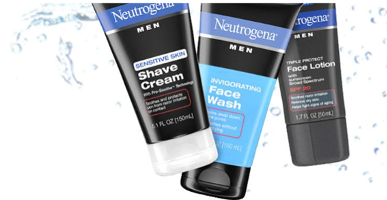 If you're searching for cost-effective skincare products for men that are dermatologist-approved, Neutrogena Men should be high on your list. For daily skincare protection, check out Neutrogena Men's Triple Protect Face Lotion. The broad-spectrum product turns back time by smoothing the rough spots and reducing the appearance of fine lines and wrinkles. The non-greasy formula is also helpful for relieving razor burn and irritation. To get the most out of the product, consider adding the brand's Age Fighter Face Moisturizer and its Razor Defense Face Scrub.
23. ASYSTEM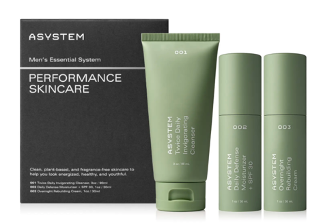 ASYSTEM founders Oli Walsh and Josh LeVine created the brand to encourage betterment through a well-balanced lifestyle. The company's skincare line, which is subscription-based, features packages that contain clinically proven ingredients. The products feature preset doses to meet the physical, nutritional and skin needs of the modern man. For example, ASYSTEM's Daily Defense Moisturizer has a nourishing formula packed with antioxidants that hydrate and protect the skin, and even includes an ingredient derived from a rare surviving Ice Age flower.
24. Jaxon Lane
Jaxon Lane practices an ingredients-first approach and features a range of easy-to-use skincare products. Their signature product is the award-winning Bro Mask, which is a favorite of celebrities like Justin Theroux and Nick Jonas. The hydrogel Bro Mask is double-layered, allowing guys with beards to use it as well. The mask contains powerful ingredients like 3% niacinamide, peptides, licorice, ginger, green tea, and hyaluronic acid. If you want to be the freshest bro in town, check out Jaxon Lane's Deluxe Skincare Set for a complete skincare routine.
25. Aēsop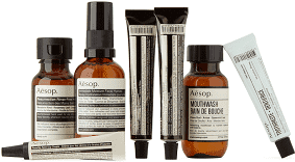 Their highly rated Parsley Seed Antioxidant Serum is especially useful for men with oily skin. Antioxidants are abundant in the serum, and parsley seed, aloe vera, and grape seed have been added for hydration and fortification. Check out this innovative brand today!
Signup for D Exclusive
Get partner offers, discounts, and more delivered right to your inbox each week.