They say the eyes are the window to the soul, but they're also the window to your entire appearance. No matter how even your complexion looks or how well-groomed your beard is, you can only look healthy and well-rested without dark circles under your eyes. That's why we've put together this list of best eye circle creams for men. Read on!
Clarins Anti-Fatigue
Clinique Anti-Aging
Lab Series Eye Rescue
Kiehl's Eye Repair
Anthony Continuous Moisture
Brickell Restoring Eye Cream
Burt's Bees Sensitive Solutions
Dr. Dennis Gross Serum
Murad Youth Renewal
Dr. Brandt De-Puffing Gel
The Ordinary Caffeine Solution
Healgel Eye
Tom Ford Anti-Fatigue
Elemis Eye Reviver
Shiseido Men
Acqua di Parma Moisturizing Eye Cream
Jack Black Eye Balm
Ragged and Dapper Age Defense
Geologie Under Eye Cream
Disco Eye Stick
Why Do Men Need Eye Cream?
You may be thinking: Is eye cream really necessary? After all, if you cleanse and moisturize your face, don't your cleanser and moisturizer hit the skin around your eyes? Actually, treating the area around your eyes with specialized skin care products is the key to having a well-rested and healthy face. If you notice frequent dark circles or puffy under-eye bags or are concerned about aging quickly, you'll want to add an eye cream to your grooming regimen.
Because the circle around your eyes is the most sensitive and delicate area on your face, you'll want to choose products that specifically target it without doing any damage. Plus, having dull, wrinkly, puffy, or sagging skin around your eyes will negatively affect your entire appearance.
If we've convinced you that an under-eye cream is necessary, check out this list we've compiled of the best eye creams for men.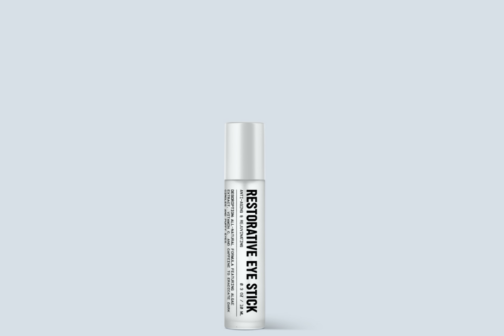 After an era of skincare products defined by synthetic concoctions, we're finally getting back to earth-friendly ingredient lists. Blu Atlas embodies this naturalistic approach, and you can see it in their Restorative Eye Stick. Made from all-natural ingredients, including rosewater and algae extract, this under-eye stick is sure to eliminate unsightly dark circles and leave your eyes with less puffiness.
Blu Atlas is so confident their product works that they offer a 100% money-back guarantee if you're not satisfied. The natural ingredients in this eye stick are going to leave you wanting to join Blu Atlas' subscription service, where you can save up to 20% off all products. Rejuvenated eyes and big savings? Now that's what we're all about!
2. Clarins Men Anti-Fatigue Eye Cream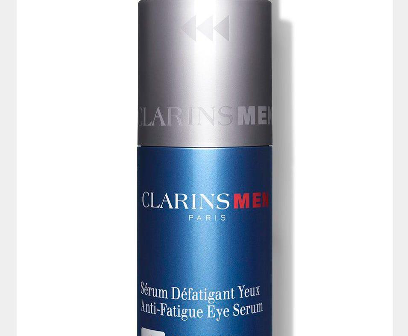 Have you been burning the candle at both ends lately? Avoid dark circles, lines, and swelling with this formula from Clarins. This anti-fatigue eye cream contains plant-derived ingredients to help boost the skin around your eyes and give you a well-rested appearance even if you got less sleep than you should have. It's lightweight, goes on smooth, and doesn't feel greasy.
3. Clinique Anti-Age Eye Cream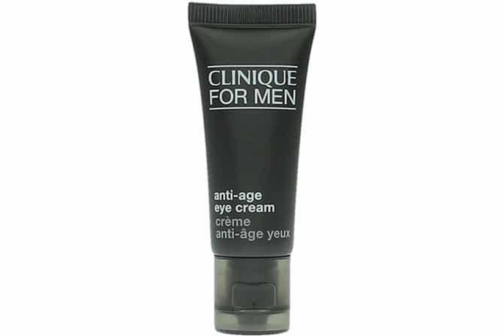 For those men concerned with the effects of aging on their skin, this product will come in handy. Clinique's anti-aging eye cream is created expressly for men and penetrates the skin around your eyes to hydrate and repair while including a dose of important nutrients. Wheat germ softens, glycerin hydrates and green tea evens out skin tone and fights early signs of aging. This means reducing wrinkles, dark circles, and lines while leaving the area around your eyes feeling soft and moisturized.
This product is the perfect antidote to a stressful day. Users rave about how quickly this eye cream absorbs, making it a quick addition to your morning skincare routine. Apply twice a day to the area around your eyes to see results.
4. Lab Series Eye Rescue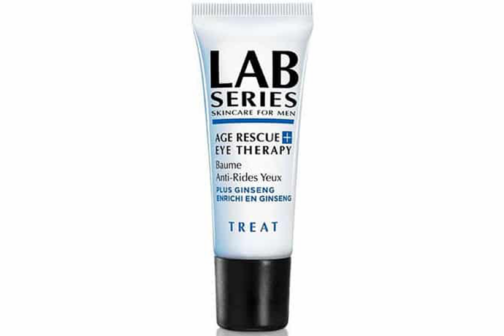 This formula from Lab Series will rescue your eyes no matter what skin type you have. Apply this eye cream morning and night, and you'll swiftly notice how alert and healthy you look. This reviving effect is thanks to ginseng, which is known for its ability to nourish and tighten sensitive skin and make the area around your eyes glow with even texture.
Additional antioxidants and powerful ingredients help reduce under-eye bags and dark circles, so you can look and feel refreshed. This product goes on as a lightweight gel cream and helps brighten under-eye skin for a wide-awake look.
5. Kiehl's Eye Repair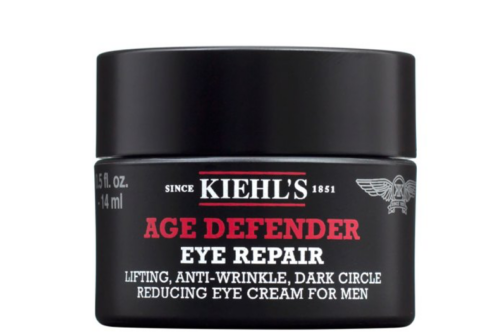 Here is another great anti-aging eye cream option for men from a trustworthy brand. The secret ingredient to this formula's success is rye seed extract, which helps to strengthen and boost delicate skin so it looks and feels like new. Men with under-eye circle woes turn to this product, which also tackles wrinkles and crow's feet. Think of it as a magical blurring tool for the lines under your eyes!
6. Anthony Continuous Moisture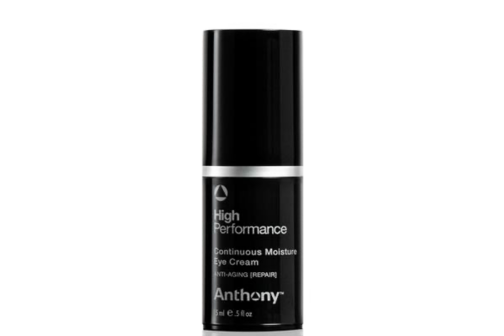 Is the skin beneath your eyes feeling dry and tight? Turn to this product, which delivers serious moisture. Jojoba oil, shea butter, and squalene help to penetrate the skin, retain moisture and fill in the cracks of the skin's protective layer. Then vitamins A, C, and E encourage firming, smoothing, and a brighter tone.
If the skin around your eyes feels irritated from the external environment or your harsh schedule, you'll enjoy the calming effects of cucumber and carrot root. Anthony's formula is crafted for extended time release, meaning that it continuously works with your skin throughout the day to hydrate, reduce puffiness, protect, and firm. Caffeine and arnica bust dark circles in this formula, which is free from alcohol, parabens, phthalates, and GMOs, and is allergen tested to be safe on sensitive skin.
7. Brickell Restoring Eye Cream for Men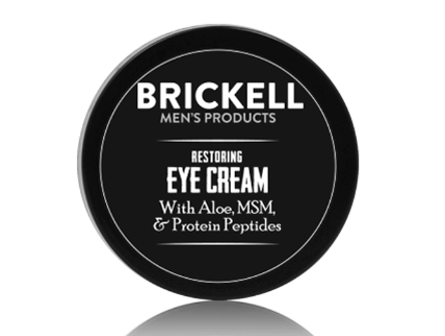 Restore the bright, refreshed eyes of your youth with this cream from Brickell, which is ideal for men at any age with any skin type. This eye cream absorbs fast to boost and rejuvenate tired or dull skin without leaving behind any grease or shine. Brickell relies on natural ingredients with powerful effects, such as caffeine to help circulation and address puffiness, protein peptides to aid in collagen production, and aloe vera for penetrating hydration.
The ingredients in this cream are 97.5% natural and 70% organic. Brickell's formula is crafted to blur fine lines and wrinkles, reduce puffiness and fade dark circles. This product also moisturizes and tones at the same time to help even out your complexion. Users agree—this eye cream is a go-to for eye circles and wrinkles alike!
8. Burt's Bees Sensitive Eye Cream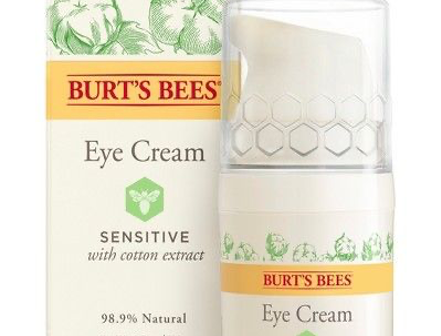 If you notice that your skin tends to get inflamed, itchy, or red, you probably have sensitive skin. And since the skin around your eyes is naturally vulnerable on its own, if you have sensitive skin you should be particularly gentle with that delicate area. That's where this formula from Burt's Bees comes in handy.
This product contains rice extracts and aloe for anti-inflammatory power and soothing qualities that also help to moisturize. The cotton extract has a softening effect and helps protect the skin from irritants. This eye cream is lightweight and hypoallergenic, suitable for even the most sensitive of skin. It is 98.9% naturally derived, and tested by both dermatologists and ophthalmologists before release for guaranteed safety.
9. Dr. Dennis Gross Correction Serum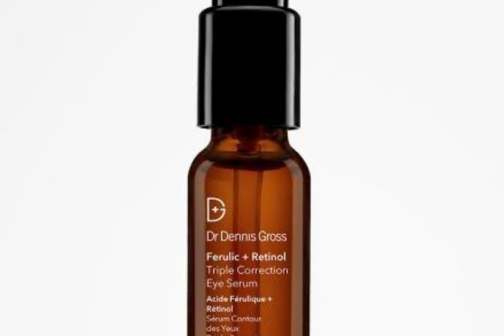 Most men start noticing signs of aging around their eyes once they hit their 30s. This is because less collagen is being produced, and skin begins to sag and wrinkle. Dr. Dennis Gross' gel fights signs of aging with antioxidants and retinol to strengthen skin. It starts working the moment it hits your skin to absorb quickly and reinvigorate without leaving a greasy feeling.
This brand is the brainchild of dermatologist Dennis Gross, who uses science and technology along with powerful ingredients to create products that work without irritating.
10. Murad Youth Renewal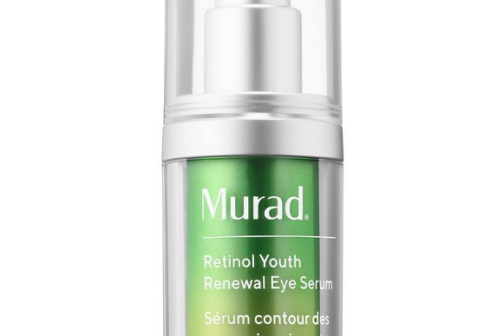 This American-made blend targets the causes behind signs of aging with powerful ingredients. Retinol boosts collagen production to increase elasticity and firmness. While retinol can sometimes irritate sensitive skin, that isn't likely with this gentle, creamy formula. Users can expect noticeable results in about four weeks, with fewer fine lines, smoother skin, and lifted eyelids.
If the skin around your eyes is dull and dry, you'll notice increased hydration for a full 24 hours after applying this serum. It is appropriate for all skin types and may help reduce the appearance of eye circles.
11. Dr. Brandt Eye De-Puffing Gel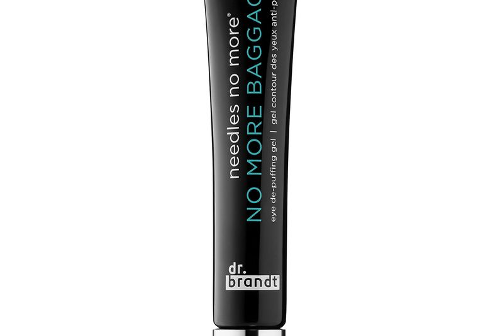 You may not be able to wind back the clock, but you can start to reverse signs of aging when you use this eye gel. Bust those under-eye bags, reduce puffiness, and blur wrinkles with this advanced blend that targets dark circles and inflammation to leave you with firmer and healthier-looking skin.
Peptides firm and provide radiance, caffeine targets puffiness, and dark circles, and botanical extracts nourish and heal. You'll find no sulfates, parabens, formaldehyde, or phthalates in this product, and only a small amount of synthetic fragrances, so you can rest assured that this gel will go easy on your skin.
This formula from Dr. Brandt contains "filmatrix technology," which forms a barrier on the surface of the skin to protect, hydrate, and tighten the under-eye area. Ninety percent of users report smoothing changes in just five minutes, and 100% agree that under-eye puffiness melts away within four hours of application. This product should be your go-to if you have an important meeting or date later in the day.
12. The Ordinary Caffeine Solution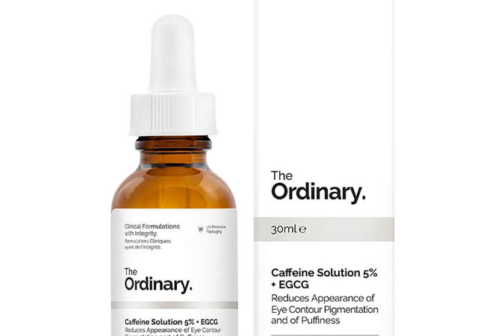 This product is like a cup of coffee for the skin under your eyes—a great morning pick-me-up. Caffeine constricts blood vessels to brighten and tighten, while green tea extract brings antioxidants to your tired skin. This formula is extremely potent and effective at a great price, making it a favorite among men.
With this vegan, fragrance-free blend that doesn't include alcohol, silicone, parabens, sulfates, or other harmful ingredients, you can treat your skin to clean care that really works to rid you of puffiness and under-eye circles.
13. Healgel Eye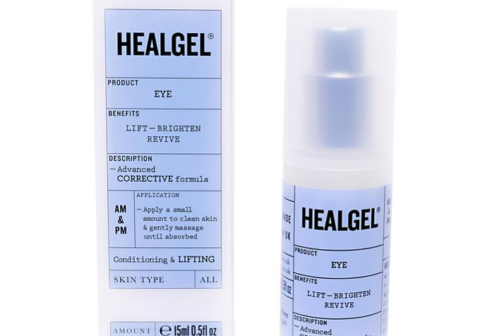 You don't have to be a prisoner to the bags under your eyes when you use this product from Healgel. Arnica works wonders to reduce inflammation and tighten up the skin, while collagen gives your skin a firmer appearance. Then hyaluronic acid saves the day with instant moisture while small mineral particles act as light diffusers to give the appearance of bright and even skin—the perfect remedy for dark circles.
Pro tip: Chill this formula in the fridge before applying for a refreshingly cool sensation on those under-eye bags that will help them fade faster.
14. Tom Ford Anti-Fatigue Eye Cream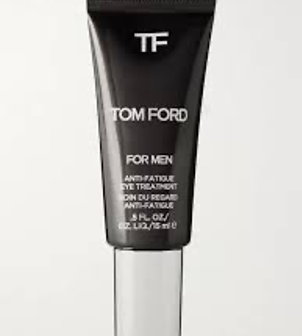 Tom Ford is a go-to for luxury grooming products. While this eye cream comes at a steep price, it makes up for it by being the ultimate treat for your eyes. Skin-calming complexes fight inflammation and irritation, while powerful natural ingredients like aloe leaf extract and St. Paul's wort condition and soften.
Healthy-looking eyes make the best first impression. This product from Tom Ford includes a metal-tipped applicator that helps to counteract swelling for that healthy effect. With nourishing and moisturizing properties, this treatment is a straightforward way to dump those under-eye bags and haunting dark circles.
15. Elemis Eye Reviver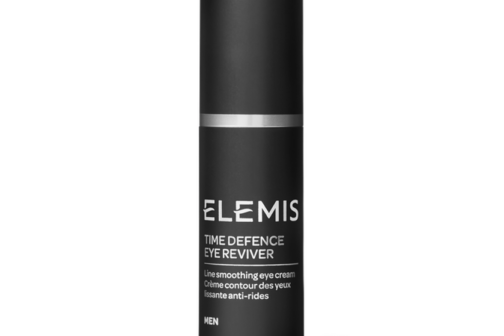 The Eye Reviver relies on three powerful ingredients for its visible effects. The first is hydroxyproline, which stimulates collagen production for firmer, healthier, younger-looking skin. Then ginseng wakes up your skin. Finally, acacia provides anti-inflammatory properties that stop puffiness in its tracks.
This formula was created with men in mind, which is why it goes on light and instantly hydrates for an immediate result. Its advanced blend includes adaptogenic technology to help skin react to environmental issues and protects against free-radical damage. Free radicals, which are often present in environmental pollution, damage the skin's collagen, resulting in droopy, dull, blemished skin.
16. Shiseido Men Total Revitalizer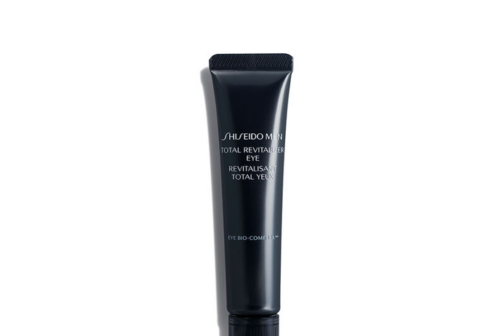 While some men turn to hyaluronic acid injections in their faces for anti-aging results, you can avoid needles by using this product from Shiseido Men. This advanced eye cream uses hyaluronic acid to firm and contains a complex that helps to moisturize and nourish skin at the same time.
This product doesn't just offer anti-aging benefits. Dark circles, begone! Dryness will hit the road, too, and you'll be left with the clear, bright, youthful eyes that you were born with. This formula has been tested by ophthalmologists to ensure safety in your delicate eye area. It is ideal for all skin types.
17. Acqua di Parma Moisturizing Eye Cream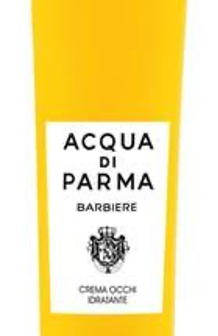 Borrow Italian high standards of grooming with this moisturizing eye cream from Acqua di Parma. If you're tired of crow's feet and that stretched-tight feeling on your skin around the eyes, apply this gel once or twice a day for instant relief.
Part of the magic of this formula is an advanced blend of African birch tree bark extract, which helps your skin absorb vitamin C, and thus produce more collagen for a firmer and brighter appearance. Then hyaluronic acid saves the day by hydrating your skin. The metal roller applicator constricts blood vessels and helps you feel relaxed and refreshed.
18. Jack Black Eye Balm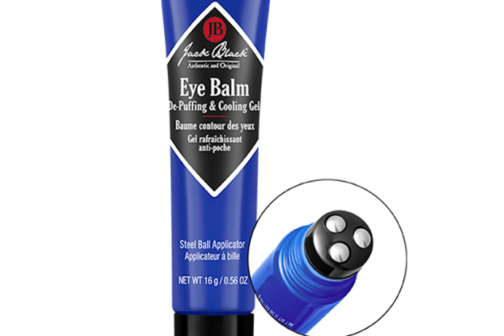 Jack Black has become a favorite among men for its naturally derived products that pack serious results. This clear, lightweight gel brightens up tired eyes by soothing skin and fighting off inflammation.
This effect is thanks to grape seed extract and a vitamin combo that penetrate deep to brighten skin and blur fine lines. Then panthenol and sodium hyaluronate moisturize and chamomile extract soothes so you can feel your best.
19. Rugged and Dapper Age Defense
Yes, there's a theme here. Fatigue contributes to wrinkles, fine lines, and dark circles. If you've been feeling a little run-down lately, it's time to do something about your skin. This eye defense from Rugged and Dapper fights off the appearance of fatigued eyes by busting lines and wrinkles and fading dark circles and under-eye bags.
Aloe vera and jojoba oil serve as master hydrators, Ginkgo biloba provides a soothing sensation and evens out texture, and green tea packs the boosting and firming properties to give you that wide-awake look. Natural and organic ingredients mean that this product is suitable for all skin types, including sensitive skin.
20. Geologie Under Eye Cream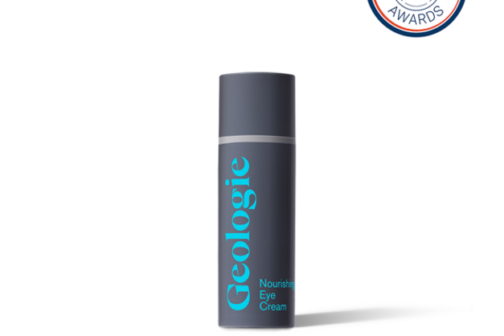 While Geologie is a relative newcomer to the world of men's skincare, their under-eye cream is a serious contender for the best formula out there. The coolest part about this company is that they provide personalized products based on your answers to a few quick questions. You can then opt-in to a subscription that delivers products right to your door.
This particular eye cream has been lauded for its rapid results and simplicity. Kojic acid fights off harmful bacteria, caffeine protects skin from damage while improving circulation and hyaluronic acid provides deep hydration.
21. Disco Eye Stick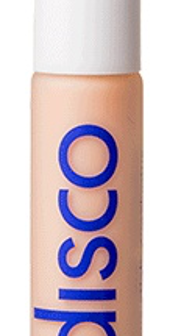 Eye sticks are an ideal way to bring relief to the skin around your eyes, as a metallic roller feels great and contributes to the de-puffing effects of the product. Plus, this stick is so small it's easily thrown into a carry-on bag and can accompany a busy man wherever he goes.
Caffeine is an instant pick-me-up for the skin around your eyes, pycnogenol (from a type of pine tree) brings antioxidant power to the table and niacinamide (a kind of vitamin B3) helps to de-age skin that suffers from breakouts.
Treat yourself to this Disco stick twice a day and help blur those fine lines around your eyes while brightening and smoothing out your complexion.
Signup for D Exclusive
Get partner offers, discounts, and more delivered right to your inbox each week.