No, skincare masks are not just for the ladies. Nor do they necessarily mean pampering yourself or lounging with cucumber slices on your eyes. The following products were designed to take care of men's skin in the way only a full face mask can. Read on to learn why you should give these a try.
Best Face Masks for Men:
Jaxon Lane Bro Mask
Rugged and Dapper Detoxifying Mineral Clay
Wolf Project Hydrating Mask
Baxter of California Clay Mask
Aesop Blue Chamomile
Dead Sea Mud Mask
Malin and Goetx Detox
Fine Vine Activated Charcoal
MenScience Facial Cleansing
Kyoku Lava
Brickell Charcoal
Origins Active Charcoal Mask
Ursa Major 3 Minute Mask
Kiehl's Avocado Nourishing Mask
Beast Facial Balancing
Bamboo Charcoal Face Mask
Oars and Alps Oil Attacker
Bulldog Oil Control
Heath Shower Mask
What is a Face Mask?
Face masks are skincare treatments that you leave on your face for a certain amount of time in order to target skincare issues or to treat your skin to hydration and nourishment. Unlike cleansers, face masks stay on your face for a while, and unlike moisturizers, they don't just absorb into the skin and disappear. Face masks sit on the face and form a top layer while nutrients and ingredients sink into the skin. Then they are washed or peeled off.
Types of Face Masks
Face masks for skincare come in several forms:
Cream masks. Cream masks are typically made with hydration in mind. They come as a thick cream that you lather over your face and let sit for a specific amount of time before washing off.
Peel-Off Masks. Peel-off masks generally adhere to the top layer of skin and remove dead skin when peeled off. If you have sensitive skin or your face gets irritated easily, you may want to try a simple exfoliator or a different mask option.
Clay Masks. This type of mask is made with clay and is great for drawing impurities out of the skin, sopping up excess oil and delivering nutrients.
Sheet Masks. These are sheets that fit the contours of your face and are soaked in or enriched with powerful ingredients to deliver results to the skin. They can be made of cotton, hydrogel or biocellulose.
Why Should Men Use Face Masks?
You may think of face masks as an unnecessary luxury, to be worn poolside or in a spa, but not used at home regularly like your other skincare products. But face masks have serious benefits for your skin that a quick rinse or a moisturizer simply can't provide. They come in many shapes and sizes—some are fast-acting, some can be worn to bed or on a plane.
Whether or not you think you care about the effects of aging on your face or how soft your skin feels, you should at least care about your skin's health. Not only is your face part of the first impression you make on everyone you meet; it's also a sensitive area that can be damaged easily. By using a face mask, you can target issues like dryness or acne, razor burn, or aging.
Simply give your face a quick cleanse, put on your favorite relaxation playlist and lie down on the couch for a few with a face mask on. No one has to know…but your skin will thank you.
Here's our list of the 20 best face masks for men in 2022.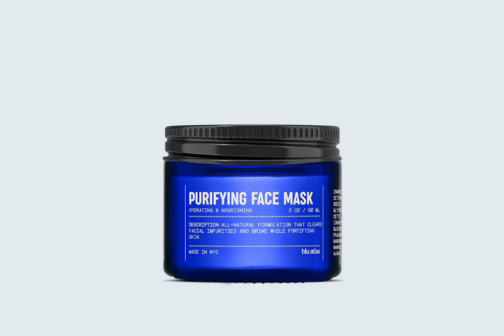 Exfoliating while hydrating is a tough act, but Blu Atlas' face mask does exactly that, which is why we've put it in our top spot. The reason this mask exfoliates so well is thanks to the combination of kaolin clay and charcoal.
Both ingredients serve to soak up oils and toxins while flushing any remaining pollutants out of your pores. To ensure this process isn't too irritating, goji berry extract and microalgae work with your skin cells to lock in moisture, leaving your face rejuvenated after the intense cleaning.
And because we know you'll love this mask as much as we do, we highly encourage you to subscribe to Blu Atlas' products. You'll get 20% off listed prices, and you can cancel your subscription at any time—though we can't imagine why you'd want to!
2. Jaxon Lane Bro Mask for Men
Picturing ladies lying down in the sun with pastel-colored goop on their faces? Face masks don't have to be associated only with women and their skincare. Take this Bro Mask from Jaxon Lane, for example. This award-winning face mask is loved by celebrities and normal guys alike thanks to its straightforward packaging, no-frills gel formula, and noticeable results.
The secret to this mask's success? Natural ingredients like collagen for skin firming, hyaluronic acid for hydration, and green tea for a perfect pick-me-up. Licorice and ginger pack skin benefits and a gentle scent. This product is great for brightening up skin, attacking inflammation, and smoothing out fine lines. Plus, it comes in two pieces, so you bearded men can treat just the top half of your face.
Place the plastic sheets over your face and relax for 20 minutes while the formula does its thing. Then take off the mask and feel instantly refreshed, with smoother skin that looks and feels healthier.
3. Rugged and Dapper Detoxifying Mineral Clay
This mask turns to the power of kaolin clay to suck out toxins and impurities, then tightens up your pores to prevent them from clogging. Aloe vera hydrates and soothes, while spirulina and sea kelp nourish and provide your skin with the antioxidants it needs for renewed youth.
With its exfoliating and nourishing properties, this mask from Rugged and Dapper serves as a great deep clean that will give you a brand-new face. If you have oily skin or are trying to avoid breakouts, you'll be blown away by this product.
4. Wolf Project Hydrating Mask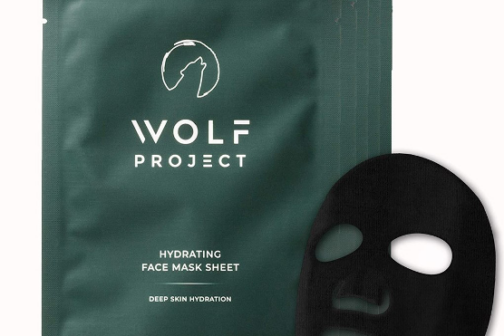 Starting to see sagging skin on your face? Concerned by the crow's feet and wrinkles that get more and more pronounced? When you hit your thirties, collagen production slows, leading to these changes and more. While aging cannot be reversed, it can be slowed and its effects minimized. This sheet mask is chock-full of hydrating power to leave you looking refreshed and well-rested.
Hyaluronic acid is the superhero here, since it promotes skin elasticity, helps retain moisture, and even treats eczema and redness. Charcoal gets rid of pore congestion, glycerin moisturizes, and antioxidants soothe and strengthen. The ingredients are 95% natural, and the formula provides results if you take just 15 minutes out of your week to keep it on!
5. Baxter of California Clay Mask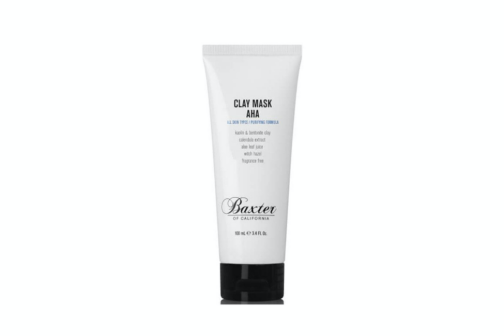 This clay mask from Baxter of California gives you the feeling of brand-new skin in just 10 minutes. Alpha Hydroxy Acid is the key ingredient here—it's a multitasker that helps to exfoliate while tackling aging, dry skin and dark spots. The mask goes on thick and gritty, like spreading clay on your face, but packs some serious results.
Detox and cleanse with kaolin and bentonite clays, fight irritation with aloe, then nourish with avocado and goldenseal. If you suffer from acne or have dry or sensitive skin, this mask will get you back to feeling your best.
6. Aesop Blue Chamomile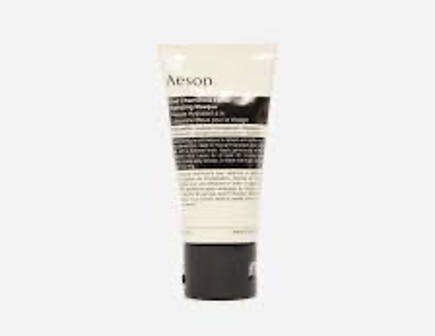 For those feeling the winter chafing on their skin or who are noticing a dry or flaky feeling, this mask will get down to the root of things and soften skin layer by layer. Since it goes on smooth and clear, you can even leave this mask on during a long flight.
Niacinamide helps boost skin cell growth while protecting your face from external harm, seaweed-extracted sodium carrageenan nourishes, and hydrates and bisabolol reduces irritation, making this a great blend for both sensitive and dry skin. Aesop recommends you apply this formula to your face twice weekly for 30 minutes (although, if that seems intimidating, try using it just once a week after work as you reflect on the day). You can also wear it overnight.
7. Dead Sea Mud Mask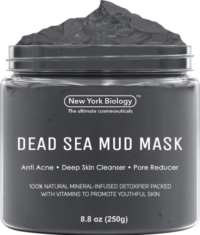 The mud for this mask from New York Biology is sourced from the Dead Sea in the Middle East, whose combination of salts and minerals has long been recognized for its healing qualities. One such healing benefit of the sea floor's mud is its ability to cleanse and purify your skin. This ingredient, combined with aloe vera, chamomile, vitamin A and natural oils, helps to nourish skin, sop up oil, and fight irritation. That's why this mask is great for any skin type.
8. Malin+Goetz Detox Face Mask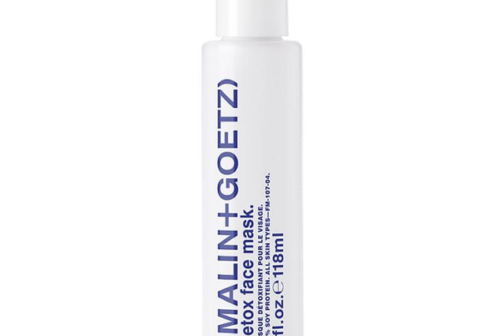 If acne or wrinkles are your concern, give this face mask a try. This gel formula forms a lather when you apply it to your skin. In as little as five minutes, it detoxifies and nourishes your face. Running short on time? Use this mask as a shaving cream, too.
Squalene and almond oil help lock in moisture, while vitamins provide antioxidants to your face and brighten up your complexion for a healthy glow. You'll get both purifying and hydrating qualities out of this product. Maybe that's why it has won a number of awards and users rave that it makes their skin feel soothed and look healthy.
9. Fine Vine Activated Charcoal Mask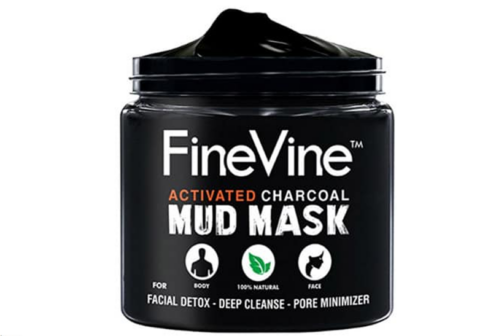 The cool thing about this mask from Fine Vine is that you can also apply it to the rest of your body for instant results. This formula is 100% natural and works great on all skin types to cleanse, shrink pores, remove blackheads and improve your skin's texture. At the same time, it contains anti-aging properties that act as a time machine for your face.
On the rest of your body, this mask helps prevent cellulite, reduces the appearance of scars and unclog pores. You won't find any dyes, fillers, preservatives, or parabens in this vegan and cruelty-free formula, allowing you to rest assured that you are treating your skin with the utmost care.
10. MenScience Facial Cleansing Mask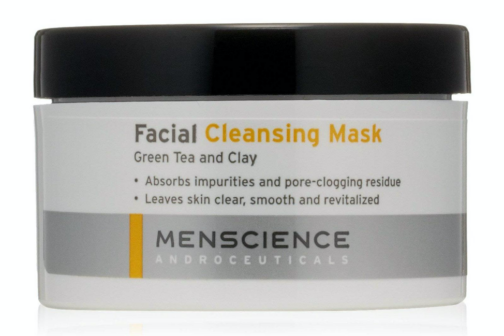 MenScience is a brand dedicated to bringing men natural skincare that is backed by science. This green tea clay mask contains powerful naturally derived ingredients to cleanse and soothe tired skin. Refined clay helps to relieve the skin of excess oils while green tea provides a dose of antioxidants. Aloe stops irritation in its tracks and locks in moisture. This blend is not a traditional heavy clay mask. It's actually light enough that you can just leave it on your face and not peel it off after.
After just one use, you'll feel refreshed and clean, with conditioned skin that is evenly toned. Those who are prone to blemishes will keep their complexion clearer than ever with this mask.
11. Kyoku Lava Masque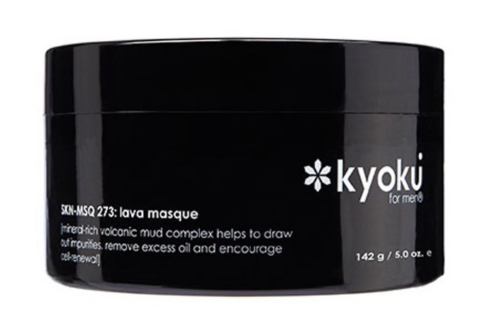 Has your skin been looking dull and flaky recently? Slap on this lava mask, which works as a natural exfoliator to target dead skin and pore-clogging buildup to leave your face free from acne and protected from toxins.
Centuries of Japanese wisdom have gone into this formula, which is a blend of 73 essential sea minerals along with mineral-rich volcanic mud that works wonders on dirty or greasy skin. These miraculous ingredients penetrate deep into the skin to kill harmful bacteria and stop inflammation before it leads to skin issues. Men with oily skin will especially appreciate this mask's benefits.
12. Brickell Charcoal Face Mask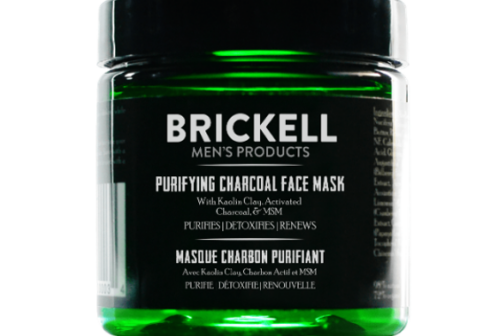 Brickell is another go-to brand for those concerned about putting chemicals on their skin. This charcoal face mask harnesses the power of activated charcoal, aloe vera, kaolin clay, grapeseed oil, and kelp powder to bring essential nutrients to your face while toning and protecting.
This mask is designed with men in mind. It is specially formulated to draw out dirt and buildup while firming and smoothing to create a youthful appearance. You don't have to worry about your skin feeling tight or flaky after using this product, and you'll be blown away by how much more even your skin tone looks and how quickly your skin bounces back from damage caused by the elements.
13. Origins Active Charcoal Mask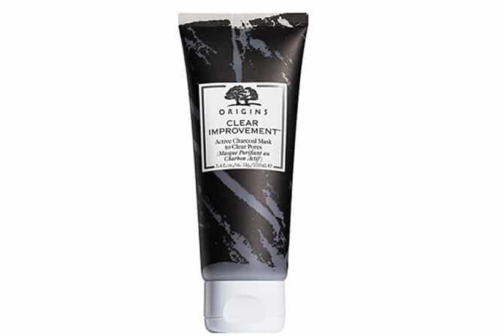 If you live in a city or spend much of your time outside, you'll want to turn to this mask to detoxify your skin from pollution and harmful environmental stressors. This product from Origins uses activated charcoal to get rid of impurities and absorb oil that contributes to breakouts. Lecithin is another important addition to the blend, as it cleanses skin and helps to shrink pores.
14. Ursa Major 3-Minute Mask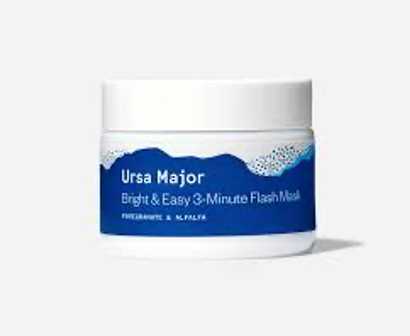 Do you have a busy schedule and feel you can't possibly make time for something as indulgent as lying down with a face mask on? Give this three-minute option from Ursa Major a try. This quick enzyme treatment only needs a short amount of time to deliver some serious nutrients and leave your skin glowing.
This effect is thanks to pomegranate enzymes, which contain fatty acids and antioxidants that firm, strengthen, and help retain moisture for an even and healthy complexion. Natural ingredients come to the rescue, as alfalfa promotes elasticity, hibiscus exfoliates, pineapple smooths and brightens, aspen bark tackles oil and fights irritation, and sodium hyaluronate conditions.
15. Kiehl's Avocado Nourishing Mask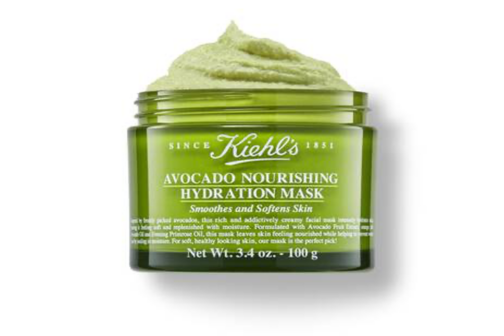 This mask is a real treat for all of the senses. Its thick, creamy formula goes on smoothly and helps quench the thirst of dry skin immediately. Avocado fruit extract fills in the cracks on the surface of your skin to seal in moisture, while its oil provides nutrients. Primrose oil helps keep your skin looking youthful.
Apply a scoop of this product to your face, let it sit on your skin for 15 minutes for all the healing benefits to soak in, then wash off with water.
16. Beast Facial Balancing Mask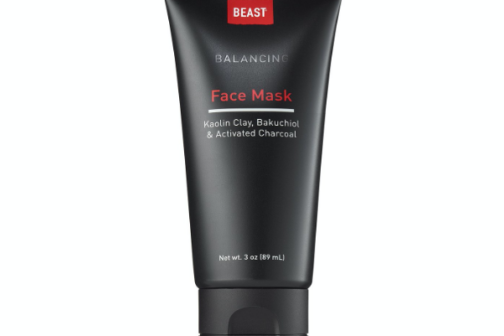 Blackheads can be a man's worst nightmare when they start cropping up on your face and refuse to dissolve on their own. Get a leg up in the fight with this balancing mask from Beast, which draws out impurities (including those stubborn blackheads) with charcoal, bakuchiol, and kaolin clay. Other natural ingredients, such as anti-inflammatory and antibacterial willow bark and vitamin-rich apples, help to nourish the face and target signs of aging.
Although this mask is best used for 10 minutes on your face during the day, you can also apply some to blackheads or acne as an overnight spot treatment and wake up with a fresher face.
17. Bamboo Charcoal Face Mask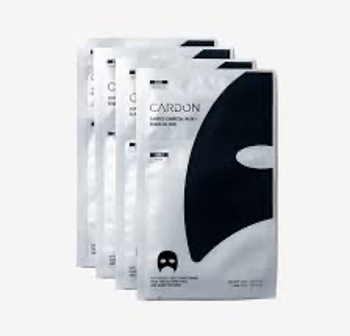 This sheet mask from Cardon contains a blend of powerful natural wonders to help create the appearance of brighter, younger skin. Centella asiatica is prized for its ability to treat conditions such as psoriasis and is great at fighting inflammation, wrinkles, and acne-causing bacteria. Cactus extract is another superhero when it comes to anti-aging, and charcoal helps to detox your skin.
The best part about this mask is that it comes in two parts: one with beard oil to soften your hair and protect the skin under it, and another to target skin issues on the rest of your face.
18. Oars and Alps Oil Attacker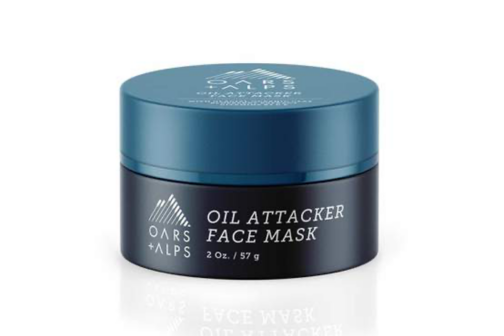 This Oil Attacker from Oars and Alps harnesses the power of three different clays—kaolin, bentonite, and glacial sea silt—to draw out impurities from the skin. If you are breakout-prone or suffer from particularly oily skin, apply this mask once or twice a week to absorb excess oil, minimize pores, and even out your complexion.
The mask's unusual blue color is thanks to blueberry extract, an important source of antioxidants.
19. Bulldog Oil Control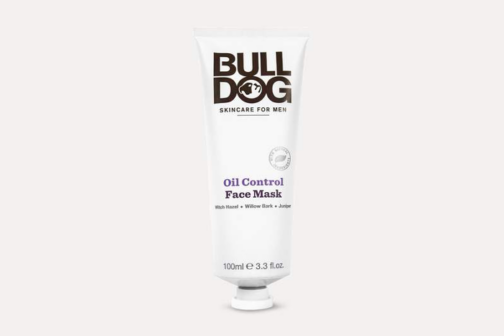 Bulldog has an impressive line of natural skin care products created with men in mind. This oil control face mask tones and addresses inflammation with witch hazel, willow bark, and juniper. Three different types of clays then dig deep to unclog pores and sop up oil that might be contributing to your breakouts.
20. Heath Shower Mask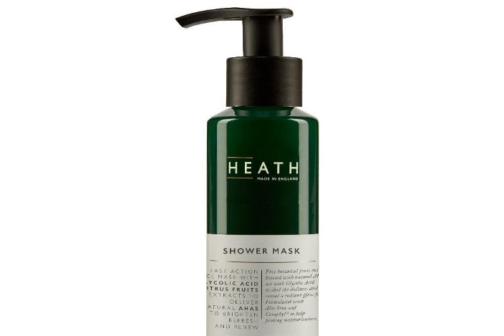 Men on the go will appreciate this shower mask from Heath. The London-based brand offers clean and effective skin solutions for busy men. Steam helps this quick-acting shower treatment get down to business and deliver exfoliating alpha hydroxy acids, azelaic acid to bust bacteria, and aloe vera to boost collagen production and trap moisture in the skin.
Men with any skin type can simply lather this on in the shower and rinse it off after five minutes. Then step out to tackle your day with a fresh glow and soft, soothed skin.
Feel ready to treat your skin to the ultimate hydrating and nourishing experience? Choose the mask that works best for you. You won't regret it.
Signup for D Exclusive
Get partner offers, discounts, and more delivered right to your inbox each week.