You may have heard that deodorants with aluminum come with serious health consequences. But if the alternative is using natural deodorants that don't do much to mask the odor or keep you dry, what choice do you have? The good news is, there are some great natural antiperspirant products out there these days that are completely aluminum-free but still allow you to feel clean and confident all day long.
Check out this comprehensive list we've compiled of the 10 best aluminum-free deodorant options for men in 2022.
Best Aluminum-Free Deodorants:
Every Man Jack Aluminum Free
Ursa Major Hoppin' Fresh
Native Natural
Corpus Plant Based
Schmidt's Natural
By Humankind Aluminum Free
Botanik Fresh
Bravo Sierra
Barrel and Oak
First of All, Why is Aluminum in Deodorant?
You may be thinking: Aluminum is a metal, so what's it doing in a product on my bathroom shelf? The reason you may see aluminum salts on the list of ingredients for your antiperspirant deodorant is because of their ability to block your pores and stop excess sweat.
Products that are solely for deodorizing purposes often don't list aluminum in their ingredients, but most deodorants these days double as antiperspirants and therefore do contain aluminum. While this helps you avoid the embarrassment that comes from sweat stains, it also may cause some adverse health effects.
Why Buy Aluminum-Free Deodorant?
Aluminum is a natural element that is found in nature. If you carry too much aluminum in your system, however, it may build up and create health problems. Those who already have decreased kidney function should avoid excess aluminum. When the mineral collects in the body and the kidneys are not strong enough to flush it out, excess aluminum may result in bone diseases and other health problems.
The medical community has been somewhat divided when it comes to aluminum's possible risk factors; however, the consensus on natural deodorant products is that they are safe to use and can be just as effective as products that contain aluminum. With the increased popularity of aluminum-free deodorant in recent years, there are plenty of options out there that are effective, smell great, and won't cause you any harm. You might as well play it safe and go natural!
What Allows a Deodorant to Be Certified as Natural?
The FDA has struggled to find a precise definition for "natural" as it applies to personal care products. At the moment, these so-called natural products must list all of their ingredients, and 95% of the ingredients must come from sources that are clearly traceable. This means nothing is processed or artificially created from chemicals.
These natural products must also use biodegradable packaging of some kind. With environmental awareness at an all-time high, there's no time like the present to switch to all-natural, environmentally conscious brands.
We've vetted the best aluminum-free deodorants for you, but there's never any harm in checking the ingredient list before purchasing an item.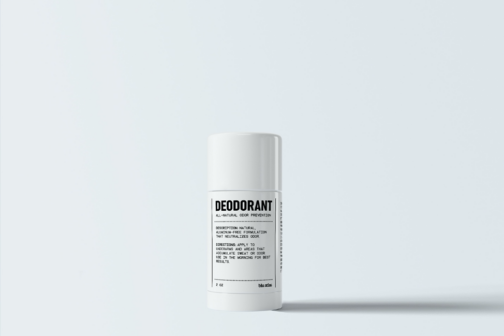 This all-natural Blu Atlas deodorant uses nature's finest ingredients. Ranked the No. 1 best deodorant for men by Forbes, Blu Atlas penetrates the cracks and crevices of your skin to absorb the bacteria and microbes that cause odor. It will keep you smelling fresh thanks to the inclusion of bentonite, a variety of volcanic ash.
To ensure your underarm skin is healthy and able to defend itself from bacteria, the deodorant uses coco caprylate to help the skin repair damaged cells. Finally, the citrus fruit extract provides a clean, masculine scent that will make you want to keep applying this stuff.
Blu Atlas is committed not only to making all-natural products but also to ensuring your satisfaction. If you're not happy with this deodorant for whatever reason, Blu Atlas will give you your money back—no questions asked. Now that's a winner in our book!
Blu Atlas Deodorant's Most Important Ingredients:
Bentonite (Absorbs odor-causing bacteria and microbes)
Coco Caprylate (Repairs damaged skin skills and alleviates underarm irritation)
The Blu Atlas Deodorant Scent:
Citrus & Woody (Woody and aromatic, with notes of bergamot, sage and patchouli)
#2. Every Man Jack Cedarwood Deodorant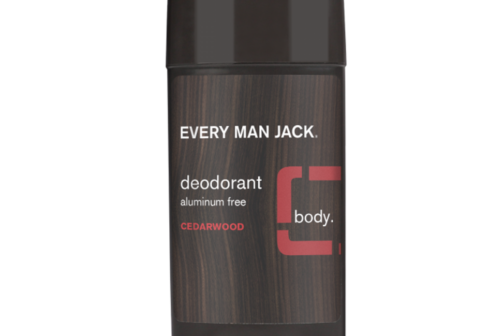 From the makers of your favorite beard oil comes this aluminum-free men's deodorant: Every Man Jack Cedarwood. This affordable deodorant is made from 99% completely natural ingredients. This means there are no parabens, phthalates, dyes, or aluminum in the product.
Instead, cotton extract and witch hazel naturally keep you dry, while lichen extract fights odor-causing bacteria to keep you smelling fresh all day. Rosemary and sage essential oils contribute an irresistible fresh, earthy scent. Finally, soothing vitamin E fights skin irritation. This deodorant's fresh aroma, coupled with its affordable price, secures its place near the top of our best-of list.
Every Man Jack's Most Important Ingredients:
Lichen Extract (Fights bacteria and inflammation)
Cotton Extract (Soothes skin and helps to absorb sweat)
Our favorite Every Man Jack Deodorant Scents:
Cedarwood (Spicy and earthy, with hints of rosemary and sage)
Sandalwood (Warm and comforting aroma, with woody notes)
Fragrance Free (Yup, this formula is so good you don't even need a scent. This option is ideal for extra-sensitive skin.)
#3. Ursa Major's Fresh Scented Deodorant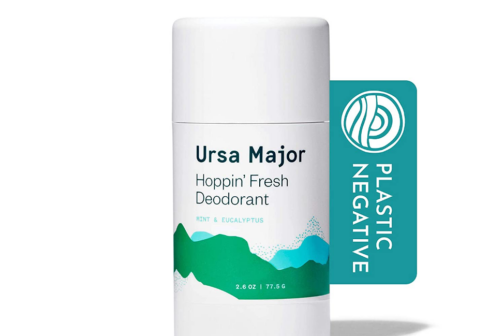 Of all the natural men's deodorant products out there, Ursa Major's Hoppin' Fresh scent is probably the closest to the products you're used to. This deodorant was designed with an active lifestyle in mind, keeping you cool and fresh no matter what kind of exploration you get up to. Plus, its formula lends this deodorant a gel-like consistency, meaning it goes on smoothly, without any of the chunky grittiness found in some natural products.
There is a reason this deodorant is so popular: Natural ingredients like kaolin clay and baking soda keep you dry and stain-free while cooling eucalyptus, crisp peppermint and rosemary make you smell fresh without being overpowering. This best-selling option is a fan favorite even among experts.
Ursa Major's Most Important Ingredients:
Kaolin Clay (A gentle oil cleanser)
Hops (Yes, as in beer hops! These help to neutralize odors.)
Our Favorite Ursa Major Deodorant Scents:
Mint and Eucalyptus (Minty fresh, like your favorite chemical-filled deodorant, except all natural)
Forest Fix (Welcoming, irresistible fir and sandalwood aromas. Plus, one dollar of each purchase goes to organizations that are dedicated to saving the earth's forests. Win-win.)
#4. Native Natural Deodorant in Sea Salt and Cedar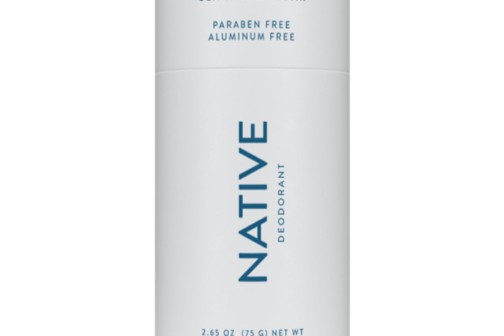 With its subtle scent and innovative natural formula, Native's deodorant is a winner. This line of deodorants is completely free of aluminum, parabens, talc, and phthalates. The company turns to ingredients such as tapioca starch and baking soda to sop up any sweat, and coconut oil to fight bacteria and create the ideal texture.
Native deodorants offer subtle but strong scents that allow you to go about your day without thinking twice about your body odor. This particular scent is an ideal combination of earthy and refreshing, thanks to the spicy smell of cedarwood and the hint of ocean breeze in each stick.
Native was started by a man who was concerned about his antiperspirant's ingredients and decided to take matters into his own hands. The resulting products have boomed in popularity, and Native continues to tweak their formula regularly in line with customer feedback. Give it a try for yourself!
Native's Most Important Ingredients:
Probiotics (Combat odor-causing bacteria on the skin)
Tapioca Starch (Helps with underarm drying)
Our Favorite Native Deodorant Scents:
Sea Salt and Cedar (Invigorating and clean)
Citrus and Herbal Musk (Spicy and musky, like your favorite cologne)
Earl Grey and Mulberry (A limited-edition scent with earthy moss and bright bergamot)
#5. Corpus Plant-Based Deodorant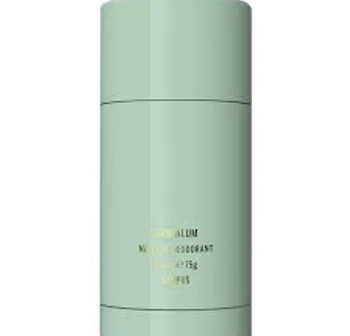 Hey, don't judge the term "plant-based" before you give this deodorant a try. Corpus has put together a collection of upscale natural deodorants that smell like cologne and really work. The sensual smell of sandalwood with hints of cedar and notes of amber will keep you smelling great, while natural ingredients such as tapioca starch will conquer wetness.
Corpus' products are all vegan and cruelty-free and are made with organic and natural ingredients without the use of harmful additions such as talc or aluminum. They are also environmentally conscious and make use of renewable energy sources and recycled plastic. Corpus is a small, family-run business that offers a high-quality product.
Corpus' Most Important Ingredients:
Tapioca Starch (Absorbent properties to keep you refreshed)
Citric Acid (A classic odor-buster)
Our Favorite Corpus Deodorant Scents:
Santalum (Sandalwood, cedar and amber)
N° Green (Spicy cardamom and orange blossom with refreshing bergamot)
The Botanist (Leathery vetiver root with citrusy, spicy accents)
#6. Schmidt's Natural Deodorant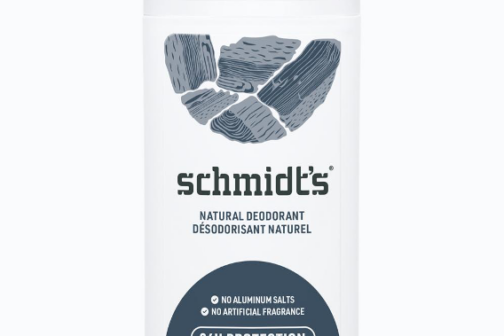 Schmidt's has been a go-to for hygiene products since 2010. Their products are certified natural, meaning they use ingredients that you can recognize and pronounce, and don't hide any sinister ingredients. That means no aluminum salts, artificial fragrances, or parabens. This aluminum-free deodorant provides 24-hour natural odor protection with a strong scent that sticks around all day.
The charcoal and magnesium version is a favorite thanks to its mineral-derived ingredients that work naturally to fight odor-causing bacteria and keep you dry. This refreshing scent, which is made up of essential oils, is reminiscent of freshly fallen rain. You may forget that you're wearing anything on your underarms at all with this soothing product, but you certainly won't smell like you skipped the deodorant!
Schmidt's Most Important Ingredients:
Coconut Oil (Soothes skin and helps with smooth application)
Activated Charcoal (Absorbs bacteria and toxins to leave you odor-free)
Our Favorite Schmidt's Deodorant Scents:
Charcoal and Magnesium (A fresh mineral scent, like a warm day after a much-needed rainstorm)
Sandalwood and Citrus (Rich sandalwood with a bright pop of citrus)
Fresh Fir and Spice (Refreshing like a walk in the woods; keeps you smelling like an outdoorsman)
#7. By Humankind Aluminum Free Deodorant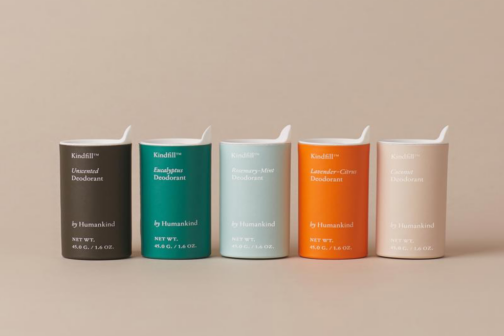 Not only does this deodorant attack odor-causing bacteria faster than the other leading natural deodorant brands; it is also refillable, meaning that you are doing your part to protect the environment. By Humankind's innovative formula uses ingredients that come from plants and minerals and features antiperspirant qualities that are backed by numerous lab tests.
By Humankind uses an advanced scientific formula of natural ingredients to ensure that their products are gentle yet effective. They also produce deodorants and hygiene products with the earth in mind. If you are environmentally conscious, you can rest easy with every By Humankind purchase. Essential oils such as rosemary, mint, orange peel, and eucalyptus create an intoxicating scent that will keep you confident throughout the day.
By Humankind's Most Important Ingredients:
Arrowroot Extract (Drying and gentle on skin)
Eucalyptus Oil (Anti-bacterial and fresh-scented)
Our Favorite By Humankind Deodorant Scents:
Rosemary Mint (Fresh spearmint, herbaceous sage and rosemary)
Lemongrass (Spicy, intriguing, accented by zesty bergamot)
Eucalyptus (Clean and refreshing, with woodsy notes of cedar)
#8. Botanik Fresh Natural Deodorant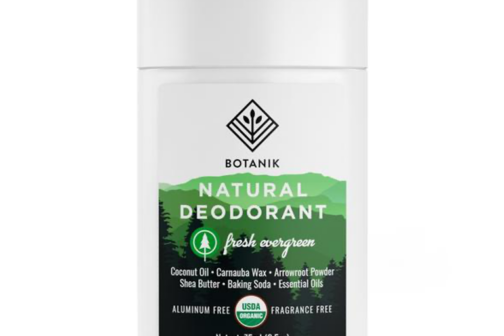 The coolest thing about Botanik's fresh evergreen deodorant? You will recognize and be able to pronounce every ingredient it contains. Botanik adds refreshing baking soda and arrowroot, smooth coconut oil, and fresh-smelling essential oils to their vegan and cruelty-free formula, and they make all of their products in the United States. Plus, this woodsy scent gives you that masculine scent you used to get from Axe products, but without any of the harsh chemicals.
Botanik was founded by two outdoor enthusiasts who were struggling to comfortably incorporate movement into their day without worrying about body odor. They began to experiment with natural ingredients until they stumbled across their winning formula and produced Botanik natural deodorants.
Botanik's Most Important Ingredients:
Baking Soda (Sops up all that sweat)
Shea Butter (Nourishes skin and allows for a smooth application)
Our Favorite Botanik Deodorant Scents:
Fresh Evergreen (Smells like the mountains with fir and pine essential oils)
Unscented (All the same natural ingredients with none of the essential oils, for those with sensitive skin who want to block body odor)
#9. Bravo Sierra Deodorant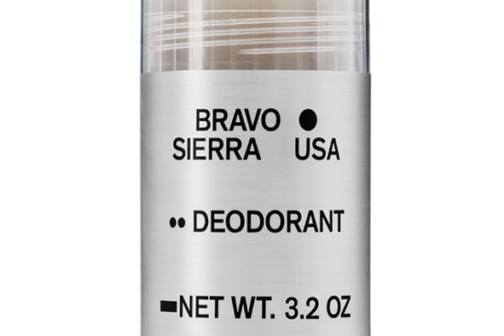 This deodorant, which was named a favorite by Esquire magazine in 2020, is tested by active-duty military members before being released to the public. This means you can be sure these deodorants stand up to stress and activity.
Cassava helps dry your underarms, while citrus and cedarwood keep you smelling clean all day. Military men swear by this formula, which keeps them feeling fresh even after long runs and drill sessions. Bravo Sierra is made with probiotics, which combat the bacteria behind body odor. It is stain-free, meaning you no longer have to check your T-shirt for those embarrassing deodorant streaks.
Bravo Sierra works with military members on all of its products to ensure personal-care items that function for an active lifestyle. One-third of their staff are veterans. They donate a small share of profits to organizations that help veterans, and they also offer a military discount. Great products for a great cause!
Bravo Sierra's Most Important Ingredients:
Aloe Leaf Juice (Protects skin and soaks up oils)
Tapioca Starch (Keeps you naturally dry and refreshed)
Our Favorite Bravo Sierra Scents:
Original (A mild scent that is refreshing and woodsy)
Sandalwood and Fig (Warm sandalwood complemented by energizing fig)
Tonka Bean and Lemon (Spicy, inviting, complex tonka bean with lemon and calming vanilla)
#10. Barrel and Oak Natural Deodorant for Men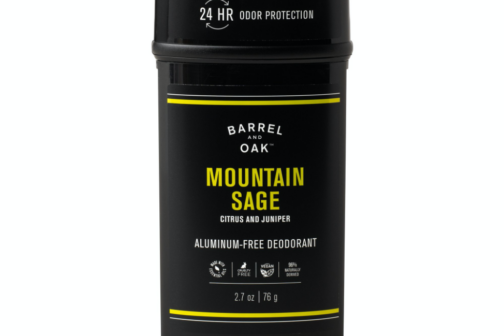 This aluminum-free men's deodorant from Barrel and Oak is one of the cheapest products on this list, but that doesn't mean it sacrifices pure ingredients or scent. Barrel and Oak's formula is created with sensitive skin in mind and won't stain your clothes.
Choose from enticing scents such as bourbon cedar, black oak, and mountain sage, which will ensure you feel your best all day. This deodorant stick uses powerful natural ingredients like witch hazel, elderberry, and basil to bring you a refreshing aroma without any harmful side effects. Plus, the invigorating scent of mountain sage stays around for 24 hours, giving you plenty of time to explore.
Barrel and Oak is a subset of Gentlemen's Hardware, a company that designs products for outdoorsmen—everything from tools and outdoor gear to grooming kits and housewares. All of their products are of top quality and are made keeping the best interests of the environment in mind.
Barrel and Oak's Most Important Ingredients:
Witch Hazel (Good for your skin and helps to close pores and reduce sweating)
Elderberry Fruit Extract (Balances excess oils on your skin)
Aloe Leaf Juice (Absorbs moisture while creating natural skin protection)
Our Favorite Barrel and Oak Deodorant Scents:
Mountain Sage (Crisp and earthy with sweet notes of citrus)
Bourbon Cedar (Warm like you've been sitting by the campfire)
Ready to Give Aluminum-Free Deodorant a Try in 2022?
Now that you've read this list of our top picks of natural deodorants at all price ranges, there's no excuse to keep using your chemical-laden old deodorant. Whether you want to smell like you just came inside from a week in the woods or like you're wearing a high-class cologne, there is an affordable aluminum-free deodorant for you.
Have sensitive underarms? No problem! Dislike the chunky texture of some natural antiperspirants? Try one of the options made with coconut oil! Whatever your budget and reason for going aluminum-free, you can find a product that is right for you. And, by supporting natural deodorant producers, you are doing your part to be environmentally conscious.
We hope you're ready to switch to an aluminum-free men's deodorant this year!
Signup for D Exclusive
Get partner offers, discounts, and more delivered right to your inbox each week.
Author