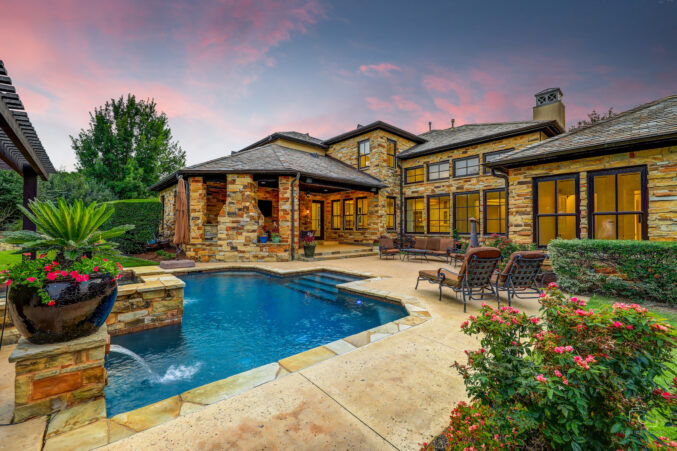 This Marvelous Mansion Is the Epitome of Westlake Luxury
And the homeowners have updated this property to sell quickly.
Want to get away from the Dallas hustle and bustle but not exactly ready to leave a life of luxury? Many who have this itch to stretch their legs without skimping on amenities make the move to the prestigious Vaquero community in Westlake. This four-bedroom, 4.2-bathroom property has 6,060 square feet of living space that has been recently updated by the current owners to ensure that the selling process is seamless.
Speaking of updates, some of the improvements are what make this home so special. For starters, they took care of the obvious things like a fresh interior paint job. The property has also been updated with new white oak wood floors downstairs and refinished wood and new carpet upstairs. This instantly brings the property into 2021 with a fresh, clean look.  The countertops are timeless and will never go in or out of style.
This is the ultimate house for having a great time. For starters, it is nearly impossible to walk around the lower level of the house without catching glimpses of the sparkling pool. There is also a pergola and a covered living area complete with a fireplace and grill. Essentially you will be spending all fall and spring out there enjoying entertaining al fresco. The upstairs is where you lay back and relax with a fun game area for kids and adults alike in addition to a media room for watching a movie as a family or catching the Dallas Cowboys on Sundays.
The neighborhood is home to the ever-exclusive Vaquero club that offers both opportunities for social engagement in the community in addition to an impressive golf course designed by Tom Fazio, a sparkling pool, tennis, and state-of-the-art workout equipment. This property, of course, is a part of the 525 acres of land that once was the Hunt brothers' Circle T Ranch in Westlake. Read all about the club and its membership process here.
---
The Marcontell & Gilchrest Group
(d) 972-743-9171
[email protected]
After closing many home sales together as individual agents, two of the most respected names in North Texas residential real estate joined forces – Kelly Marcontell and Susan Gilchrest. By bringing together their diverse and complementary backgrounds and award-winning talents, Kelly and Susan deliver extensive experience to their valued clients. They are uniquely qualified to assist sellers in positioning and marketing homes in today's competitive environment and write winning offers for buyers. Between them, they have successfully closed $1 billion in transactions. Over their 30+ years in real estate, both have consistently been Top Producers.
Kelly Marcontell  |  972-743-9171
Kelly is an accomplished residential Real Estate professional with 25+ years of industry experience. She grew up in Springfield, IL., and graduated from Stephens College in Columbia, MO., with a bachelor's degree in Communications. She moved to Dallas from Chicago in 1993 and soon began working with a national homebuilder, where she became well-versed in the intricacies of design and construction. Kelly then worked for several well-known local custom builders in high-end subdivisions in Southlake, Westlake, and Keller. For the past few years, Kelly has focused solely on residential resales. Her diverse background in every phase of the real estate transaction provides invaluable experience and knowledge that benefits both her buying and selling clients. Kelly is consistently ranked among the area's highest Top Producers.
Susan Gilchrest  |  817-718-1242
Raised in the New York City/Connecticut area, Susan is now a longtime proud Texan and has been a full-time, high-volume Realtor since 2007. Susan holds a Bachelor in Science (Finance) from Boston College and a Master of Business Administration (Marketing) from Fordham University in New York City, where she graduated 1st in her class. Prior to her career in real estate, Susan was a marketing executive for a Fortune 100 company. Her unique combination of Marketing and Real Estate experience allows her to best position her clients' homes for sale. Susan has also been the #1 Buyers Agent in Southlake for numerous years and is highly experienced in helping her clients to find their perfect home. After relocating her own family twice, Susan knows the process can be stressful for families and works hand-in-hand with clients to make every transaction proceed as smoothly as possible.
As mothers, Kelly and Susan understand the importance of schools as a driving force in the home selection process. All of their children graduated from Southlake Carroll ISD and they are both actively involved in their churches and community.
Recent Awards:
Real Trends America's Best Teams – Top 100 in Texas – 2019 & 2020
Top Team of Two – Ebby Halliday Realtors Companywide – 2018 & 2019
Top Team of Two – Ebby Halliday Realtors Companywide – First & Second Quarters 2020
D Best Real Estate Agents & Top Producers – 2016, 2017, 2018 & 2019