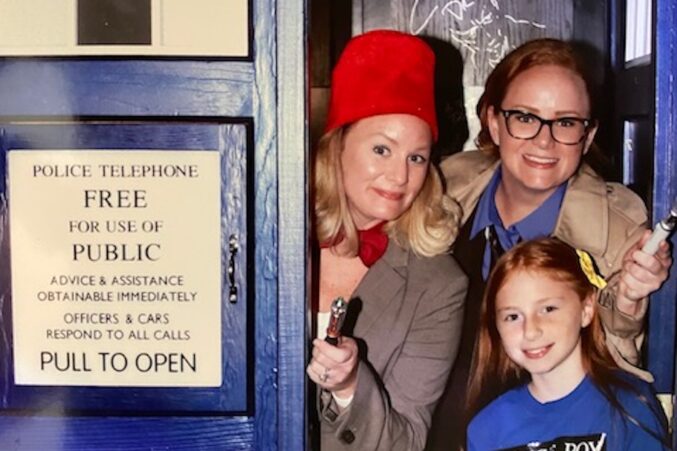 Artificial Disc Replacement – Times Two!
Mirror Twins are Pain-Free after Treatment from the Center for Disc Replacement at Texas Health Center for Diagnostics & Surgery.
When twins Becky Stalsby of Allen, Texas and Sarah Walker of Bedford, Texas were younger, they—of course—looked alike, but continually realized that several of their key characteristics were opposite. Take, for instance, their eye prescriptions. Sarah's left eye and Becky's right eye each have a -5 degree of nearsightedness and their opposite eyes have -6.5. And one twin is left-handed while the other is right-handed. Becky and Sarah are mirror twins, meaning they look alike, yet appear asymmetrically. When facing each other, it's like they are looking in a mirror.
As Becky and Sarah, now 42, grew older, they continued to discover more mirror twin features. They eventually thought they had pinpointed them all until about five years ago when another potential mirror twin characteristic was revealed. Becky started having pain in her lower back, and Sarah began having pain in her neck.
"I was experiencing pain in my hands, so I thought there was something wrong with my shoulder," Sarah recalls. "I went to an orthopedic specialist who determined there was an issue with a disc in my neck, so he referred me to Dr. Richard Guyer co-director of the Center for Disc Replacement at Texas Health Center for Diagnostics & Surgery. "I tried steroid shots and physical therapy, but nothing was working. Dr. Guyer recommended I consider an artificial cervical disc replacement."
"I had been having minor pain on and off in my lower back since I was 18," Becky says. "It became much worse, and I reached a point where I was having trouble sitting for long periods of time. My commute to work was 45 minutes, and I would often have to pull over because the pain was so bad. A doctor recommended a fusion, but I had heard concerning things about this surgery, so I was skeptical. Sarah recommended Dr. Guyer. After reviewing my X-rays and MRI results, he determined I was a candidate for artificial lumbar disc replacement. I was in my late 30s and still wanted to be active, although I could barely walk without pain at that point. A few weeks later, the pain became so bad that I couldn't even get out of my car. I immediately called Dr. Guyer's office and told them I was ready for the surgery."
Artificial disc replacement is an alternative to spinal fusion where a type of arthroplasty (similar to other artificial joints used in the hip and knee) is used to treat chronic, severe back and neck pain. It is a surgical procedure in which degenerated intervertebral discs or damaged discs are replaced with artificial devices in the lumbar (lower back) or cervical (neck) spine. This procedure helps to stabilize the spine while maintaining a natural movement of range and motion. Maintaining the natural range of motion helps reduce the degeneration of adjacent discs and lowers the risk of additional disc injuries over time that may lead to additional surgeries. The artificial disc allows for normal motion through the device, therefore preserving the spine's normal range of motion and flexibility. The Center for Disc Replacement has been recognized as a center of excellence for this procedure and is well-known throughout the country and the world for its successful outcomes.
While Sarah was still trying more conservative approaches to reduce her neck pain, Becky decided to proceed with the artificial lumbar disc replacement, as Dr. Guyer said she would likely experience at least an 80 percent reduction of pain following the surgery. "That prospect sounded like absolute heaven to me," Becky says. "I still tell people this was the best thing I have ever done for myself. I wound up having almost 100 percent pain reduction. Sometimes, I forget I ever had surgery because my quality of life has improved so much."
After witnessing the remarkable results from her sister's surgery, Sarah soon followed suit with her artificial cervical disc replacement. She has almost no pain in her neck five years later. "At the time, Dr. Guyer and his team were testing a new type of disc, and I qualified for an FDA study for a ceramic and medical-grade plastic disc," Sarah says. "I was healthy with no underlying medical issues, so I was a great candidate. At the time of surgery, I had no grip left in my right hand. In fact, I couldn't even open a door or hold a computer mouse without severe pain. Today I have complete movement of my neck and no pain in my arms, hands, or neck."
One year after their surgeries, Becky and Sarah went snow-skiing in New Mexico—something they never thought they could do because of their pain—and also something they wouldn't be able to do if they had fusion surgery to treat their pain because it usually limits motion and flexibility. They both continue their progress with light physical therapy and stretches to complement the results, and they see Dr. Guyer once a year to track their progress.
Dr. Guyer says Becky and Sarah are still doing remarkably well, and their stories are a testament to the excellent outcomes so many patients experience after artificial disc replacement. Artificial disc replacement has eliminated lengthy recovery periods, loss of mobility, and the potential for additional surgeries that are commonly associated with traditional forms of neck and spine surgery, such as fusion surgery. Dallas—and the world—have access to this FDA-approved, life-changing procedure at  The Center for Disc Replacement at Texas Health Center for Diagnostics & Surgery in Plano, we have an entire program dedicated to this motion-preserving surgical procedure. Beginning in 2000 with the first-ever ADR surgery performed in the United States, we have performed more than  4,100 artificial disc replacement procedures with 14 different types of ADR devices.
While nothing can actually prove that the location of Becky and Sarah's pain is due to being mirror twins, Dr. Guyer thinks there could be something to it. "It was interesting that Sarah experienced pain in her neck and Becky in her back—almost like it flipped upside down," he says. "It was fascinating, and I had never seen mirror twins, sisters, brothers—or even people in same family—each have a single-level abnormal disc. In the case of mirror twins, the egg itself splits, but it could also be that there was a genetic predisposition that could have flipped from top to bottom, so to speak, if the split was in the center. I think it's more than random and could be a variation of mirror imaging. Of course, I can't prove it, but it is interesting that remainder of the discs for both patients remained perfectly normal. We checked; there was no other abnormality. So, in my mind, they are mirror twins, yes, but there may have been some flip with predisposition. And the fact that they both presented within months from each other, to me, is more than just coincidence."
Click here to learn more about artificial disc replacement and the Center for Disc Replacement at Texas Health Center for Diagnostics & Surgery.