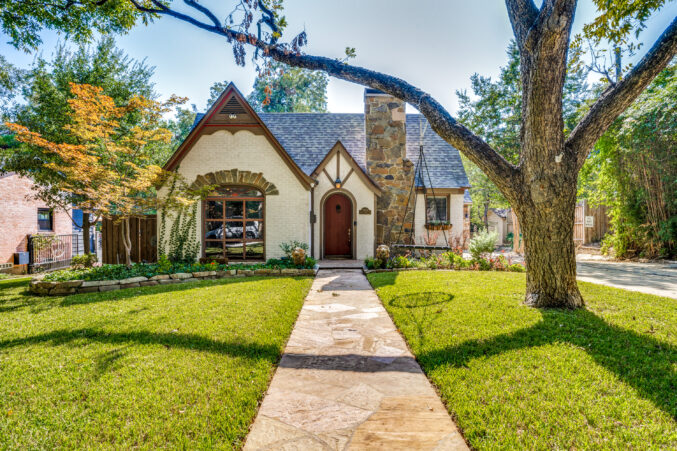 This Dallas Tudor Takes your Real Estate Search to New, Exciting (Hollywood) Heights
The warm and fuzzies coming from this property cannot be denied.
There's just something about East Dallas that gets into the soul of people and never leaves. That feeling, of course, comes with the territory when moving into the picturesque Santa Monica/Hollywood Heights area as the full benefits of living in the area are always on full display. From the adorable homes to the obvious sense of community practically bursting from each block, when homes hit the market here, they don't stay active for long.
That is why the four-bedroom, three-bathroom Tudor at 6914 Patricia Avenue excites us. Listing agent Danna Morguloff-Hayden really hit the nail on the head when she said that it has "stop the car" drive-up appeal. There is truly something about a 1926 Tudor that can take people into a nostalgic state of happiness instantaneously.
Not only are all 2,493 square feet of living space completely move-in-ready, but it has a list of "extras" a mile long. For example, Marvin windows and doors, a 2021 roof update, and a mosquito mist and sprinkler system.
The inside is just as special as its exterior with an updated floorplan that has a downstairs master and guest room in addition to two bedrooms upstairs. The back of the home is flooded with brilliant, natural light and views of the lush landscaping in the backyard. The kitchen is stocked with a commercial gas cooktop, double ovens, and storage galore. An extra 440 square feet of living space exists in the detached quarters that make for a convenient guest suite or work studio.
This darling home, all of its absolute preciousness aside, also happens to be located within Lakewood Elementary. And when it comes to this fantastic school, well let's just say, if you know, you know.
---
The Morguloff Team
(d) 214-354-5266
[email protected]
Martha and Danna Morguloff have been Ebby's top team since 2000. A mother-daughter powerhouse, they offer their valued clients more than 60 years of combined experience in North Texas residential real estate sales – and more than $1 billion in sales. Martha and Danna were recently inducted into Ebby's Wall of Fame, two of only six agents in the company to receive this coveted honor representing 25 years of continuous companywide Honor Roll status.
Successful sales, extensive knowledge, creative marketing, and strong negotiating techniques set them apart in the highly competitive real estate profession. Their mantra: "We specialize in people not necessarily houses."
Their philosophy is being tender with people, but tough on the transaction; their cell phones never sleep.
Martha Morguloff – (214) 354-5266
Member of the Marquis Who's Who in Residential Real Estate
Designations: CRS, SRES, GRI
BBA and MBA Southern Methodist University
Named Real Estate Agent of the Year
Realtor Emeritus – National Association of Realtors
Danna Morguloff-Hayden – (214) 533-3217
Member of the Marquis Who's Who in Residential Real Estate
Degree in Real Estate from the University of North Texas
The Morguloff Team – The Power of 2
Inducted into the Ebby Wall of Fame
Listed in 5 Star Professional
Named Super Real Estate Agents by Texas Monthly
Named by The Advocate as among the top 25 Preston Hollow agents
The Morguloff Team of 2 is rated #227 in volume in the State of Texas by Real Trends
America's Top 100 Real Estate Agents