The Shops at Legacy in Plano has long been a destination for all things entertainment in North Texas—shopping, movies, dining, nightlife, salons, and great people-watching. Now, nestled right in the heart of it all is Italian Village, a concept from Chef Veton "Tony" Krasniqi who is passionately introducing his family's beloved southern Italian recipes to North Texas. Chef Tony has been in the restaurant business most of his life. He operated several successful Italian restaurants in Germany before moving to the Dallas area four years ago. He kept searching for the authentic Italian fare he had become accustomed to making and enjoying, but couldn't quite find it, so he decided to jump in and create what North Texas didn't even know it was missing—Italian Village. "I kept hearing how this area needed more authentic Italian food," he says. "My vision was to open a very traditional restaurant that makes you feel like you are in Italy when you walk in."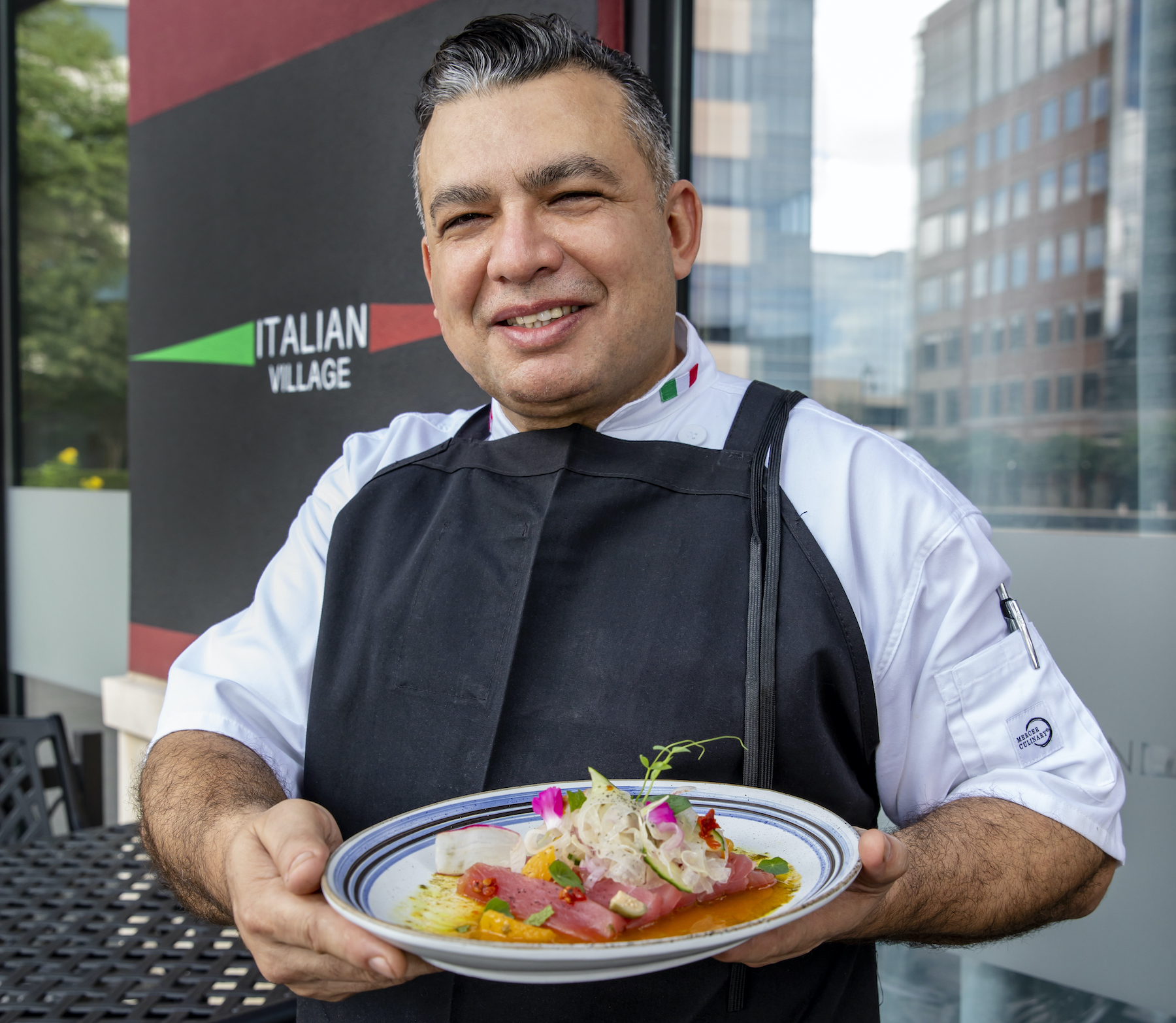 Mission accomplished. From the Old World, hand-stamped concrete stone flooring and brick walls to the striking monuments and quaint patios with twinkling lights that overlook the shopping center's iconic fountain, Italian Village feels like a Mediterranean escape. The showstopper is the restaurant's 3D bar with a lighted wall mural of the Roman Coliseum. Each "window" of the Coliseum is a shelf for liquor bottles, and the subtle lighting effects create a cozy feel that beckons you for a post-dinner nightcap at the bar. "We have had customers from across the country come in and say they've never seen anything like it," Chef Tony says.
Let's get straight to the restaurant's heart—the menu. "If you're not sure what to order first, try something with our Bolognese sauce," Chef Tony says. "True Bolognese sauce is quite rare in America. Most restaurants do some version of a marinara—not Bolognese like in Italy. We made ours Italian-style with ground beef, fresh tomatoes, celery, carrots, onions a blend of our family-secret homemade spices."
You can experience authentic Bolognese by sampling Italian Village's Tagliatelle al Ragu' Bolognese—tomato-based short ribs, Duroc pork, and Pecorino Fiore Sardo—or Lasange Bolognese, tomato-braised veal, Duroc pork, Bechamel sauce, mozzarella, and Parmigiano Reggiano. The Chef's recommendation, however, is to expand your palate and try Pizza Bolognese. "It's very special," he says. "We take spaghetti and Bolognese sauce and put it on pizza. It's a lovely dish."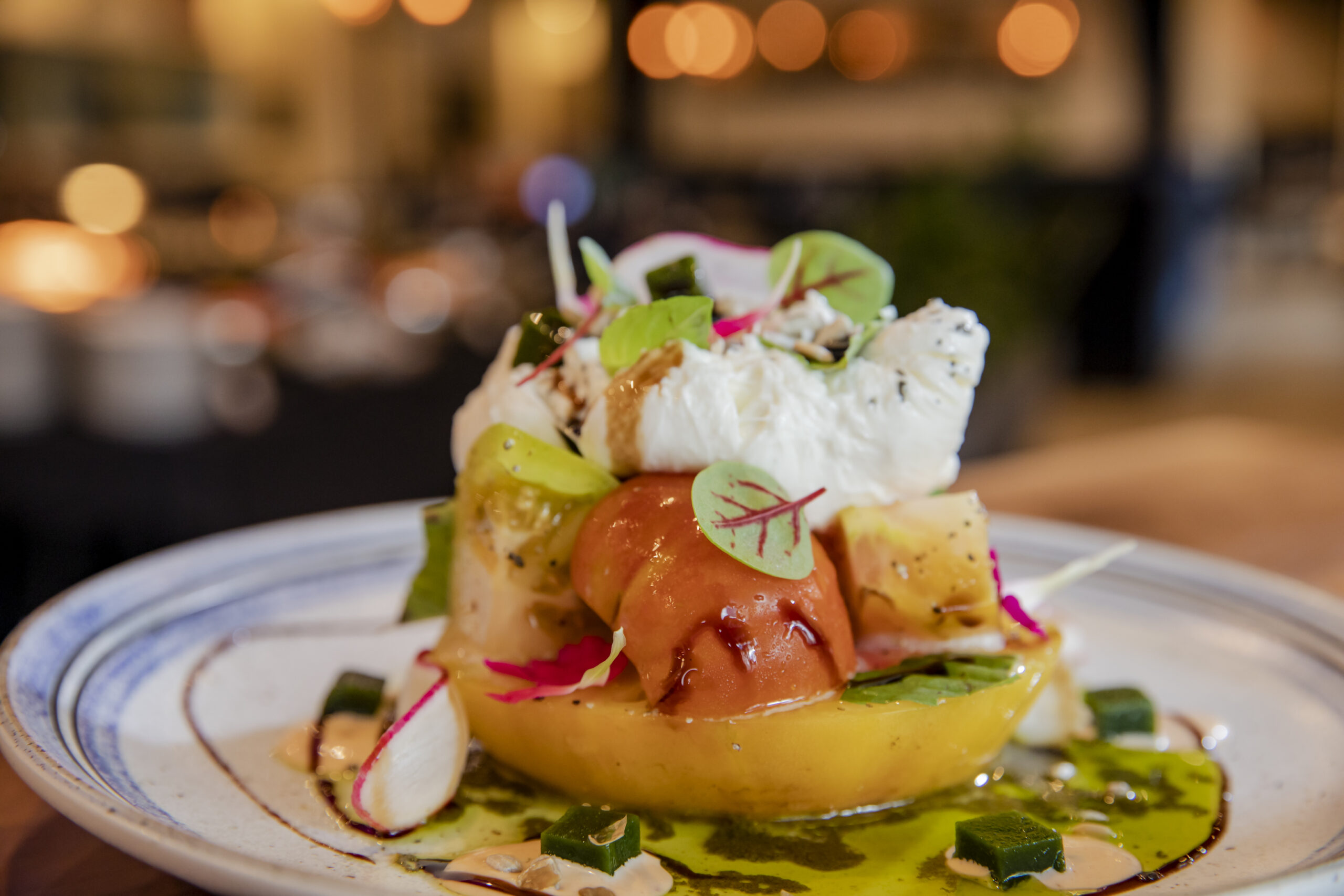 Italian Village brings in freshly made pasta every day for its pasta and risotto dishes, and seafood is also fresh—never frozen. What isn't used that day is returned, so that every Pesce dish is made to order with the freshest seafood, such as Branzino Alla Grillia, grilled Mediterranean bass with vegetables in padella and pistachio gremolata. Wood-oven pizzas include a crisp Margherita pizza, Fruitti di Mare, and Prosciutto Parm, among other favorites. Carne dishes include filet mignon, pan-seared breaded veal chop, and other flavorful steak and pasta combinations. The knowledgeable servers at Italian Village will help you pair any dish with the perfect wine from a selection of more than 30 authentic Italian varieties. Whether to begin a meal or for a light patio snack to go with your cocktail, select something from the Antipasti menu, such as the Ricotta al Forno, baked lavender ricotta, tomato jam, figs, aceto balsamico, prosciutto, endive, and fettunta.
There's plenty to love about lunch and dinner at Italian Village, but don't sleep on the weekend brunch. Save plenty of room, as this is an all-you-can-eat event Saturdays, Sundays, and holidays from 11 a.m. to 3 p.m. For only $22 per person ($10 per child), enjoy a full buffet ranging from traditional breakfast fare to a carving bar and Italian favorites to a cold bar and an array of tempting desserts.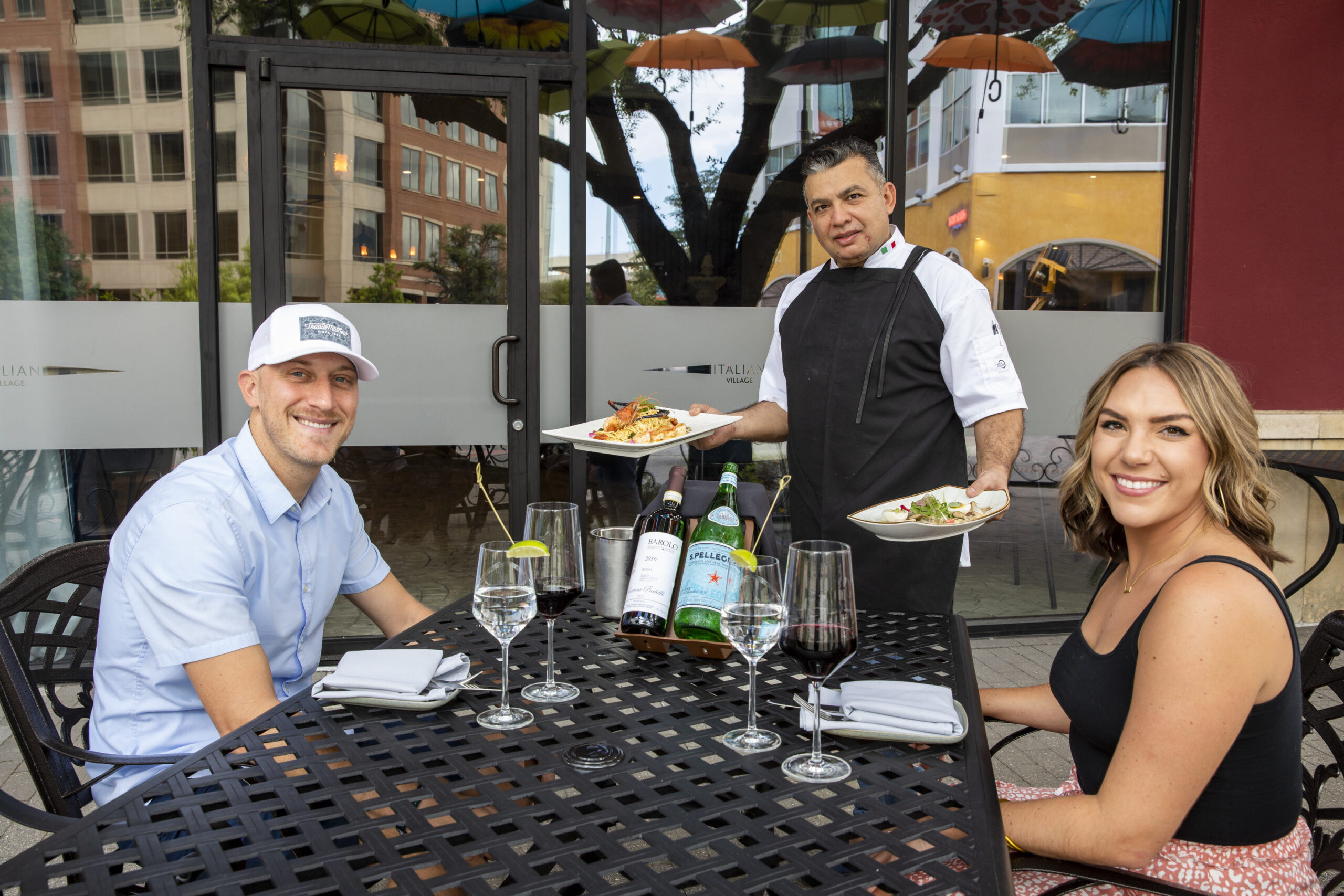 Although Italian Village's interior is an experience in itself, Chef Tony (who also owns the neighborhood favorite Dos Amigos restaurant in Frisco) knows how much North Texas appreciates a good patio experience—so he implemented two, a shaded dining patio and a bar patio with views of the newly revamped dancing fountain at The Shops at Legacy. Italian Village is located at 5840 Legacy Circle in Plano and is open Monday through Thursday from 11 a.m. to 10 p.m. and Fridays and Saturdays from 11 a.m. until 11 p.m. The restaurant is open Sundays from 11 a.m. to 9 p.m. To reserve your table, visit italianvillageplano.com.
Signup for D Exclusive
Get partner offers, discounts, and more delivered right to your inbox each week.
Author