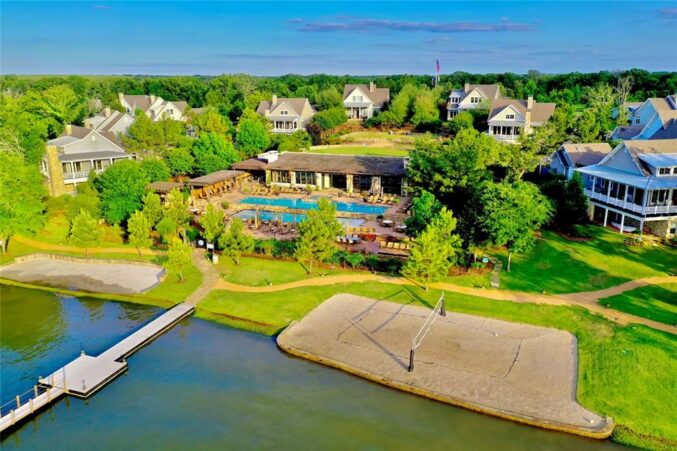 Get Cedar Creek Chic With 1 of These 3 Luxury Long Cove Properties
And there's one realtor that you need to meet to seal the deal.
By D Partner Studio
Published in Sponsored
July 22, 2021
7:00 am
When Dallasites consider second home options close to home, many have at least heard of the magical Long Cove in Malakoff, Texas. This luxurious lakeside community, however, remains somewhat of a mystery to those who have yet to make the 1 hour and 15-minute drive from downtown Dallas through the gates of what seems to be utter utopia on the banks of Cedar Creek Lake. It's the best of both worlds, think Longhorns grazing in the fields, wildflowers blowing in the breeze, and deep water washing up on the shore. But what makes this neighborhood and puts it a step above the rest? Well, pretty much everything about the place, actually.
Long Cove encompasses 1,200 acres at the deep end of the Cedar Creek Reservoir. The community includes a variety of home plans from farmhouses to modern masterpieces and everything in between and offers all the amenities of even the most exclusive second home community. Enjoy a boat valet, concierge, and even a boat club for those who want access to the finest of fleets without the hassle and maintenance. In addition to water activities like boating, fishing, and the Bayside Pool, Long Cove has a 9-hole golf course designed by Trip Davis. There is also a two-acre putting green. Kids and adults alike will enjoy pickleball, beach volleyball, hiking, biking, and time on the playfield. Hungry? Leave cooking as a Dallas chore by grabbing poolside bites at the Regatta Grill.
Looking to sign on the dotted line today? It all starts with saying yes to one of the homes available to purchase. First up is the final opportunity to score a new home in the exclusive Dodd's Landing area of Long Cove. Designed by John Boyd with interiors by Jan Jones, this $3,500,000 property at 14600 Kiawah Way is a sight to be seen. With six bedrooms, 6.1-bathrooms, and 4,481 square feet of living space, it's an ideal place for your family and friends to gather for years to come. Highlights of this home include multiple patios and a 1,444 square foot outdoor porch space looking at the lake. There are two master bedrooms and a family bunk room with two built-in queens and six built-in twins. With an estimated December 2021 completion date, there is still time to add a pool.
Want to live the lakefront life on Henderson Bay? This five-bedroom, 5.1-bathroom home with a 2022 completion has 4,993 square feet of luxury living at 3810 Windward Way for $3,850,000. Considered a contemporary lake house, this home is set to have a high-end appliance package with each finish and detail precisely put in to reflect the modern Malakoff home. Our favorite thing about this home's renderings is the porch planning with multiple porches overlooking both the lake and the creek. Like the first home, we also really appreciate the two master suites and bunk room. An option for more square footage and a pool is available over the garage.
Looking for a fancy farmhouse with that contemporary touch? Finally, look at the stunning 13130 Woodsy Way which features five bedrooms, 5.5-bathrooms, and 5,596 square feet of lakefront property for $4,085,000 on Haute Henderson Bay. We can just imagine the epic breakfast views from the gourmet chef's kitchen with the eat-in island. The coffee talks are bound to be epic especially after the chef in the family whips up a great meal using the top-of-the-line appliances – including a Wolf oven and wine fridge, and even a Sub-Zero refrigerator. The floor-to-ceiling windows and doors make it possible to enjoy views whether you are relaxing inside or enjoying a glass of wine on the deck. The renderings of the proposed pool are just a launchpad for your imagination to go crazy in designing your dream home.
So, you're sold. As we figured you would be. What's next? Buying and selling a home in Dallas's red hot real estate market requires you to have a real estate agent with extensive experience in the area involved, right? Well, this is your friendly reminder that the same selection process should be made when hiring a realtor for your second home search. Might we suggest Amy Farris of Ebby Halliday's Preston Center office? Not only does she know Cedar Creek Lake like the back of her hand, but she also knows all the right questions to ask and has a few answers of her own when it comes to making the decision to become a member of the Long Cove Community. Spoiler alert: you're going to love it there.
_____________________________________________________________________________________
Amy Farris
(d) 469-236-1533
[email protected]
Meeting people where they are, having a genuine interest in their needs, and helping them get there are what allows Amy to build the solid relationships that have made her a top producer in Lake area sales for the past few years. Amy began her real estate career at Long Cove Development on Cedar Creek Lake. This exclusive lakefront development, envisioned by developer Donald J. McNamara, has earned her extensive knowledge regarding residential lot sales, new home construction, remodeling, and resales. Working with some of Dallas's top builders, architects, and other professionals will ensure a smooth process from start to finish.
Amy's southern charm, communication, and commitment to achieving outstanding results for her clients are evident when she says, "Relationships are more important than transactions. I believe my clients deserve more from the professionals they decide to work with. I want to dedicate myself fully to what benefits my clients the most and strive to always go above and beyond to deliver a truly exceptional experience."
At the core of Amy's motivation is her genuine desire to deliver the best advice and outcome for each client's needs. It's of great importance to her to have someone in your corner who has your best interest at heart. As a former teacher, she is passionate about bringing this same approach to real estate. When you work with Amy, she will guide you, advocate for you, negotiate outcomes in your favor and educate you with facts.
Amy grew up in Peachtree City, Georgia, but considers Texas her home. She has been a resident since 1999 and is actively involved with several Texas Education Foundations. After graduating with a degree in Business Administration, Amy found herself entering the corporate world working to open numerous restaurants around the country for Cracker Barrel. After doing this for more than 12 years, she decided to stay at home and raise her three beautiful children. Once her kids entered school, Amy became obsessed with how they were learning as well as what they were learning. She then decided to go back to school to pursue her education degree. After graduating from Stephen F. Austin University, Amy went on to teach 3rd, 4th, and 7th grade. Although her decision to leave the teaching profession was not an easy one, she believes teaching is very similar to real estate. "All you have to do is begin with the end in mind, figure out what it will take to get there, and exhaust all options to make it happen."