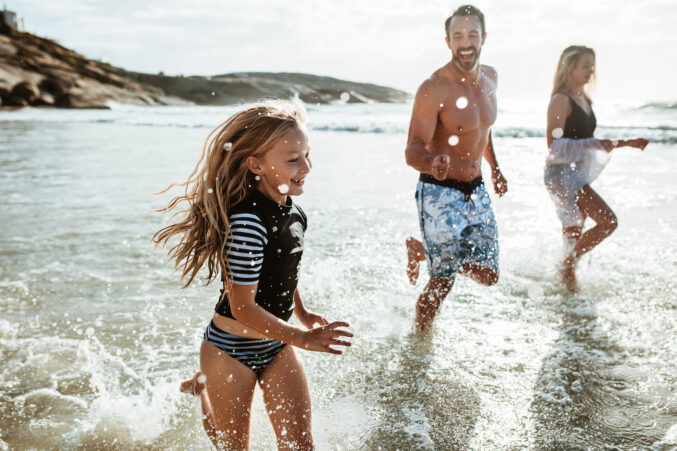 5 Expert Sun-Safe Tips for Healthy Skin All Summer
Fun in the sun starts with protecting your family's skin.
At long last summer is near, and after the year we had, the idea of soaking up a fun, relaxing summer in the sun sounds more appealing than ever. Before you head out the door, be sure to grab a hat, some shades, and sunscreen. We've all heard how important sun protection is, but rarely stop to think about the "why" behind it other than to prevent a painful sunburn. When the sunburn heals, you are left with a tan—and the possibility of skin cancer.
Well, lather up because May is Melanoma Awareness month. According to skincancer.org, skin cancer is America's most common form of cancer, with over 5 million cases diagnosed in the United States each year. The good news is that skin cancer is also one of the most preventable forms of cancer.
Dr. Thornwell Parker, a Dallas plastic surgeon and skincare expert that specializes in Mohs Surgery and is the founder of Skin Cancer Consultants and Elevate Medical Spa. He spends a great deal of his time with patients discussing sun safety and correcting sun damage. He says melanoma is the third most common type of skin cancer and can be deadly if it isn't caught early.
There is a misperception, he says, that skin cancer only affects older adults. Every week, Dr. Parker removes skin cancers ranging from basal cell carcinoma to melanoma on patients in their 20s and 30s. Before you hit the pool or the beach this summer, Dr. Parker strongly recommends that you keep the following tips in mind to make sure you and your family are as safe as possible in the sun.
Sunscreen Savvy: Protection Beyond SPF.
Choose a sunscreen with broad-spectrum coverage to protect against both UVA and UVB rays. Most sunscreen products protect against UVB rays, which are the main cause of sunburn and skin cancers, but UVA rays also contribute to skin cancer and premature aging. Products labeled "broad spectrum" must pass a standardized test that guarantees they provide better protection for both UVA and UVB rays. The UVA protection should be proportional to the product's UVB protection. The higher the SPF, the higher the UVA and UVB protection, so make sure your sunscreen has an SPF of 30 or higher.
Dress for Sun Success.
UV rays can easily penetrate a white cotton t-shirt, especially if it's wet. Most wet, light-colored t-shirts only give about as much protection as SPF 4 sunscreen — well below the minimum of SPF 30 recommended by the American Cancer Society. When you know you'll be out in the sun, choose clothes with dark colors and fabrics with tight weaves or specially treated garments and swimsuits. "Cover as much as you can—choose something comfortable that covers your arms and legs fully and wear a broad hat," Dr. Parker says. "I even tell my patients who are golfers to wear gloves on each hand instead of one. The more coverage you get, the better the protection. Be sure to protect your eyes and eyelids by wearing sunglasses with UV protection and protect your lips by using lip balm with sunscreen."
Be Shade Smart.
Finding shade is a key element in preventing skin cancer. When outdoors, seek shade especially between the hours of 10 a.m. and 4 p.m., when the sun tends to be the hottest. Sunscreen should not be used to extend your time in intense sunlight.
Avoid Swimmer's Remorse.
Most sunscreens should be reapplied every two hours — or sooner. Remember to check the labels, as "water-resistant" doesn't mean "waterproof." A water-resistant sunscreen will likely only last about 40-80 minutes and won't protect you from burning when you swim or when you sweat. Sunscreen will also rub off when you towel dry, so just continually reapply a high SPF sunscreen to be as safe as possible.
Keep the babies and kids covered!
Just a few serious sunburns can increase your child's risk of skin cancer later in life. Unprotected skin can be damaged by the sun's UV rays in as little as 15 minutes. It may take up to 12 hours for skin to show the full effect of sun exposure, meaning if a child's skin looks "a little pink" today, it may be burned tomorrow morning. It's important to remember sunscreen and sun protection for babies and children every day—not just when they are at the beach or pool and even in cloudy weather. Seek shade whenever possible and try to keep kids in long-sleeved shirts and UV-protection clothing when outdoors. It's a good thing babies look cute in hats because in addition to being fashionable, they also offer great sun protection. If it's a baseball cap, don't forget to protect the ears and neck with extra sunscreen.
Dr. Parker recommends performing self-checks on our skin once a month. Consider taking pictures of your body to use as a guide to gauge future changes or irregularities. He also recommends having a professional skin check with a skincare specialist every year, especially if you are considered high risk for skin cancer — fair skin, blonde or red hair, or family history. "I like for my patients to be vigilant, but not paranoid," he says. "Just do monthly self-exams and report any unusual findings to your doctor."
"If you haven't had skin cancer and don't have a family history of it, you likely don't think much about it until you get one," he says. "People don't always know what to watch out for and mistake a new spot as a pimple or blemish. Weeks and months go by, and they start to notice the spot hasn't gone away or gets bigger. They finally go to the doctor and learn it's serious. If melanoma is caught early, the cure rate is high — about 99 percent. Typically, deeper melanomas are the ones found on patients who don't have skin cancer checks on a regular basis."
Most skin cancers can be removed in-office by an experienced Mohs Surgeon or plastic surgeon. Common skin cancer removal techniques include traditional excision, radiation, topical chemotherapy creams, cryotherapy, and burning/scraping methods. Dr. Parker says, "Mohs Surgery is typically reserved for removal of cancers on the face, eyes, ears, nose, and lips and is usually the preferred choice for removal of aggressive, large, or recurrent skin cancers."
Kick-off summer safely and learn more about the risks of skin cancer, sun protection, and skin cancer treatment by visiting skincancerconsultants.com. You can also learn more about effective skincare products to use all summer long at elevatemedicalspa.com.
Dr. Parker, founder of Skin Cancer Consultants and Elevate Medical Spa, is a board-certified plastic surgeon specializing in skin cancer treatment and reconstructive surgery following skin cancer removal. His goal is to promote skin health and natural beauty through prevention, intervention, and rejuvenation — the three principles on which he founded Skin Cancer Consultants. One of only seven in the world to accomplish such a task, Dr. Parker is dual trained as a board-certified plastic surgeon and is fellowship-trained in Mohs surgery and procedural dermatology. The completion of an ACMS accredited fellowship is usually considered the highest level of training that can be received by a skin cancer specialist.