We've built a strong reputation since our founding in 2017, and we have our awesome customers to thank for our success. We're thrilled to share our history and mission with you! Here's everything you need to know about the grand opening of Clean Origin's first public showroom in Texas!
About Clean Origin
Founded by a group of ambitious, passionate diamond experts, Clean Origin was built on the premise of eco-friendliness, ethical diamond alternatives, and a dedication to providing customers with high-quality diamonds.
For years, we've achieved our goal of bringing ethical, environmentally-friendly lab-grown diamonds to the public. Our expertise in the industry (spanning generations) helped us choose only diamonds of the highest quality. Every diamond sold by Clean Origin is thoroughly assessed to ensure its quality, as we fully stand by the diamonds we sell. It was this factor that ultimately fueled our success.
Grand Opening in Texas
We're excited to elevate our business and reputation through the opening of our first showroom. We want to bring the commitment, expertise, and reliability we've shown in our online storefront to a physical location.
Additionally, we're thrilled to experience the expansion of our humble business into one of our biggest markets right here in Texas. It's a unique opportunity to increase our brand awareness and educate customers about lab-grown diamonds, the ethical, eco-friendly mined diamond alternative.
In-store, visitors can browse our impressive lab-grown diamond selection that includes:
Over 500 high-quality loose diamonds
Wedding and Anniversary Bands
Custom Engagement Rings
Fashion Jewelry (huggies, studs, bracelets, and pendants)
High Carat Jewelry (19ct tennis necklace, 10ct tennis bracelet, and 4ct hoops)
Whether you're ready to pop the question and need a ring to seal the deal or want to treat yourself to the gift that never stops giving — we have something for everyone!
About Lab-Grown Diamonds
Lab-grown diamonds aren't a new thing. In fact, they have a well-established history beginning in 1954. From those humble beginnings, an entire industry dedicated to lab-grown diamonds has emerged as the foremost competitor to the mined diamond industry.
Lab-grown diamonds are a competitor to natural diamonds because they are one-and-the-same. That's right. Lab-grown diamonds are identical to mined diamonds, visually, physically, and even, chemically.
Yeah — it sounds too good to be true!
However, that's the case for lab-grown diamonds, and it's why many people have become enamored by the diamond alternative. Savvy diamond buyers no longer want to pay exorbitant prices for diamonds that they can purchase at up to 40% less. Moreover, they can be sure that the diamond they purchase isn't a so-called "blood diamond."
‌In short, buyers of lab-grown diamonds receive a real conflict-free, environmentally-friendly diamond at a fraction of the cost of a mined diamond.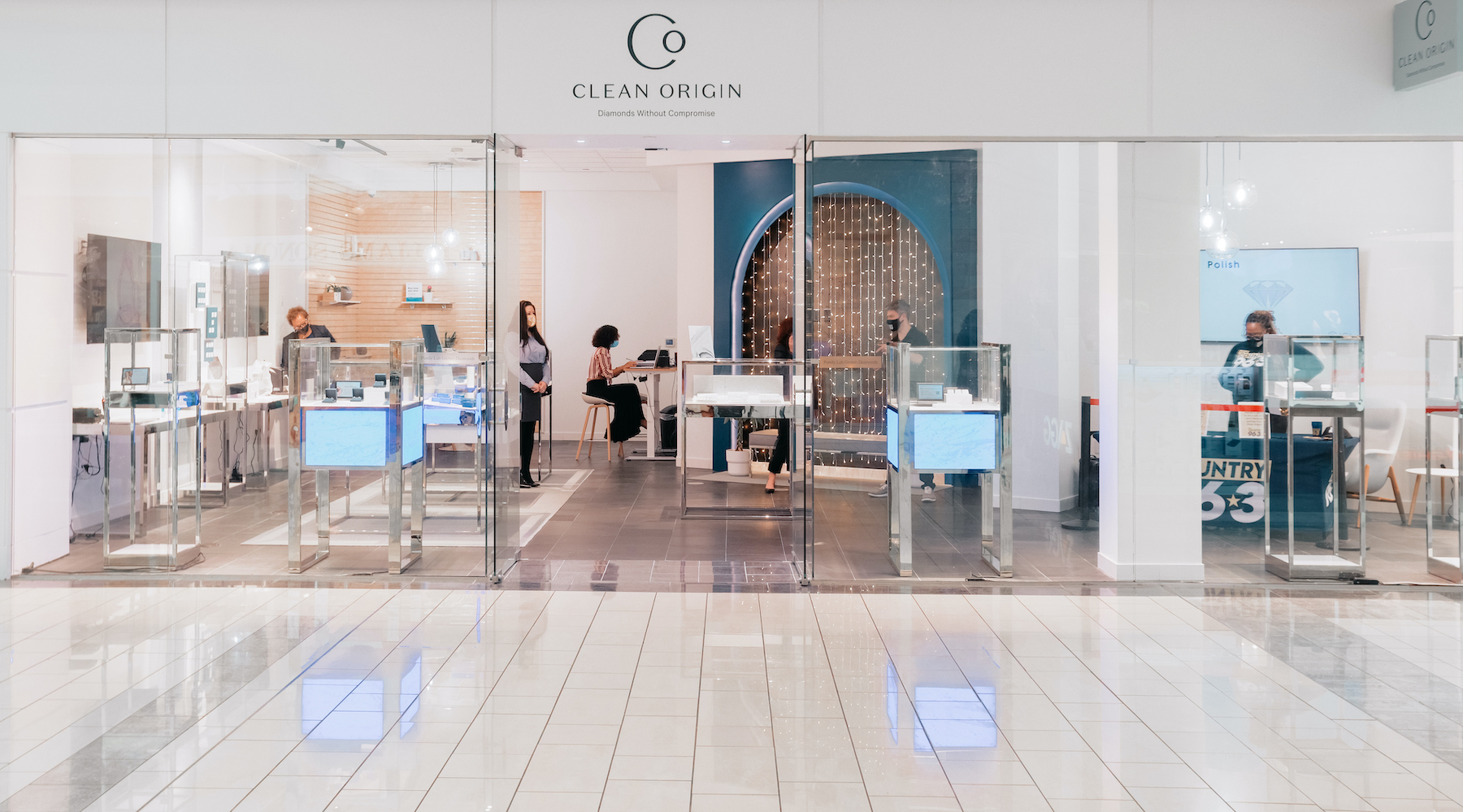 Come Visit
We are very excited to welcome visitors on opening day! We'll open our doors for the first time on April 24th, so head over to Stonebriar Centre, 2601 Preston Road, Frisco, Texas, Space 1053.
We will be adhering to COVID-19 safety practices to help fight the spread, in accordance with CDC guidelines. We ask that customers please wear masks and practice social distancing while browsing. We'll be offering hand sanitizer to add an extra layer of protection. We want to ensure that all visitors feel safe!
Our hours of operation are:
Monday – Friday 11 AM – 7 PM

Saturday – Sunday 12 – 6 PM
Visit at any of those times to browse our collection of 100% lab-created diamonds in person. We're excited to help you find a diamond that meets all your needs. See you soon!
Get our weekly recap
Brings new meaning to the phrase Sunday Funday. No spam, ever.