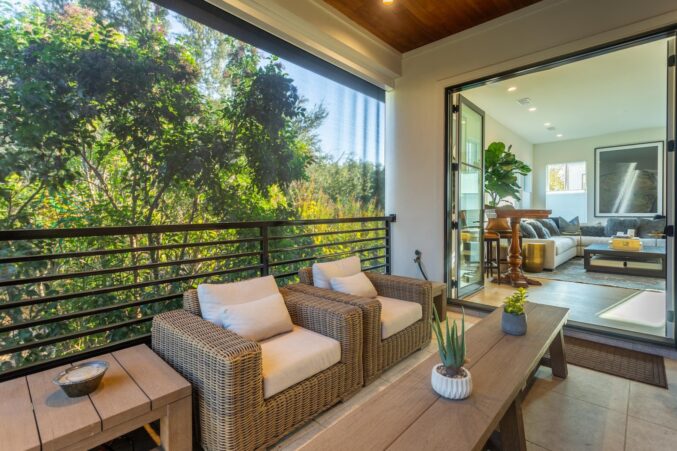 'High Glam, Low Maintenance' Is the 2021 Mantra We All Need
And this single-family attached is the perfect place to start.
Nestled in an exclusive residential development off of Abbott Avenue, this Northern Hills newbie was built in 2020 and offers people in search of a quiet yet compact place to do life, a new option in the luxury real estate space. There is over 3,000 square feet of living space; however, not a square inch is wasted.
Located at 3606 N Fitzhugh Avenue, this three-bedroom, 3.3-bath single family attached offers an office, two living areas, and large windows that invite endless amounts of natural light to dance along the handsome hardwood floors. This residential development aims to merge style and efficiency without skimping on the amenities marked as must-haves by the modern buyer.
Speaking of high-end bells and whistles, this home has it all. The kitchen is stacked with Thermador appliances, and there is a green HVAC system for ultimate comfort. There is an epoxy-floored garage with storage and an elevator for those who might have a little trouble making it up and down the stairs. An elevator? This is a rarity and likely will be the sole reason someone in need snatches this beauty up.
The primary room features a large closet and a dramatic bath suitable for any five-star hotel. The bathtub and shower combo is the ultimate display of builder savvy, showcasing one of the most modern and up-to-date designer touches in a 2021 luxury bathroom.
Our favorite area of the home, however, happens to be just off of the main living area on one of the property's two terraces. Retractable sunshades make this an incredibly efficient use of space that allows for morning coffee and an afternoon glass of wine most nights of the week. It truly feels like you are suspended in the trees. Ultimate relaxation mode realized.
And as always, a property is only as valuable as its location, which just so happens to be in one of the best areas of town. Owners of this abode find themselves seconds from both the Turtle Creek and the Katy Trails with endless options for entertainment, recreation, exercise, and overall enjoyment. Trust us when we say that this property will not be on the market for long.
___________________________________________________________________
Sharon Quist
(d) 214-695-9595
[email protected]
Sharon Quist has over 30 award-winning years in residential real estate. Real estate is more than a profession-it's her passion. More than 90 percent of her business comes from friends, repeat clients, and referrals. She provides true boutique service utilizing a wealth of longtime connections including elite REALTOR networking groups, which provide access to properties not yet on the market-a critical asset for her clients. She specializes in ParkCities, Preston Hollow, North Dallas, Swiss Avenue Historic District, Turtle Creek, Uptown, and Luxury Highrises. Sharon is the leading REALTOR sales at The Residences At The Ritz-Carlton. Call Sharon to talk about your home buying and/or selling plans.