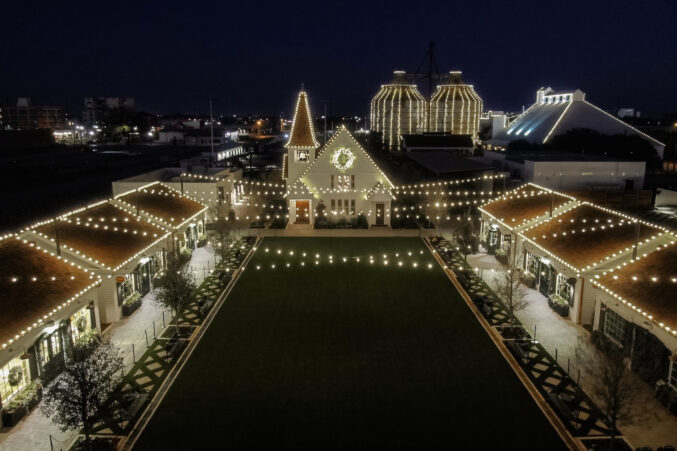 Capture the Magic of the Holiday Season at Magnolia
Shop under the Christmas lights at Magnolia this Holiday season.
The holiday cheer you have been craving can be found in one place—the Silos in Waco. Finally, a reason to celebrate—and shop—has arrived. The Silos in Waco is always a must-stop for travelers between Dallas and Austin any day of the year, now even more so during the holidays. Once you step on the grounds of the Silos and explore Magnolia Market, you'll know why.
Your first clue? Snow! Snow will fall every day from December 4th through the 12th, but for an extra layer of holiday joy on December 4th and 5th only, "snow" will fall across the entire Magnolia property open to close. On both days, Magnolia Market is staying open until 8:00 PM so you can linger a bit longer and savor the magic of Christmas. Now you'll have even more time to shop under the Christmas lights and get warmed up with a treat from the Magnolia Press walk-up window.
Magnolia in Waco has become a Texas holiday destination. While roaming the grounds, enjoy thousands of sparkling holiday lights that line the entire property. Get inspired for this year's holiday card and snap pictures with friends and family in front of the 30-feet-tall Christmas tree. Magnolia Press is also offering some special seasonal treats, including peppermint white chocolate mocha, cinnamon latte, Christmas sugar cookies, apple pie rolls, along with hot cocoa, tea, and of course, coffee.
All season long, be sure to explore the newly expanded grounds of the Silos by shopping six new boutique shops, Chapter One – specializing in books and paper, No.16 – the best offering of men's provisions, Tried & True – featuring women's handbags and jewelry, reverie – the latest in women's clothing, Vie Bien Aimée – featuring bath and body products, and Juniper & Crew – the cutest fashions for kids and babies; taking time to pause and reflect in the recently renovated and stunningly beautiful historic Old Church; finding the perfect piece of furniture for your home at Magnolia Home, and even playing a little WIFFLE ball with the kids at Katy Ballpark.
As always, Chip and Joanna Gaines know a trip to Magnolia means you'll work up an appetite. And the new winter menu items at Magnolia Table, Magnolia Press and Silos Baking Co. will be sure to get you in the Holiday spirit. Stop by Magnolia Table and warm up with one of the restaurant's new soups—butternut squash, tomato basil, or country potato. Don't miss the Silos Baking Co., where you can grab a Campfire Cupcake (chocolate cake with chocolate chips, graham cracker crust, vanilla buttercream icing, topped with a toasted marshmallow), a Ginger Cookie Pie (cream cheese icing sandwiched between two classic gingerbread cookies), or a Wonderland Cupcake—red velvet cake topped with peppermint buttercream frosting and crushed peppermint.
And if you can't make it to Magnolia Market this holiday season, you can still get all your shopping done online. The Silos are located at 601 Webster Avenue in Waco and open from 9 a.m. to 5 p.m. Monday through Saturday, and 9 a.m. to 8 p.m. December 4th and 5th only.
 Per a city order, all city businesses require employees and visitors to wear masks or alternate face coverings when multiple people are in the same room. Additionally, anyone above the age of 10 must now wear a mask or face covering (scarf, bandana, etc.) in any public place where maintaining roughly six feet of separation would be difficult or impossible. All guests are expected to abide by these policies when visiting any of Magnolia's businesses. You can find more information about on-site COVID safety precautions here.