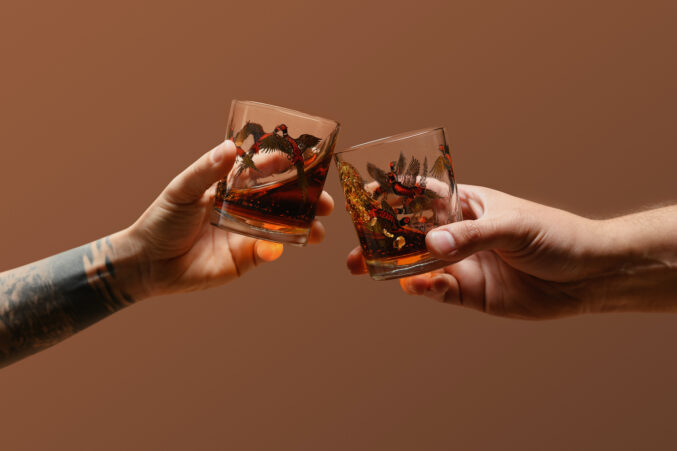 The Spirit of Dallas
Oak & Eden Whiskey bridges the gap between tradition and innovation.
Whiskey has been made the same way for thousands of years—that is until two Dallas entrepreneurs changed all that. It's difficult to know where to start when telling the story of Oak & Eden—with the Dallas natives who created the world's first In-Bottle Finished™ whiskey. Either way, it's a story that would best be told over a glass of Oak & Eden whiskey, savoring its flavorful hints of botanicals, vanilla, cherry, and cinnamon.
What makes a whiskey taste unique, no matter how it is made, is the flavors from the wood coming naturally from the barrel. "In any given species of wood, there are hundreds of naturally occurring botanicals, and those botanicals carry everything from tannins to oils to sugars," says Brad Neathery, one of Oak & Eden's three founders. "With hundreds of botanicals and countless flavor and texture characteristics inside any given species of wood, it is responsible for most of the flavor and all of the colors in any whiskey. A good whiskey has more to do with the wood than it does the spirit, which is why creating a distilled spirit only takes a couple of weeks, but a fully finished whiskey takes years."
After the spirit is distilled, whiskey typically ages in a barrel that has been exposed to fire. Over the course of several years, the barrel is subject to the various seasons and polarizing weather changes, forcing it to expand and contract, effectively breathing the whiskey in and out of the wood, where, over time, it adopts the color, flavors, botanicals, oils, and sugars from the wood. After a few years, a beautiful, flavorful spirit is born, made possible by wood. "So, when you experience whiskey, what you are really experiencing is the wood," Neathery says.
Innovation Meets Tradition 
There's the way everyone else makes whiskey, and then there's the way Oak & Eden makes whiskey. It's a patented technique, called in-bottle finishing™, which involves placing a five-inch long spiral cut piece of wood into every bottle of fully aged whiskey. This technique "inspires" the whiskey, breathing new life, flavors, and aromas that couldn't be achieved in a single barrel alone. Oak & Eden starts the process by curating some of the finest fully aged whiskey in America, sourced from a handful of carefully selected distilleries in America. At this point, they break from tradition to pursue innovation. While some whiskeys are finished in a second barrel made from a different wood origin than the first barrel, Oak & Eden thought of a better way to finish it—at bottle level. They pioneered a technique called in-bottle finishing™, which they have three patents on. Instead of finishing the whiskey in a secondary barrel, they put the secondary barrel (spire) into the bottle. Spiral-cut to maximize surface area, uniquely fired to perfection for each whiskey created, and infused to their liking with other exquisite libations, the end result of in-bottle finishing™ is a smooth, sweet, creamy spirit.
"We can change out the variations of the wood—French oak, cherry, ash –and we can expose that wood to fire and deepen the char," Neathery says. "We can pull out flavors of cinnamon and tobacco, or pull out flavors that will be sweeter, like coconut, honey, and vanilla. The fourth component is the infusion; we can soak the wood in anything, even another spirit or libation to change and alter the flavor profile." Most whiskeys take about 18 months to finish; not an Oak & Eden whiskey. "Because of in-bottle finishing™, we have the ability to speed up at 15 times the rate as the barrel finishing, but the objective is not speed," Neathery says. "It's about individuality and personality at bottle level. We exercise that by being able to create products we can release frequently and creatively."
In the two years Oak & Eden has been in business, 10 unique product lines have been released, each with some level of variance in the creation—whether that's the base of the whiskey, wood type, fire level, or infusion changes. "We create whatever we want to create," Neathery says. It was a good call. Oak & Eden's first infused series, Bourbon & Vine, was released in 2018 and remains the company's bestselling seasonal release. The company brings this six-time gold medal-winning cabernet infused bourbon back seasonally, and it has tripled in sales each year. Industry insiders have named Oak & Eden the fastest-growing whiskey brand in Oklahoma and Texas, and its products are now in 14 states with more than 120,000 bottles sold in two years. Oak & Eden can now claim 20 gold medal awards as well. Oak & Eden's product lines change seasonally, but the latest flavors can always be found in liquor stores throughout Texas and in select Dallas area restaurants, Bob's Steak & Chophouse locations, Haywire brand restaurants, and Omni hotels among many others.
Local Ties
Oak & Eden is the very definition of how the spirit of innovation meets tradition. Birthed from a collective love for creation, innovation, and inspiration, company founders Joe Giildenzopf, Jamie Giildenzopf, and Neathery pioneered in-bottle finishing™, which would become the lifeblood of Oak & Eden. By paying homage to the old tradition of finishing whiskey with oak barrels, but cutting them down and giving them a twist, this coveted spiral-cut piece of wood came to life. All three founders readily admit they were never whiskey connoisseurs—and are still learning more about whiskey every day. "We recognized this industry (whiskey) can be very polarizing," Neathery says. "People tend to be either well-versed in how everything is made and aged and know all the industry terms—and then you have the party crowd. We don't live in any of those camps, so we created our own. Whiskey has been made the same exact way for thousands of years, and we just didn't have the tolerance for that. We are builders and innovators, so we set out to secure three patents on our own involving the finishing."
Neathery, who was born in Red Oak and lived in Highland Park and Coppell, and Joe, a Dallas native for nearly 20 years, love how their whiskey honors tradition but also opens doors for other spirits. They left their longtime careers to satisfy their thirst for true entrepreneurship. They realized no one in the world had finished whiskey like this and collectively decided they either had the spirit industry's biggest gimmick—or a product that could transform the industry forever. "Our company in many ways embodies the spirit of Dallas," Neathery says. "Look at Deep Ellum, Bishop Arts, and downtown Dallas. We like to take what once was and celebrate it but realize there is always room to innovate and improve."