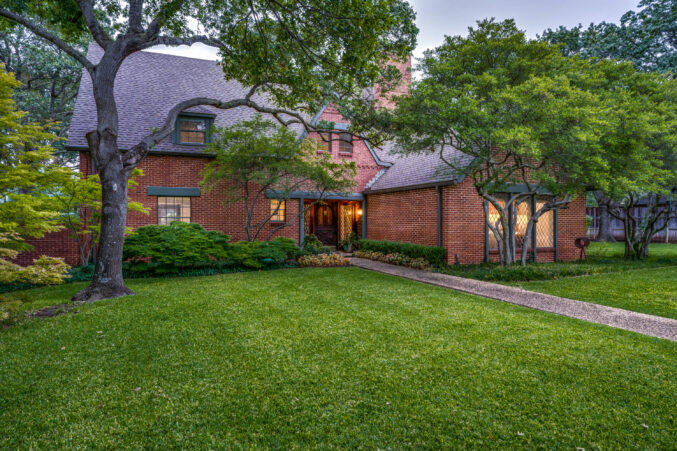 Something Regal Just off Royal Lane Is the Perfect Mix of Atypical and Timeless
Think Japanese maples, a sparkling pool, and thoughtful updates throughout.
Nostalgia abounds at this beautiful home at 4329 Irvin Simmons Drive in North Dallas. An English cottage style property with a red brick exterior and mature landscaping makes this the ideal place to call home and welcome friends and family. And the aesthetics don't end once you step inside.
The home has a coveted downstairs primary bedroom floor plan with an additional three bedrooms upstairs. A focal point of the home is the stone surround and arched opening in the living room that was positioned by hand by an Italian craftsman. The attention to detail is evident and will certainly be enjoyed daily by the new homeowners.
But the true treat, almost any prospective buyer will agree, is the 2011 renovation that opened up the dining room and kitchen to create a more open, functional floorplan. The kitchen now has quartz countertops, stainless steel appliances, sleek storage, and custom wood floors. This incredible entertaining area continues as it opens up on to a charming side patio.
The outdoor areas are equally as exquisite with 13 Japanese maples on the property. The mature trees that surround the lot make both the pool and grassy area an ideal setup to enjoy a proper fall in Dallas. There is plenty of room for enjoying an outdoor meal or simply drinking a margarita after taking a dip in the pool. And just think, you'll feel miles away from the hustle and bustle of a big city despite being just seconds from Royal Lane in North Dallas.
___________________________________________________________________
The Morguloff Team
(o) 972-387-0300
(d) 214-354-5266
[email protected]
Martha and Danna Morguloff have been Ebby's top team since 2000. A mother-daughter powerhouse, they offer their valued clients more than 60 years of combined experience in North Texas residential real estate sales – and more than $1 billion in sales. Martha and Danna were recently inducted into Ebby's Wall of Fame, two of only six agents in the company to receive this coveted honor representing 25 years of continuous companywide Honor Roll status.
Successful sales, extensive knowledge, creative marketing, and strong negotiating techniques set them apart in the highly competitive real estate profession. Their mantra: "We specialize in people not necessarily houses."
Their philosophy is being tender with people, but tough on the transaction; their cell phones never sleep.
Members of the Marquis Who's Who