As soon as you approach
49 Downs Lake Circle
, you are taken by the unique curb appeal. Palm trees, tile roof, and pops of black trim in the glasswork. Are we really still in Dallas? Yes, as a matter of fact, we are. And a three-car garage? Things are looking very promising and we haven't even stepped inside yet.
The excitement continues indoors with grand ceilings, floor-to-ceiling windows, and a sophisticated spiral staircase. For those that love a good 'wow factor' entryway, you've definitely found it in this property.
Although we could wax poetic about the perks of this home for days, some of our absolute favorite aspects include the glamorous primary bedroom that leads to luxuriously long bathroom reminiscent of a high-end hotel and the jaw-dropping living room with stone entertainment wall that makes watching television feel like the guilty pleasure that it is.
The backyard gives a nod to those romantic homes in the Hollywood Hills with its large sparkling pool, lush greenery, and a covered cabana-esque patio that is perfect for a pool party or simply relaxing after a long week at work. Margaritas in the spa, anyone?
The Downs of Hillcrest is a gated community that has a 24-hour manned security detail. Despite its convenient location near the intersection of LBJ Freeway and Hillcrest, the soothing sounds of lakes and streams will instantly transport you to a more Zen space – free of the hustle and bustle of city life. If you fancy your privacy, you'll absolutely lust over this listing.
___________________________________________________________________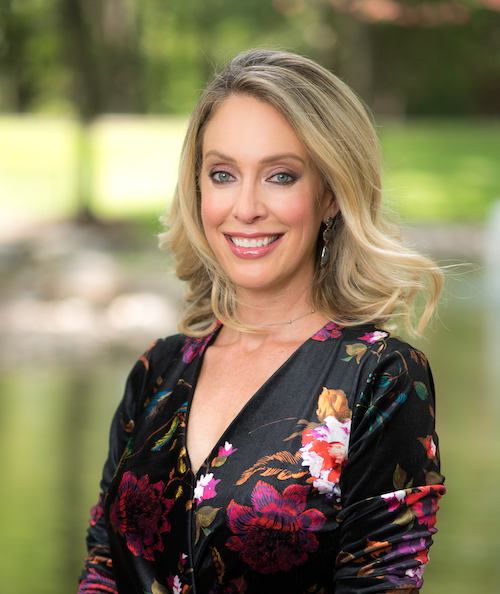 Megan Stern
(o) 214-522-3838
(d) 214-912-0425
[email protected]
Megan Salzberger Stern is a Dallas native and an Indiana University graduate. After graduation, Megan had a successful career as an account executive in the Dallas radio market for 11 years. She won numerous awards for her excellence in that industry.
Upon becoming a mom, Megan challenged herself to learn a new industry — residential real estate — where her sales skills could be utilized again yet she could still have hours of family flexibility. Megan assisted Linda Vallala for three years (2008-2011). In 2012, she assisted Christine McKenny.
Since 2015, Megan has been one of Dave Perry-Miller Real Estate's top producers. Between 2015 and 2018, with Megan's expertise leading the whole process, she completed almost 100 transactions and almost $50 million in sales. In 2019, Megan earned the prestigious Individual Top Producer award for DPM company-wide with over $33 million in sales and nearly 50 closings.
With over 11 years of experience in residential real estate, Megan continues to be laser-focused and task-oriented. Outside of work, Megan loves to spend time with family and friends, at the Parish School, on The Downs Connection, and with her beloved dog.


Semester At Sea — Spring '96 voyage


American Women in Radio and Television Award recipient


Former Lamplighter School parent, volunteer, and alumnus


Parish School Parent and Fellowship Volunteer Position


Temple Emanu-El Member & Volunteer


Volunteer and Contributor to NCJW
Downs of Hillcrest Resident, Downs Connection Member, and Neighborhood Specialist


Downs of Hillcrest Committee Member for New Residents


D Best Top Producer, 2016 – 2019


D Best Real Estate Agent, 2016 – 2019


Park Cities Office, Top Producer – Individual, 2017 – 2019


Top Individual Producer by Units, Park Cities Office 2019


Top Individual Producer by GCI, Park Cities Office 2019


Top Individual Producer by Volume, All Offices 2019


Signup for D Exclusive
Get partner offers, discounts, and more delivered right to your inbox each week.