The comfort of living in a caring community, being respectful neighbors, and raising good citizens is now more important than ever. In our new reality, parents and kids are working and learning side-by-side, the internet is a lifeline for information and communication, and neighbors are lining streets and trails at a safe distance.
For five decades, land developer Newland has created communities for people who mutually care about the connection of home, work, shop, and play. They envision from the ground up, bringing to life communities where families live in the ways that matter most to them. Those communities are intentionally designed, created with homeowners in mind, and only get better with time. The intention put into building community is now more important than ever for Newland.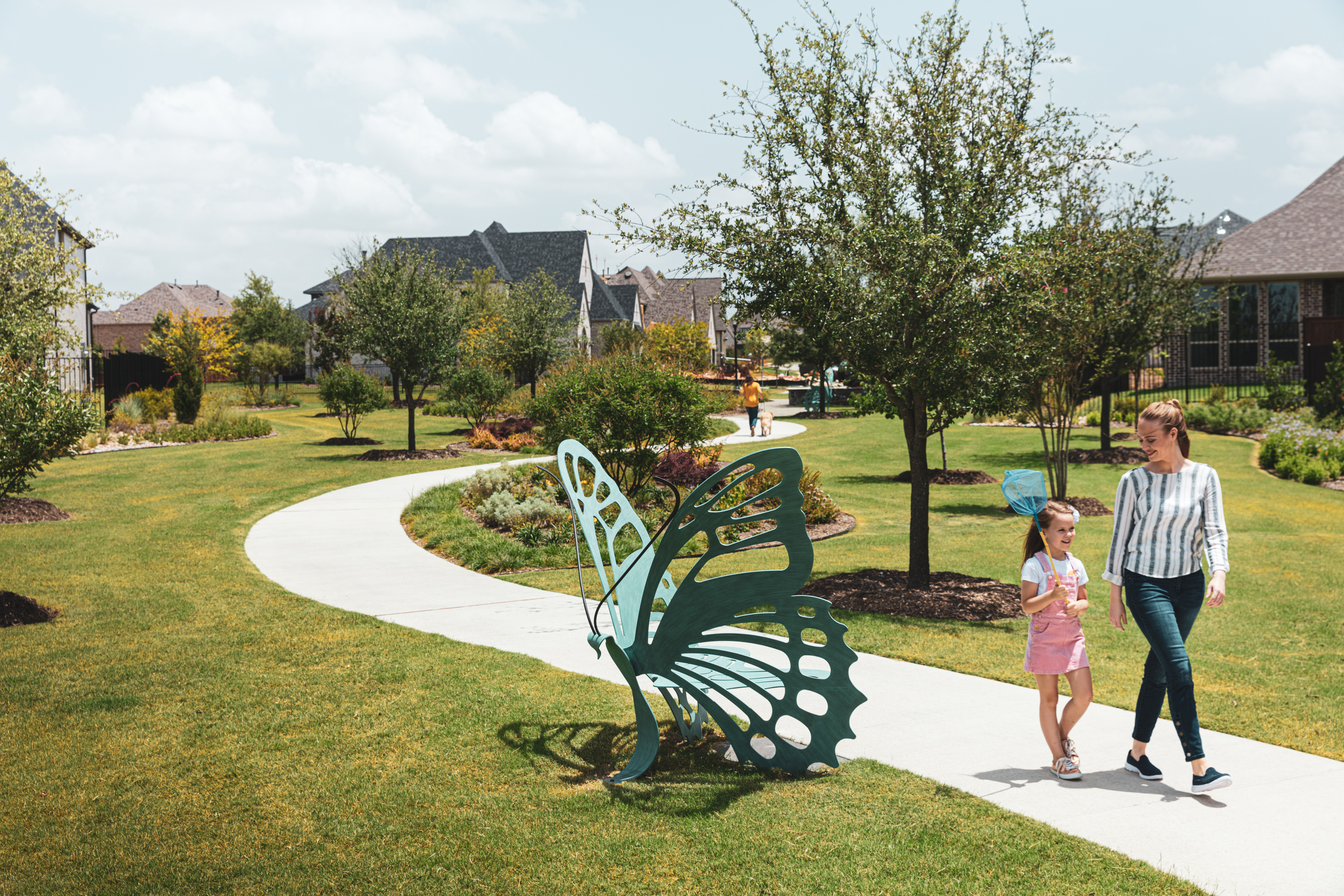 Newland's residents thrive.
The COVID-19 pandemic has inspired residents in Newland's North Texas communities of The Grove Frisco, Canyon Falls, and Hollyhock to find unique and meaningful ways to stay connected.
In particular, neighbors at The Grove Frisco are keeping their spirits up and letting their personalities shine through a variety of fun activities. Families joined in a 70-tree scavenger hunt along its trails and open space. They participated in a Celebration Caravan to honor birthdays and other special occasions. They're also sharing photos of their favorite recipes, home décor items, and "furry friends" with each other online.
Newland has a long tradition of giving back.
Under its philanthropic umbrella, OneNewland, its team members engage the greater community to spotlight local charities and bring awareness to important causes. They dedicate hours and resources to make a positive impact in a myriad of ways. Whether it is providing backpacks for children in need, sponsoring an outdoor learning garden, celebrating our First Responders, or supporting area schools, the team is steadfast on making a difference.
Most recently, Newland team members at The Grove Frisco launched an innovative recognition program specifically for area real estate agents, called "Grove Gives". For each closed co-broke agreement, Newland will donate $100 to a charitable organization of the real estate agent's choosing. Some of the charitable organizations that have received donations include Children's Advocacy Center of Collin County, Frisco Family Services, SPCA of Texas, Meals on Wheels Collin County, Habitat for Humanity of Collin County, and more.
Neighbors are helping strangers because, in the most resilient communities, that is what they are supposed to do. Throughout all of this, they are building a better community together.
Newland is the largest private developer of master-planned mixed-use communities in the United States, with more than five decades of community development experience, 143 mixed-used projects, 115 projects complete, and currently developing communities in 13 states. Green Home Builder magazine named Newland its Developer of the Year for 2019, acknowledging over five decades of placemaking and integration of sustainability practices in building mixed-use communities throughout the nation. Its communities are owned in a joint venture partnership between Newland Real Estate Group, LLC (Newland), and North America Sekisui House, Ltd. (NASH), and will be developed by Newland Communities.
Signup for D Exclusive
Get partner offers, discounts, and more delivered right to your inbox each week.