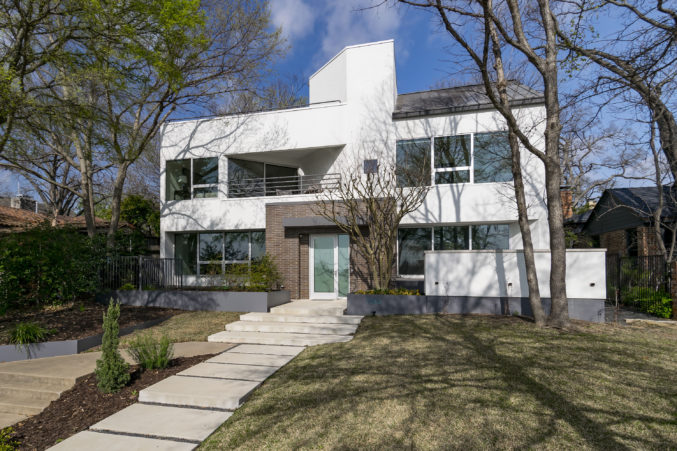 Contemporary Home on One of Dallas's Most Beautiful Streets Could Be Yours
It's the best of both worlds coming together for one lucky buyer.
During these unfamiliar times, Dallas homeowners have learned nothing if not the importance of having a place to call home. It is an absolute privilege and something to be eternally grateful for. In this spirit, we continue to showcase area stunners to provide an outlet for your worry – and maybe even for some – a new place of refuge amidst this global pandemic.
And just who might be interested in 7243 Tokalon Drive? Practically everyone. Even those who skew more conservative cannot deny the brilliant beauty of this stylish contemporary home that was professionally updated in 2018. Add that it sits on a premier lot on one of Lakewood's (and Dallas's for that matter) most charming streets, and you have a freshly shined prized jewel for sale. Not to mention being able to step outside and find yourself on the So-Pac Trail or at the Lake in two minutes flat.
The kitchen – I mean, really! Are we breaking all the editorial rules by saying it should be featured in Architectural Digest? Its simple yet sophisticated design gives us all the foodie feels. The adjoining breakfast room has access to an outdoor veranda that gives way to green views for days. It's the contemporary space of our dreams dropped right onto a lovely, traditional street that took decades to establish.
A big standout of this three-bedroom property is that it has multiple living areas on every level. There is also a cool flex space on the third level with abundant natural light and a rooftop deck boasting views of White Rock Lake. I think we all can agree that natural light throughout, plus views and proximity to White Rock Lake are especially meaningful these days. The guests who will obviously come to enjoy a glass of wine to admire said view will have plenty of places to park, as this property has a detached, rear-entry (two-car) garage in addition to custom parking options in the front. This place has it all, y'all.
The outdoor aesthetics are equally as captivating as the interior, with a sparkling pool to soak up the sunshine of the day. Because have we not also learned in the last couple of weeks about the absolute splendor that comes with a simple, sunny day?
_________________________________________________________________
Sally Jillson
214-236-6515
[email protected]
Named one of Dallas' Best Real Estate Agents for multiple years by D Magazine
28 years of residential real estate sales experience
Multimillion-dollar producer
Specialist in the Park Cities and North Dallas
Representing top executives and professionals