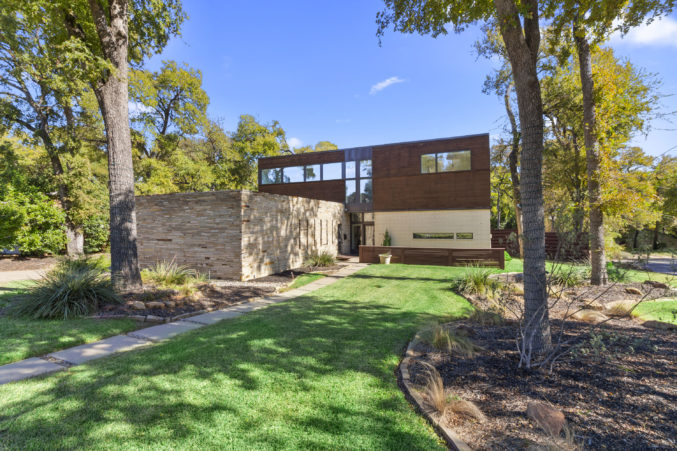 Who Doesn't Like This Incredible East Dallas Contemporary Compound?
No really, we want to know who this home does not speak to.
It's hard to shock us in the Dallas real estate world. Location is everything and most of the time prices, lots, and the structures themselves all seem to coordinate. Sometimes we roll our eyes and huff and puff, sure, but we aren't surprised at the prices on the page. But then enters the lovely four-bedroom-three-bathroom, contemporary jewel box that is 9562 Ash Creek Drive in East Dallas, and we are totally feeling all the feels. Dare we say we stumbled upon a steal?
For starters, have you seen this lot? If you took the house out of the equation and just looked at the lush land with its mature trees and .82 acres of space, you start to get sweaty palms. Add in the location, which just so happens to NOT be in the middle of nowhere, and you are left crunching numbers, calling your husband during his lunch break, and planning the rest of your life as an "East Dallas ride or die" resident with your kids and dog.
The house itself has 2,970 square feet of living space which is enough to have a space for your family but easy enough to manage from a cleaning standpoint. The floor to ceiling windows refuse to let you take your amazing lot for granted and the open floor plan produces great entertaining opportunities and even better natural light. Something you have to see to really appreciate? The streaming water feature that welcomes guests out front and crosses the width of the interior only to invites guests to the back of the property.
Speaking of the backyard, it's pure heaven. We are in awe of the sleek pool and thankful for the hours of entertainment that the sports court will provide for the future kiddos who reside here. Need a perfect place to retreat after a long day enjoying the great outdoors? The master bedroom has his and her closets, a Japanese soaking tub, and dual vanities. It's like a spa, but then you look out the expansive windows only to realize this haute hook up is your house.
And last but certainly not least, this lot backs up to a creek. There is just something about moving water that gets us to the ultimate zen-like state. That coupled with and the fact that it's just a short drive to Starbucks, Casa Linda shopping, and the Dallas Arboretum? Yep, it's a winner.
_______________________________________________________________
Keith Callahan
214-675-6777
[email protected]
"Tenacious" and "strongly dedicated to service" are words clients use to describe Keith Callahan, as are "enthusiastic," "patient," and "resourceful."
He listens to what his clients are saying, and they say things like, "Keith exemplifies the utmost in integrity" and "He is a caring professional with respect for his clients' needs."
Recognized by D Magazine as one of Dallas' Best Real Estate Agents
Listed as a "Five Star Real Estate Agent" in Texas Monthly
Active volunteer
Advisory Board member
Advanced Historic House Specialist
Handles condos, estates, and everything in between