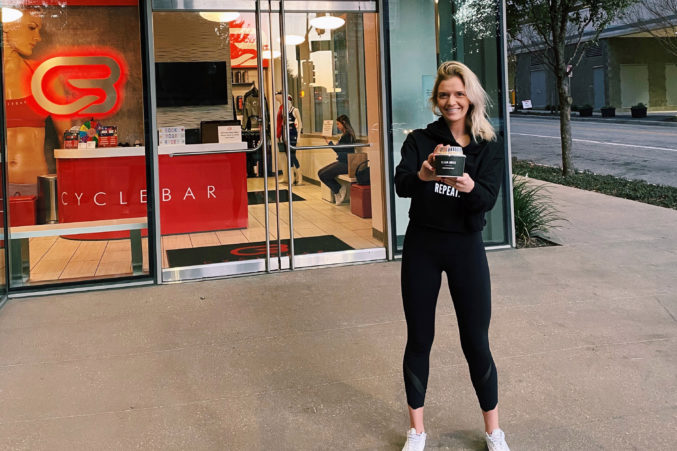 Have a Crazy, Go Get 'Em Schedule? Fuel Yourself for Success With Clean Juice.
Dallas elementary school teacher and lead instructor of Cyclebar Uptown Dallas, Liza Hoponick, relies on Clean Juice catering to help her stay fueled for the day.
By Clean Juice
Published in Sponsored
January 15, 2020
2:42 pm
It's 5AM, my alarm clock sounds, and I hit the ground running.  As a wife, elementary school teacher, lead instructor for Cyclebar Uptown Dallas, and self-proclaimed social butterfly, I tend to run a million miles per hour while saying yes to one too many things. I'm grateful to have so much I'm passionate about, but it doesn't spare much time for at-home cooking or for my body to slow me down.
I strive to be the Sunday meal prepper and morning smoothie maker, but in all honesty, Sundays are my one day I slow down and soak in a little stillness. I designate that time to be on the couch listening to new music, prepping Cyclebar playlists, and taking in a few moments to recharge. I lean on the convenience & quality of Clean Juice products to help my body function more efficiently, improve natural energy, and help remove toxins effectively.
I need to give 110% to my third graders, teach 4 energy-filled classes at Cyclebar a week, and maintain my own sweat schedule; Clean Juice sets me up for success. With their USDA-certified organic, nutrient-dense, and delicious menu, including avocado toast, açaí bowls, and cold-pressed juices, I can leave school, place my order with Uber Eats, and have quality fuel for a busy evening right when I arrive at the studio!
Order healthy right from your fingertips.
The original USDA-certified organic bar franchise, Clean Juice has found its way to the Downtown Dallas Main Street District. Family owned and operated, the Koessl family is on a mission to break down the barriers for healthy living. Clean Juice offers easy, on-the-go meals during breakfast, lunch, and dinner varying from cold-pressed juices, 1, 3, or 5-day cleanses, toasts and greenoa or açaí bowls.
You can now find Clean Juice on delivery apps such as Uber Eats, Postmates, Grubhub, and ezCater for your catering needs and they even offer corporate wellness programs. Next time you find yourself in Downtown, be sure to check out Clean Juice!