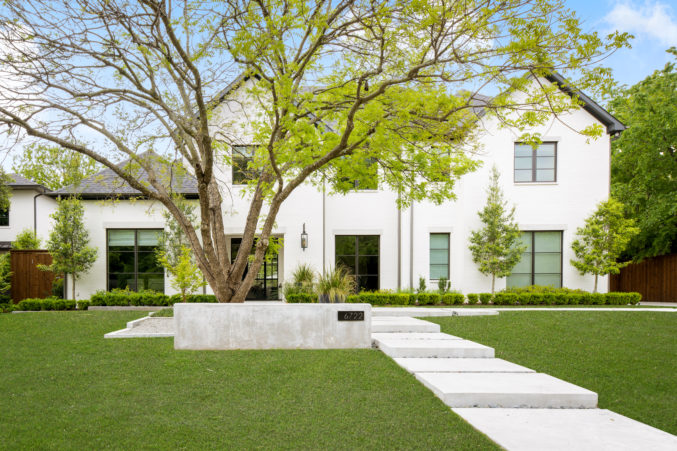 If Your Home Was Damaged or Destroyed in the Tornado, Here's What to Do Next
A guide to home repairs or rebuilds, including expert advice from Hawkins-Welwood Homes.
 Though it's been two weeks since a series of devastating tornados touched down in North Texas, Dallas residents are still picking up the pieces, and for some, this entails far more than simply clearing debris and fallen branches. Experts estimate over $2 billion in damages occurred throughout Dallas-Fort Worth. Many North Texas homes were severely damaged and even fully destroyed. We sat down with local home builder John Hawkins with Hawkins-Welwood Homes to get some advice on how to make this process as easy as possible for families who were affected by this tragedy.
If your home was damaged or destroyed in the tornado, the insurance company will bring in their experts first. 
Beyond securing the home from further damage, a homeowner must wait for a settlement with the insurance company before any substantive repairs can begin.  The insurance adjuster will make a thorough inspection of the home and if necessary, bring in experts such as structural engineers to make an accurate assessment of the damage. In homes with substantial damage, it helps to have your own builder or engineer meet with you and your insurance company. Often there is a negotiation between homeowner and insurance company to arrive at an ultimate settlement.
After receiving a settlement from the Insurance Company, what should I do?
Choosing a contractor is a homeowners' most important step. Carefully choose your contractor. Do they have references? Have you seen their work? Do a thorough investigation including the Better Business Bureau, home-centric web sites like Houzz, and their own personal bankers.  There are many contractors who will be contacting you. Make sure you have a good one.
When you use a builder to facilitate these repairs, your options are limitless. Should you choose to restore your home to its original state, your builder will help each step of the way, from coordinating landscaping to pavement repair to exterior painting. Should you want to embrace this opportunity as a fresh start, your builder can work with you on new plans. Hawkins-Welwood Homes' build-to-suit process, which gives clients the freedom to create their perfect home, comes in to play for remodels as well as rebuilds.
What if my home is completely destroyed? What are the next steps?
You have two options: take your insurance proceeds and sell the lot/home as-is, or rebuild your home from the ground up. If you choose the latter, your builder will help with the entire process such as removing utilities and removing the demolished house.
About the Hawkins-Welwood Homes Build-to-Suit Process
Hawkins-Welwood embraces variety; the style and finish in each house they build is different. A team is there for clients, including a designer, architect, project manager, and estimator. This team will work with homeowners to conceptualize their vision, develop the plans, and build the house of their dreams. One of many benefits of building new after a storm is having new state-of-the-art engineering, from foundation to framework, which might not have been present on a house that was 50 or 60 years old.
About Hawkins-Welwood Homes
Hawkins-Welwood Homes has a rich history, with over 60 years of building beautiful North Texas homes. Their timeless designs can be found in notable neighborhoods like the Park Cities, Preston Hollow, and Plano. Most importantly, though, Hawkins-Welwood understands that your house is more than just an investment–it is a deeply personal expression of self, and a place to call home. The company wants to make the repair or rebuild process as easy as possible and is eager to help clients every step of the way. Learn more and connect with Hawkins-Welwood here.
View the gallery to see a Hawkins-Welwood home in the North Dallas area.