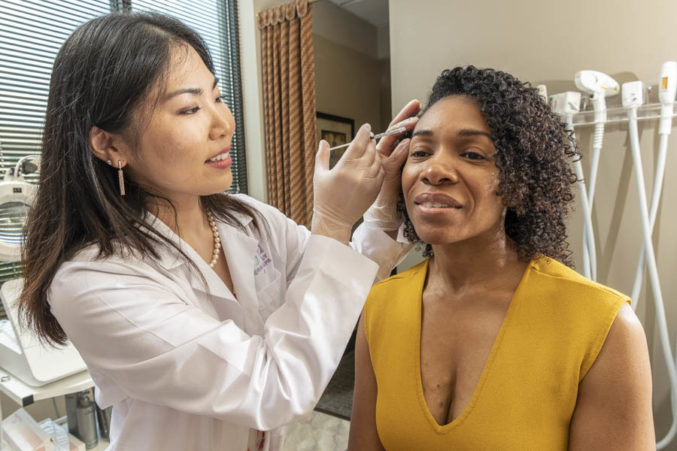 If You're Tired of Fine Lines and Wrinkles, Erase Them with Botox
And learn about the benefits of a Botox Membership Program.
Whether it's from aging, heredity, sun damage, or overused expressions, it's inevitable that fine lines and wrinkles will eventually appear on your face. If it seems like people are asking if you're tired more often or guessing that you are older than you actually are, it's time to turn back the clock with Botox®.
About Botox
Botox is a neurotoxin protein used as a prescription medication in facial rejuvenation treatment. It occurs naturally in all sorts of places – plants, animals, and even dirt and water. The toxin acts on the nervous system, weakening or paralyzing muscles in the area introduced. Botox is a quick, safe, proven 10-minute injectable treatment that works beneath the surface to help reduce the muscle activity that causes fine lines and wrinkles. When used in the forehead area, underneath the eyes, or around the mouth, facial muscles are unable to contract which means the skin covering those muscles also remains relaxed, resulting in a smoother, more rejuvenated appearance. Any hesitation about the safety and efficacy of Botox can be alleviated based on its results and history. Even before its FDA approval in 2002, Botox was known for its wrinkle-reducing powers among the Hollywood elite. The now-mainstream Botox industry attracts patients looking to reduce lines and wrinkles to achieve a younger, more refreshed appearance.
What Areas Can be Treated with Botox?
The most common treatment areas of Botox include worry lines on the forehead, the "elevens" between the eyebrows, and crow's feet near the eyes. Botox can also be used for eyebrow lifts, to eliminate smoker lines around the mouth, and for smile lifts. The amount of Botox used in treatment is based on your individual needs and desires. The average unit per client is between 35 to 70 units. Although you will notice a marked improvement, Botox doesn't mean you will look like you have had work done, which is what patients love most about the treatment.
Before and After Your Botox Treatment
One of the many perks of Botox is that there isn't much required to prepare for the treatment, no anesthesia is needed, and there is no downtime for recovery. Many injectors will recommend avoiding taking aspirin, ibuprofen, and some vitamins and supplements several days before treatment as well as avoiding alcohol, as these are connected to blood thinning. After a Botox treatment, your injector may recommend avoiding exercise and not lying down for a few hours after treatment. Some patients experience mild bruising at the injection site. You can easily resume normal activities following your procedure. Keep in mind that Botox doesn't result in an instant change; the area treated will gradually become smoother. First signs of change will start appearing about three to five days after treatment, with the best results becoming effective about two weeks after treatment and lasting several months.
About Sona Dermatology & MedSpa's Botox Membership Program
Of course, erasing the signs of aging with Botox is the best part about it, but the next best part? Savings! Sona Dermatology & MedSpa is now offering a Sona+ Botox Membership program to get the best price on treatment for a nominal monthly membership fee at all their Dallas-Fort Worth locations. No need to price shop or wait for a sale—the membership pays for itself on the very first visit – you won't find a better price anywhere. Sona is among the top one percent of Botox providers in the nation and has Black Diamond status with Allergan, the manufacturer of Botox. And Sona's expertly trained and certified injectors are among the best in the industry, which means you can feel confident in receiving knowledgeable advice and great results.
For the low monthly membership fee of only $19.99, Sona+ members will receive:
$7.99/unit for Botox
15% off SkinMedica products
Free Dermalinfusion treatment with sign-up
Most members save over $100 during their first visit. Members can also use Brilliant Distinctions discounts to save even more.
While Sona Dermatology & MedSpa does not guarantee a specific injector for Botox treatments, they understand patients become comfortable and familiar with their regular aestheticians. Be sure to always ask for the injector of your choice, and if not available, just schedule for a day or time that meets both of your schedules. Sona recognizes that everyone has different needs and concerns when it comes to addressing the tell-tale signs of aging. For a free consultation with one of Sona's experienced skin consultants, you can call 866-GET-SONA, or simply book your consultation online at sonaskin.com.
Schedule a free consultation with Sona to see how Botox can contribute to a younger-looking, refreshed appearance by calling 866-GET-SONA or visiting sonaskin.com. With locations in 7 states, Sona Dermatology & MedSpa is the largest full-service aesthetics company in the nation. Sona has four locations throughout the Dallas-Fort Worth area, including 2 locations, Frisco and Fort Worth, with board-certified dermatologists who provide a wide range of dermatologic services. Sona's focus has always been its clients, providing them with exceptional service, efficacy, and safety in a comfortable, spa-like atmosphere. Under the oversight of medical directors, treatment professionals maintain strict safety standards and use the most advanced technology to help clients look and feel their best. As a leader in the aesthetics industry, Sona is committed to providing the best possible results.