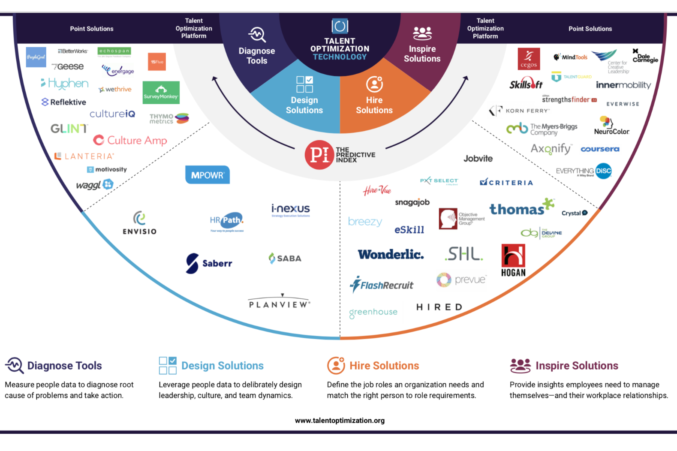 Leading the Charge for Talent Optimization
How we're changing the way businesses think about people strategy.
By Alex Fajardo at Predictive Index
Published in Sponsored
October 8, 2019
2:25 pm
It's not the business strategy that'll make your company successful. It's your people. After all, business strategies don't execute themselves.
For years, The Predictive Index® has focused on changing the paradigm where an organization's people strategy is misaligned with its business strategy. The image above is a representation of the framework we've developed.
When those two strategies work separate from one another, what happens? The company doesn't meet its goals. High performers burn out and leave because the culture isn't conducive to their success. Managers struggle to scale teams because of conflicting work and communication styles. In short: Results are left to chance and the company suffers.
I've worked with countless C-suite execs, VPs, and managers who knew they needed to optimize their talent but couldn't figure out where to start.
Take, for example, an organization we worked with that was hiring outside sales representatives by the masses. Some of their sales reps would go out and pound the pavement, while others were reluctant and would find any excuse not to. Naturally, the ones that were out and about had larger prospect lists and were higher performers. By partnering with The Predictive Index, they discovered the lower performing sales reps were more introverted and far more averse to risk.
This is the power of talent optimization—a simple, straightforward formula for aligning people strategy with business strategy for optimal results.
There are four aptitudes of talent optimization:
Diagnose: Measure critical people data, analyze that data in the context of your business, and prescribe remedies as needed.
Design: Create and continuously evolve your people strategy.
Hire: Use people data to hire top talent and build high-performing teams.
Inspire: Drive important employee-oriented activities—from career pathing to maintaining organizational culture to enhancing that critical relationship between an employee and their direct manager.
We support organizations of all sizes to collect, analyze, and act on the people data required to optimize talent.
Still not sold on what talent optimization can do for your business?
Come to OPTIMA—the world's first talent optimization conference—held in downtown Boston this November. You'll hear from dozens of business leaders who have used talent optimization to transform their business and skyrocket their success.