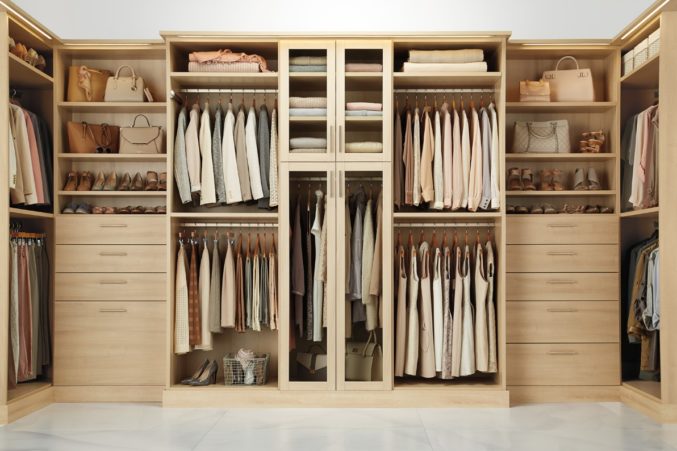 How to Create Your Dream Closet
Closet 101 with a Pro Organizer from The Container Store.
We've all done it—stand still in our closet, staring blankly inside and proclaiming that we have nothing to wear, or that our closet is hopeless because it's too small and impossible to organize. And then we wear the same things over and over simply because we can't see everything we have, from accessories to shoes. Lauren Hill, Divisional Merchandise Director with The Container Store says this cycle can thankfully come to an end because there's no such thing as a hopeless closet. The problems lie in the two most common mistakes in closet organization– hanger selection and shoe storage solutions.
Hanger Selection
"Most consumers think their hangers all have to be the same hanger to have an organized closet," Hill says. "While the aesthetics are extremely important, hanging your garment on the correct hanger is most important."
Shoe Storage
"Many people think the number of pairs of shoes should dictate the storage," Hill says. "True, but it's not the only factor in determining the best solution. It's deciding if you are a kicker or a placer? Kickers tend to literally kick off their shoes into a shoe storage solution, while placers will take their shoes off and place them onto their solution."
Hill also recommends Elfa gliding shoe racks and drawers to store shoes two pairs deep, as well as Shoe Space Savers. "This is a great way to see every shoe as well as save space," she says. For something more enclosed, but still visible, consider Drop Front Shoe Boxes.
Here, Hill answers our most common closet organization questions:
Have you ever deemed a closet "hopeless?"
There is no such thing as a hopeless closet! The Container Store has thousands of products and solutions designed to maximize space in the closet, and if the system you have just isn't working, The Container Store Custom Closets offers the help you need no matter your closet size, style, or budget. If a custom closet is not an option, there are several solutions to ensure you can maximize your space – drawer organizers, shoe storage, hangers, bins, and boxes at every price point.
Is there any way to make a common closet appear larger or get more space by organizing?
Yes! Look into space-saving products, add shelves or hanging space, incorporate slim space-saving hangers, add over-the-door-storage, and get things off the floor! Over-the-door storage is underutilized in every home—think of it as the free space of the closet. When you keep your floor space clear, the closet automatically looks cleaner and bigger. And don't forget bins, boxes, and baskets. By adding a few to your space, you can maximize certain categories of your closet. 
What is the best way to organize jewelry and accessories in a closet?
Consider a custom closet jewelry drawer. This keeps the accessories off surfaces to reduce clutter.
Don't forget to use the back of a closet door. You could hang an Elfa Door & Wall Rack. It accomplishes two things—accessories are out of sight and it's also space-saving.
Tuck them in a drawer. It can be a secret garden for jewelry! Browse Stackers Expandable Jewelry Trays for ideas.
Show them off on the counter and enjoy both inner and outer beauty! Consider Stackers Premium Jewelry Storage for this option.
What are some new and interesting closet storage solutions?
Most people never think of storage ideas for everyday items, such as bras. Believe it or not, you can attractively store and organize your bras. After all, they are a big investment! For the playroom, toys, and other kids' storage, bins are critical. Check out Rainbow Jute Bin, Color Pop Bins, and Little Stackers Hampers. For many women, one of the largest investments they make is in their handbags. Keep them from being cramped, wrinkled, or damaged with a handbag storage system, such as Handbag Storage.
Is it possible to organize a closet in phases if cost is a factor?
Absolutely! If your budget does not allow for a full closet makeover, start with the areas that cause the most stress. Drawers are usually the easiest to begin and give you the most bang for your buck. Most drawer organizers or dividers are great, inexpensive options to maximize space.
What are the advantages of hiring a closet organizing professional versus taking the DIY route?
Organizing professionals are a great source of knowledge on how to maximize your space. There are products that the average consumer does not think of as a storage solution. For example, a shoe shelf can be turned upside down to be used for book storage. Spend an afternoon in The Container Store with sales associates to learn more about how exclusive assortments can inspire and enlighten you to become a product expert and finally complete your closet organization.