6 Lawn Care Services to Take Your Yard to the Next Level
Get the healthy, vibrant lawn of your dreams this summer (and beyond) with Chorbie.
As summer heats up and days grow longer, it's the perfect time to enjoy your home's outdoor space: think pool parties, backyard barbecues, garden parties, and more. If your lawn is looking less than stellar (read: brown and dry), getting it party-ready may sound like a chore. Fortunately, local lawn care companies like Chorbie can make your yard picture-perfect in no time. (And you could win a free year of lawn care from Chorbie here!) Below, the pros outline the six major components of lawn care to focus on this summer, from sprucing up landscaping to getting rid of weeds.
Landscaping
What gives a home "curb appeal?" You might be quick to answer that the home itself—whether it be its Mediterranean architecture, a Southern-style porch, or some wrought-iron windows—is what draws the eye in. But any fan of HGTV knows that oftentimes a fresh coat of paint and a new door is all a home is given during a renovation. The true transformation lies in the landscaping details: soft green grass, blooming flowers, a newly planted shrub, or a cleanly pruned tree. Don't overlook this element of your home—after all, it's the first thing that visitors experience when they walk up to your door. Whether you have a green thumb or can scarcely keep a succulent alive, it's best to consult professionals for your landscaping needs. Chorbie can make your vision a reality while advising you on what plants will thrive on your property.
Weed Control
Even the most diligent homeowner can be plagued by weeds that never seem to stop popping up, and pulling dandelions every weekend is only a short-term solution to the issue.
Maintaining lawn health is the best way to prevent these weeds from taking root in the first place. Fertilizing, watering, and mowing are crucial, as is preventative weed treatment. But if your home is already surrounded with weeds galore, don't fret–there is hope for even the most overrun of lawns.
Identifying the weeds is the first step. There is no one effective treatment that eliminates every weed, and with so many varieties in North Texas (crabgrass, nutsedge, dandelion, bittercress, and more), hiring a professional is your best bet to identify the pesky weeds and choose an appropriate plan of action to remove them and prevent their return.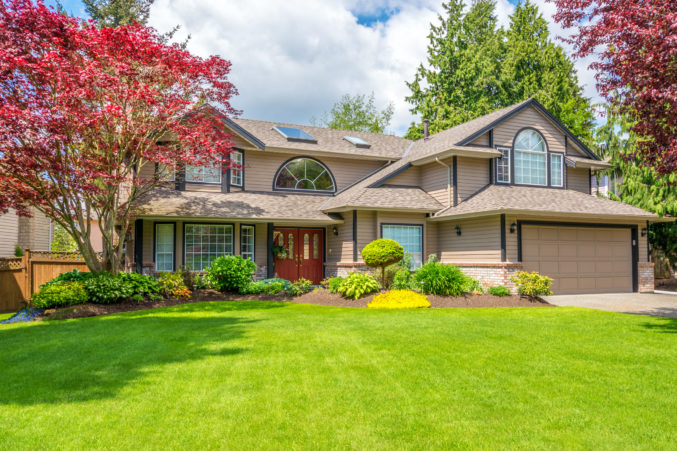 Fertilization
How does one maintain a bright green lawn in warmer months? You can run your sprinklers all day and night and still not achieve the verdant color you're hoping for. The secret ingredient? Fertilizer. Don't overlook this lawn care powerhouse – apply it when the grass is not dormant for consistent and thorough nutrition. In the winter, switch to a pre-emergent to keep weeds at bay while the grass is dormant. A healthy, thriving summertime lawn is a result of months of care.
Pest control
There's nothing like a bright summer sky above a yard, accented by fluttering birds, butterflies, and bumblebees. Sadly, not all the living creatures in your yard are quite as charming. Grubs, chinch bugs, fire ants, beetles, and more also call Texas home. Want to prevent these pests from choosing your lawn? Here are a few tips:
Irrigate efficiently. Ensure that your lawn is receiving a thorough watering, but not too much or too often. In addition to harming the grass itself, excess water is a perfect breeding ground for insects.
Use plants that are native to North Texas. These are better suited to our Texas climate, and are equipped to resist common pests.
Avoid leaving food out. The last thing you want is for pests to swarm your lawn after an outdoor party – make sure all trash is picked up to avoid unwanted pests.
Be diligent when monitoring for pests. Stay in tune with your lawn to catch infestations at the beginning and consult a professional company at the first sign of an issue.

Mowing
Though it may be tempting to have your child take over mowing as a summertime chore, be cautious. Most homeowners tend to cut grass as short as possible to space out their mowing schedule, but professionals advise only cutting off 1/3 of a lawn's height at a time. (Too-long blade clippings can suffocate the healthy grass beneath it, and the too-short blades are more susceptible to harsh environmental conditions like intense summer storms and high Texas temperatures). Using a professional lawn care company will ensure your grass stays healthy, evenly trimmed, and beautiful all summer long.
Sprinkler maintenance
As the hot Texas sun gets stronger, your lawn will be thirstier than usual. A properly working sprinkler system is essential to maintaining a bright green lawn in warmer months. Inefficient sprinklers are a waste of time, water, and money–and the average homeowner may not even know when their sprinklers are lacking. A professional lawn care company will ensure your sprinkler heads are properly functioning (no leaks, no damage, and are angled in the most efficient way to avoid watering sidewalks or driveways). They'll also catch issues you may not even be able to see (think underground watering systems with lines or pooling water). Finally, they can check your backflow system. You're required by law to check it annually—and if you have no idea how, Chorbie can help.
Feeling overwhelmed? There's no need to spend sunny summer days worrying about lawn care. Chorbie's slogan is "Your Chores. Our Passion." Hand off your home maintenance duties to Dallas' premier lawn care company and enjoy a well-kept lawn all seasons of the year.
Enter now for your chance to win a free year of lawn care worth nearly $3,000.