Treat the Man in Your Life to a Wardrobe Upgrade This Summer
See our men's warm-weather style tips and find out how to score a gift with purchase.
By D Partner Studio
Published in Sponsored
June 4, 2019
2:21 pm
Memorial Day and Fourth of July, summer's star holidays, traditionally take center stage when spring takes its final bow. This year, for Father's Day and beyond, make sure Dad is in the spotlight with a fresh, new wardrobe from the Peter Millar store at Legacy West—and take advantage of a complimentary gift with qualifying purchase.
As the weather warms, introducing color and unique prints into your everyday wardrobe is a good way to embrace a summer aesthetic. Lean on naturally breathable fabrics, like cotton and linen, to keep you cool and comfortable as you spend time with friends and family. To keep yourself, dad, or the both of you cool this summer, look for casual weekend silhouettes designed with an exclusive Seaside wash, or explore the Sartorial Gentlemen's Collection, refined menswear featuring Italian fabrications and sartorial tailoring. You really can't go wrong with linen. It's going to help you stay cool and convey a refined appearance.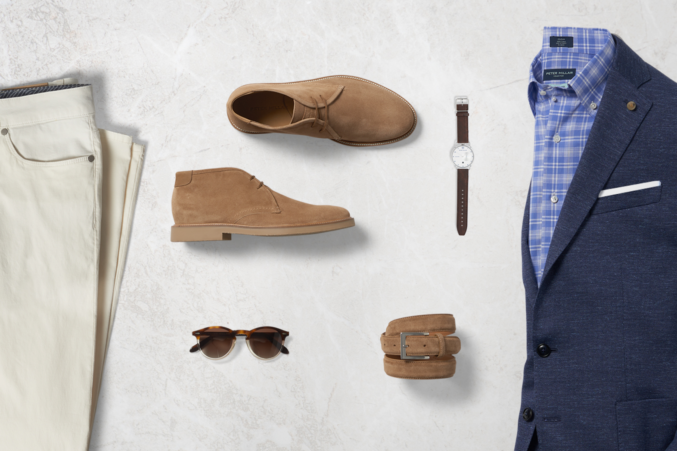 If summer plans will keep dad on the move, go for performance blends. They offer great comfort with added benefits, such as moisture-wicking, odor control, and UPF 50+ sun protection. Performance blends have the feel of a more natural fiber but capitalize on the technical aspects that enhance a garment's ability to perform. For dads who spend most of their summer outside, a new casual wardrobe consisting of key performance blend pieces is the gift to give. These styles represent a high level of craftsmanship and quality while enhancing the wearing experience with technical benefits aimed at providing optimal functionality.
Labels to look for when shopping for the avid golfer? Two words: Crown Crafted. This line is engineered to provide a sleek, ultra-sophisticated appearance on the course defined by the union of luxury yarns and custom hardware with cutting-edge performance technology. These styles are meticulously aimed at providing sophisticated style while allowing the garments to enhance your experience instead of working against you.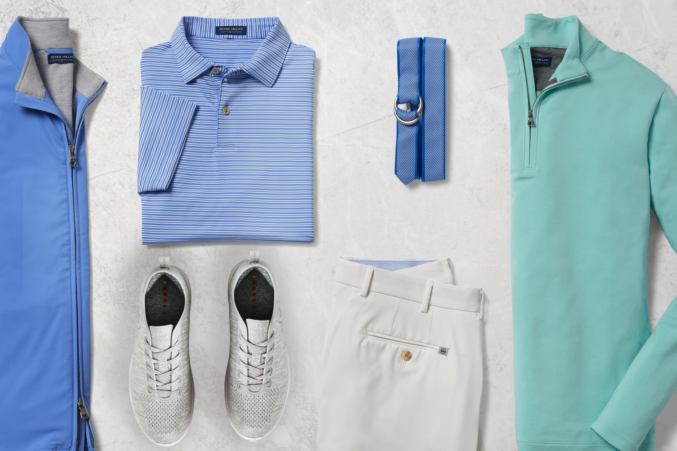 Some quintessential pieces from the Crown Crafted line are the Ace Quarter-Zip, Stretch Performance Polo, and High-Twist Performance Twill Trouser. Items from the Crown Crafted performance line offer a more technical alternative and optimal stretch. The goal is to look your best and also feel your best.
Whether the summer is filled with swing after swing on the course, backyard barbecues, or casual patio soirées, no summer look is complete without the right pair of shoes. If a casual outing calls for more than a pair of flip-flops, consider Peter Millar's Washed Canvas Boat Shoe or Alta Deck Shoe. Keep it cool by going sockless or wear a no-show sock to achieve a relaxed summer aesthetic. A sophisticated sneaker is always a great option because they are extremely versatile with the ability to be dressed up or down. Consider Peter Millar's Summer Sneaker or elect to go lace-free with the Skyline Slip-on.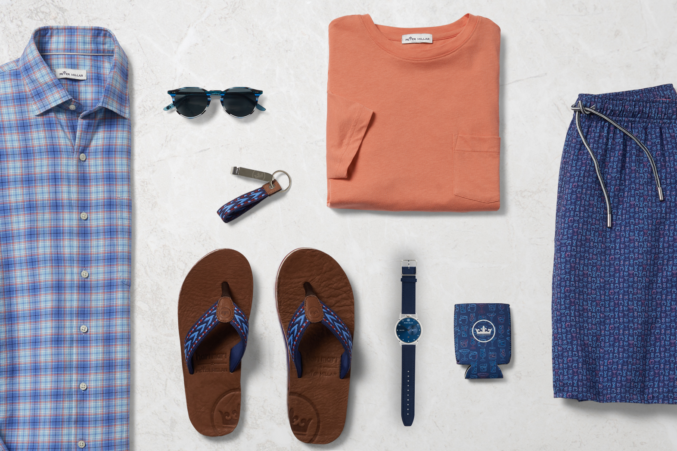 But it's summer. In Texas. There are times when only a pair of flip-flops will do. True, but not any old brand of flip-flops. Peter Millar's recent collaboration with Hari Mari is the perfect solution. The specially designed footwear is made from leather sourced from Horween Leather Company, one of the finest and most respected tanneries in the world. The premium flip-flops feature an exclusive heel cup, expanded memory foam-filled soles, and neoprene-lined straps that reduce abrasion. It's really the complete flip-flop that feels perfect from the first time you slip them on.
If you're packing for a long summer trip, keep in mind that quality denim, performance-style sports shirts, and blazers are always versatile and pack well. For instance, Peter Millar's Excursionist Flex Blazer is an essential travel go-to. It's crafted from a wool-silk blend cloth sourced from one of the most prestigious mills in Italy and features a hint of stretch and water-resistant finishing for protection from the elements. Pack your essentials in their signature rolling duffle, designed with ultimate convenience in mind and made from durable cotton canvas fabric. It can be carried or rolled and includes a baggage tag for additional ease when traveling.
Learn more about Peter Millar here.