Dolce Riviera's Authentically Italian Guide to Pairing Food and Drinks
Dolce's exclusive tips to pair the perfect drink with your order, whether you choose buttery lobster or rich tiramisu.
By D Partner Studio
Published in Sponsored
June 25, 2019
7:00 am
Dolce Riviera, Dallas' beloved Italian restaurant in the Harwood District, is renowned for its authentic yet innovative offerings. Here you'll find hand-crafted pasta accented by bright sauces, specialty cocktails with unexpected twists, and an award-winning selection of worldly wines.
With extensive menus for lunch, dinner, and brunch, alongside pages and pages of whites and reds, picking a main dish and accompanying drink can feel overwhelming. Executive Chef Michele Scarpa and General Manager Angelo Amabile, both born-and-raised Italians, offer exclusive tips for drink pairing, whether you order buttery lobster atop rigatoni or a decadently prepared cut of steak.
For an Authentic Pasta Dish: Gnocchi Al Tartufo + Luigi Einaudi "Ludo" Barolo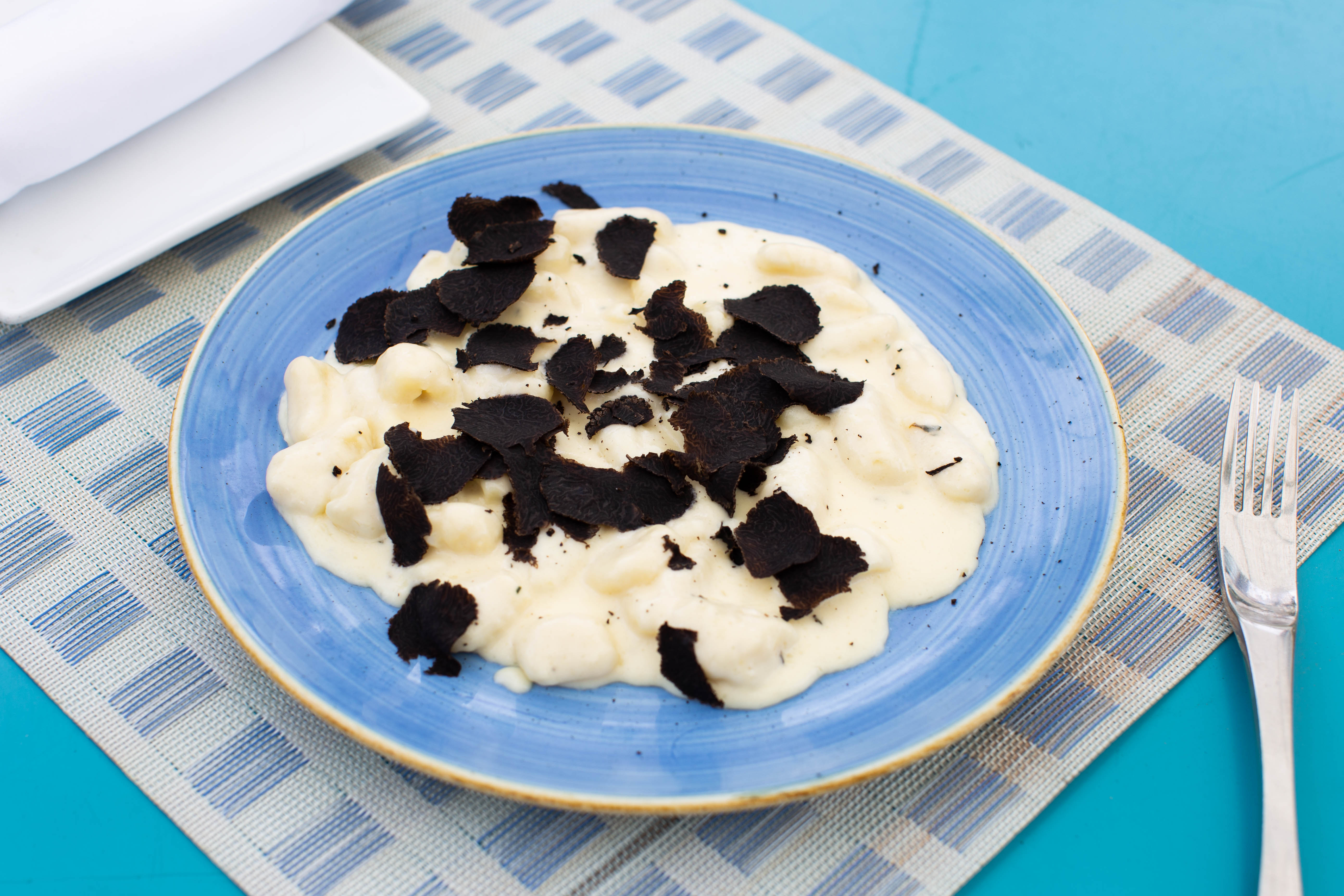 As Dolce Riviera's signature dish, gnocchi has been on the menu since day one and is on the menu for both lunch and dinner.
The gnocchi are made in-house with baked–not boiled–potatoes, and each gnocchi is hand-rolled one by one. The finished dish is accompanied by a Parmigiano truffle cream sauce and freshly-grated seasonal truffles.
Pair this dish with a glass of red wine from the Piedmont region: a rare, sommelier-approved offering featured in Dolce Riviera's Tour di Vino series.
For a Summery Lunch: Paccheri All'Astice + Valpolicella Ripasso – Speri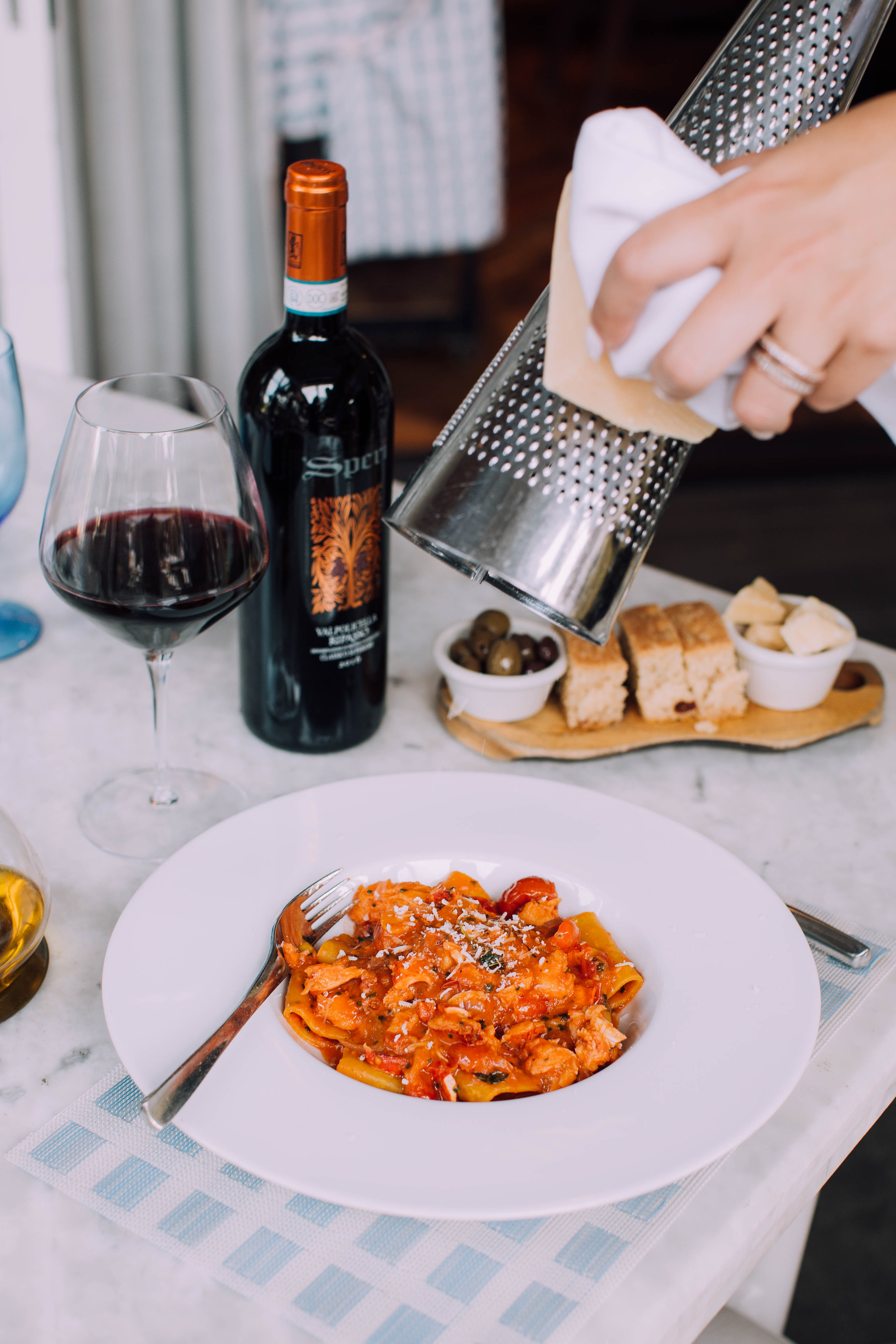 Available on the Power Lunch menu, this Neapolitan-style rigatoni is served with pillowy-soft fresh lobster meat, cherry tomatoes, and a lobster bisque sauce. The al dente pasta offsets the delicate lobster for a perfect, effortless combination.
Pair this aromatic dinner with Speri, a popular wine at Dolce. Speri is made with the Ripasso process–meaning twice-fermented–which leaves the wine with a soft balance of traditional and fresh flavors.  The red wine's fruity notes pair well with the creamy, hearty lobster bisque sauce.
For a Tableside Experience: Pesce al Carrello + Zyme "Black to White"
Available for dinner only, this new offering gives diners an exclusive peek at the chef's process. Guests select a type of fish, choose the accompanying sauces and accents, and decide how it should be prepared such as baked, grilled, or poached. The fish is cleaned and carved table-side. With this experience, Dolce keeps alive an element of Italian culture that is slowly becoming archaic.
Pair your entrée with a fresh, bright Zyme "Black to White" to complement the fish's light flavors. In the mood for bubbly? Sparkling wine and Brut are also excellent pairing options.
For a Steak Night: Allen Brothers Steak + Fuligni Brunello di Montalcino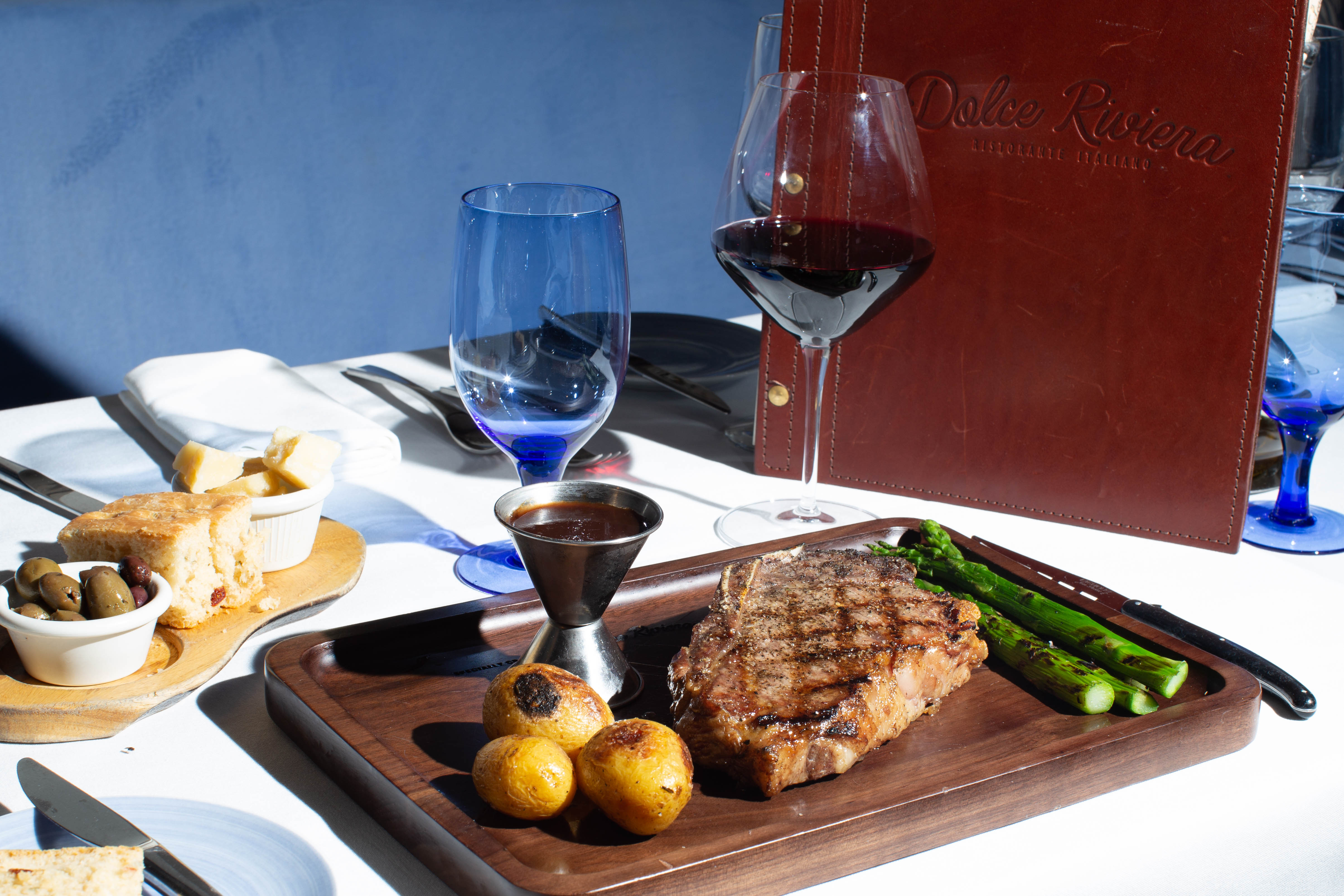 Allen Brothers, widely known as the premier supplier in the United States, is highly selective; only two other steakhouses in the North Texas region serve their cuts. Bone-in sirloin is the staple offering, offered daily; every week, a new cut–from ribeye to filet–joins the menu. This dish is accented with the guest's choice of sauce like clarified butter or an herb-balsamic demiglace and accompanied by a daily vegetable selection.
Pair your steak with a glass of red wine like the bold, earthy Brunello di Montalcino.
For a Light, Easy Brunch: Lobster Roll Croissant + Garden Party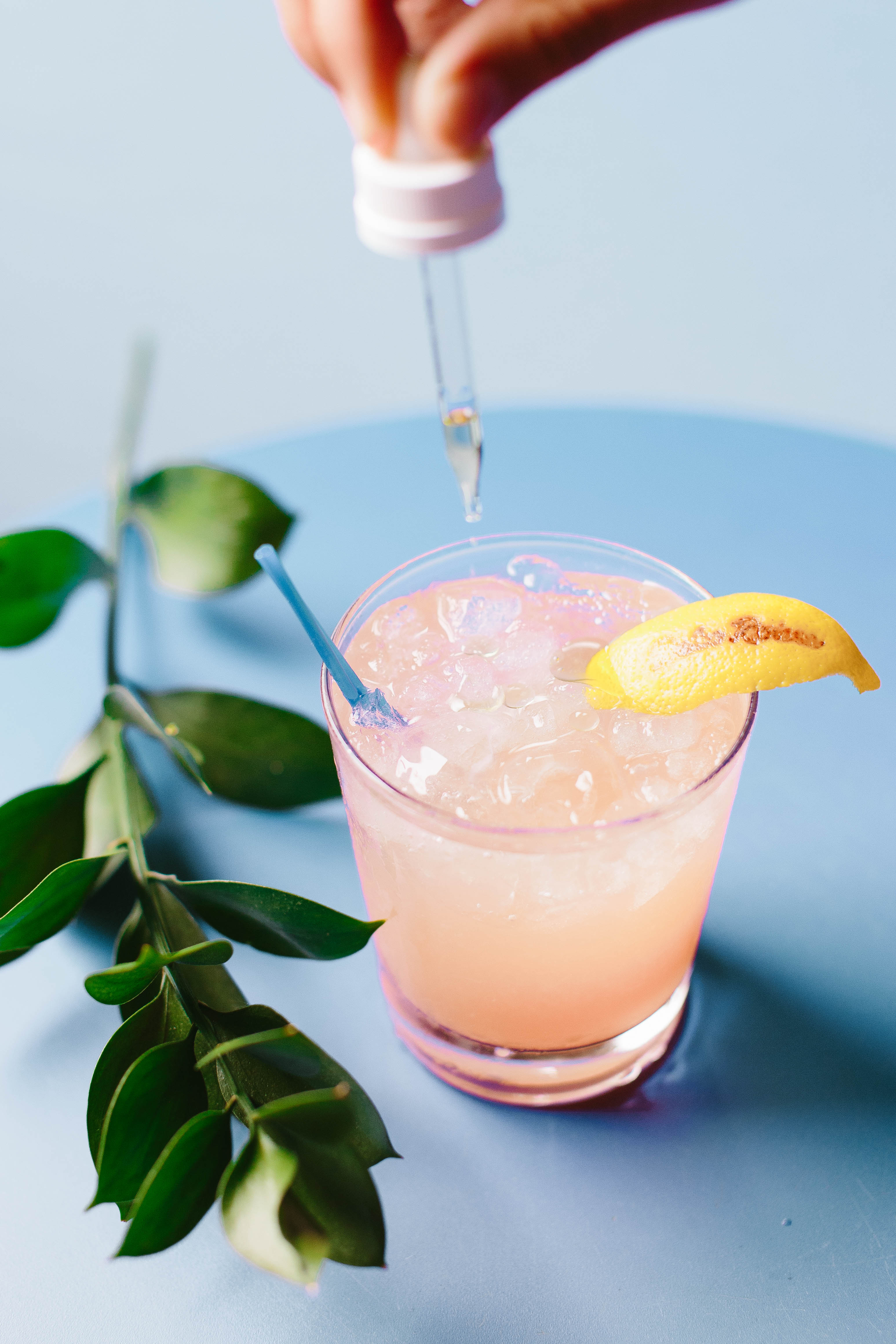 Dolce Riviera's famed Sunday brunch, featuring a live DJ and a sunny terrazza setting, is the perfect occasion for a weekend indulgence. The Lobster Roll Croissant is a buttery, flaky croissant topped with lobster meat, mayonnaise, chives, and a creamy Hollandaise sauce. A side of salad lightens up the meal.
Pair this meal with the classic brunch favorite—rosé. Dolce Riviera has an exclusive partnership with the Ferghettina Winery, known for its production of unique wines in the heart of Franciacorta. Or, dare to be adventurous with one of Dolce Riviera's new brunch cocktails–the Garden Party cocktail, which is topped with CBD drops.
For a Sweet Finish: Tiramisu + Vin Santo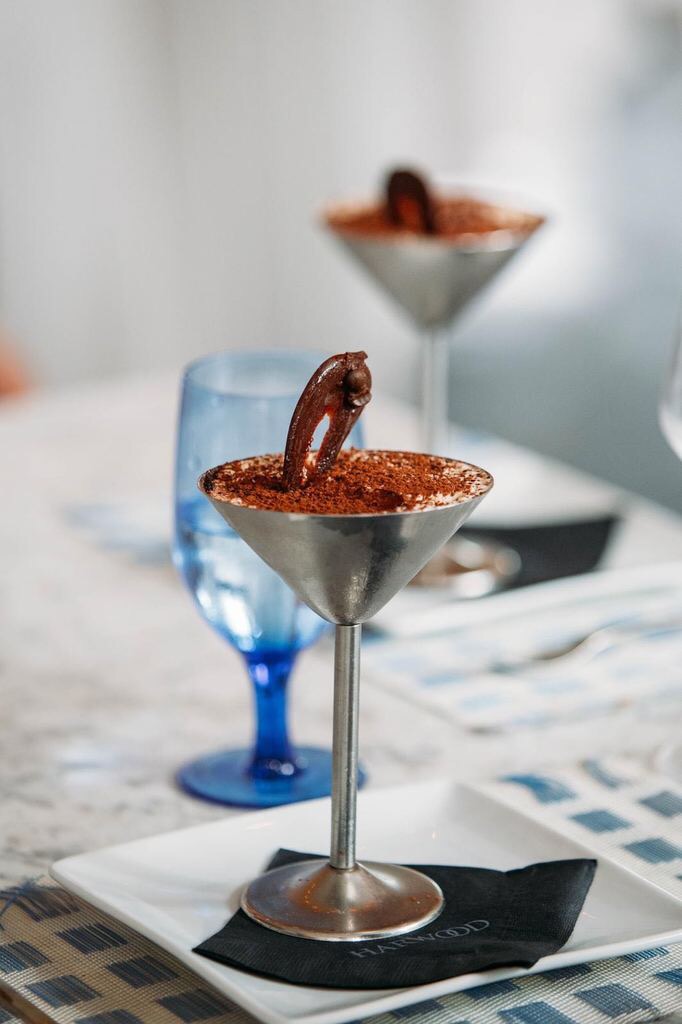 Made with an original recipe by Chef Michele's mother, this tiramisu can't be found anywhere else. Chef Michele teased a new dessert menu for the summer, which will include lighter, fruiter options such as a cheesecake-like torta ricotta and a gluten-free panna cotta.
Pair tiramisu with an Italian dessert wine such as Vin Santo. Meaning "The Saint's Wine," Vin Santo was created centuries ago by Tuscan monks and continues to be an Italian after-dinner staple.
Ready to book your table? Click here.