The Easiest (New!) Way to Get Smooth Summer Skin
This hair removal procedure is perfect for any and all skin tones and types.
By D Partner Studio
Published in Sponsored
May 15, 2019
7:00 am
If you have been considering laser hair removal or are concerned it won't be effective, debate the issue no more. While laser hair removal has long been proven to have the best results for permanent hair reduction, it hasn't always worked well on every skin tone. Just in time for summer, Sona Dermatology and MedSpa has a new, state-of-the-art laser hair removal system that not only is more effective than previous systems, but also works on all skin types by using powerful diode laser technology.
With the new advanced technology of Velocity, laser hair removal is now a solution for everyone—men and women—with all skin tones.
Venus Velocity™ is now available at all four Sona Dermatology and MedSpa locations throughout Dallas-Fort Worth. This means you'll be swimsuit ready without the hassles of endless shaving, tedious plucking, painful waxing, sharp razor nicks, and the dreaded mess of hair removal cream. Venus Velocity provides safe, effective, quick, and comfortable hair removal for the body and face—yes, even a unibrow! While laser hair removal has remained Sona's most popular treatment for two decades, some remain wary of the results because they've heard it doesn't work on darker skin tones which can make laser hair removal less effective.
"For those with darker skin tones, traditional laser systems can't always differentiate between the skin and the hair follicle," says Kristin Polito, Center Manager with Sona Dermatology and MedSpa at NorthPark. "With the new advanced technology of Velocity, laser hair removal is now a solution for everyone—men and women—with all skin tones."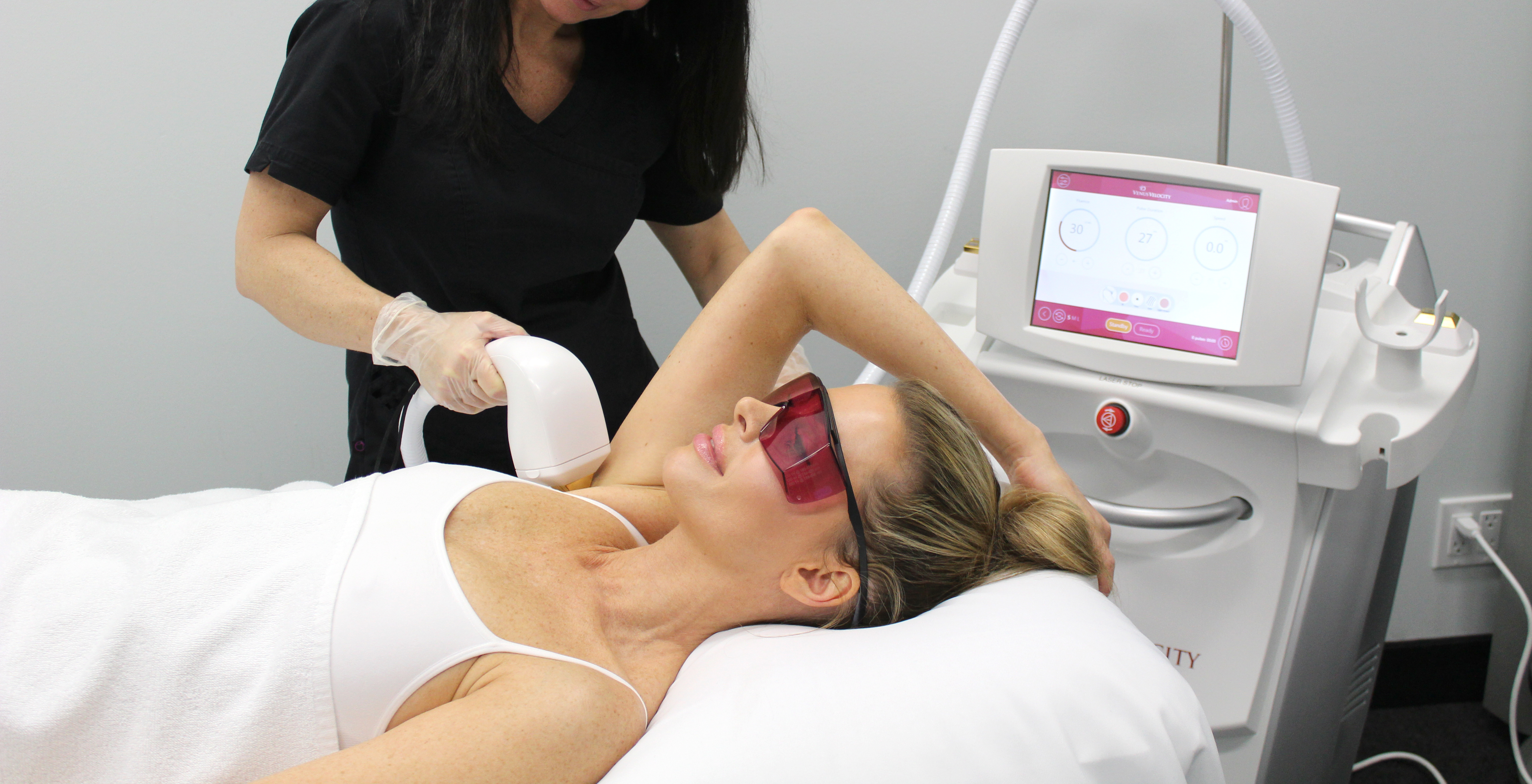 Another advantage of the Venus Velocity laser is its various handpiece options. A Sona  Laser Hair Professional can administer the laser treatment to areas as small as above the lip to as large as the back and chest areas by alternating the laser handpiece as needed. "It's a customizable treatment based not only on skin type but also the areas that need to be treated," Polito says. "We can change the settings during the treatment process based on the hair reduction of each session. There is no downtime, and you can return to your normal activities after your appointment."
The question Polito always gets: "Does it hurt?" Most people say no, or that it is mildly uncomfortable during the treatment only—not afterward. Venus Velocity also offers an advanced cooling system, which makes the treatments virtually painless.
Sona Dermatology and MedSpa makes permanent hair reduction easy by offering consultations by phone or in person at any location. Once a Consultant knows your skin tone, hair type, sun exposure, and medications, they can determine if you're a good candidate and recommend a course of treatment. Laser hair removal packages consist of seven treatments spaced six to eight weeks apart, and Sona offers specially priced packages, low monthly payments, and interest-free financing. As always, they offer the Sona Lifetime Promise which provides two complimentary treatments, if needed, up to six months after a treatment package is completed. If further treatments are needed, they will be offered at substantially reduced pricing for life.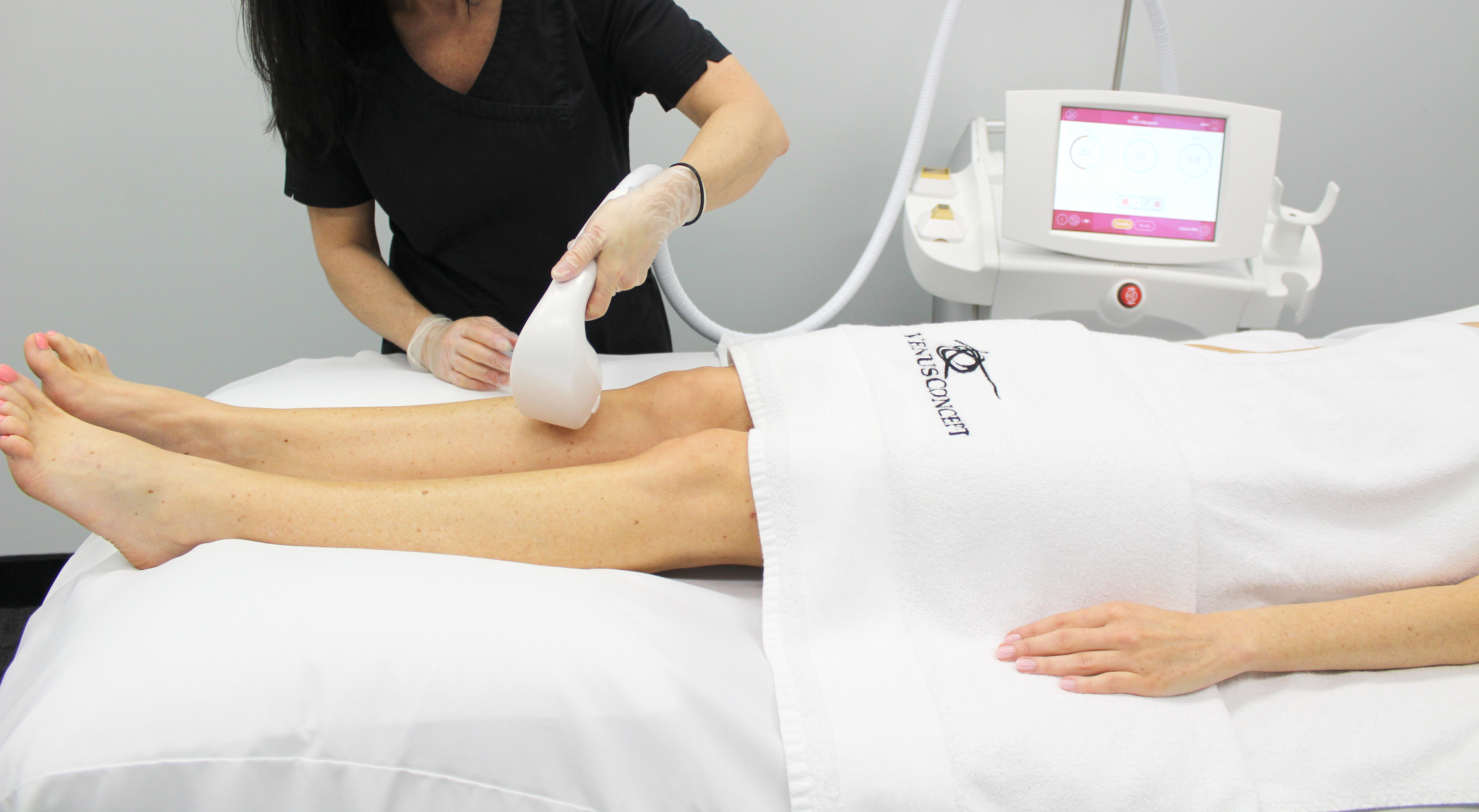 Ready for laser hair removal? Polito recommends taking the following steps first:
Avoid sun exposure for at least two weeks prior to your laser hair removal appointment(s)
Shave the day of your appointment
Wear loose, comfortable clothing
When researching laser hair removal centers, be sure those administering the laser treatments are professionally trained on the specific equipment that will be used for your treatment.
Schedule a free consultation with Sona to see how laser hair removal can add time to your day and change your life by calling 866-GET-SONA or visiting sonaskin.com to book your free consultation online.
Sona Dermatology & MedSpa is the largest full-service aesthetics company in the nation with four locations throughout the Dallas-Fort Worth area. Sona's focus has always been its clients, providing them with exceptional service, efficiency, and safety in a comfortable, spa-like atmosphere. Under the oversight of Medical Directors, treatment professionals maintain strict safety standards and use the most advanced technology to help clients look and feel their best. As a leader in the aesthetics industry, Sona is committed to providing the best possible results.