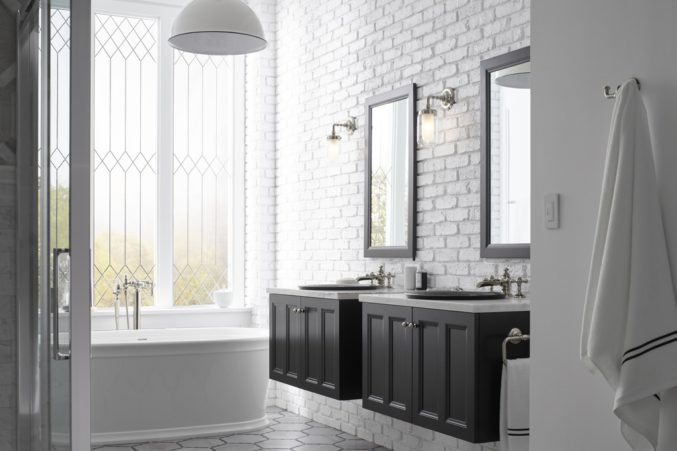 Bathroom Redesign on a Budget
Whether your budget is $600 or $60,000, an updated bathroom is in your future.
By D Partner Studio
Published in Sponsored
May 31, 2019
7:00 am
If your home bathroom is ready for a redesign, you're in luck. Today's design possibilities are endless—from tile and countertop selections to faucet styles, cabinetry hardware, and even upgraded tub and toilet options. If you can dream it, then it's likely an option. That's the fun part. The not-so-fun part? Making and adhering to a budget. Although you may cringe when crunching numbers to afford the bathroom of your dreams, budgeting is a necessary first step when planning your new bathroom. When you consider that the average cost of today's bathroom remodel is $26,000, it's a good idea to call in the pros to ensure you get the most for your money.
Kohler's design experts can help familiarize you with pricing up front and present an array of product options that not only match your style and wish-list—but also your budget.
Designers at KOHLER Signature Store by Facets of Dallas carefully guide homeowners through the entire process of a bathroom remodel from budget planning to material selection. Whether you are new to the remodeling game or a DIY remodeling pro, sticker shock for materials, appliances, and labor costs is inevitable. Kohler's design experts can help familiarize you with pricing up front and present an array of product options that not only match your style and wish-list—but also your budget. Pricing is discussed up front so you can smartly shop throughout the process. Kohler offers more than 600 products in a wide range of styles, colors, sizes, and finishes all at various price points which means you're bound to find an affordably beautiful solution.
To determine a realistic budget, it's helpful to let your Kohler designer in on a few things early in the process. How do you envision using the space? Do you plan to sell your home soon? Do you want a custom look that is unique to your specific taste, or do you prefer a tried-and-true aesthetic that will likely appeal to many? Will you or a contractor do the work? Does the bathroom need a simple update or a complete or partial renovation? Do you value cleanliness, style, comfort—or all three? Will you live in your current home as you age? Answers to these questions will help the designer present options, plan the best use of space, select materials, and determine cost estimates for labor and materials.
If your current bathroom remodeling budget is on the conservative side, there are several ways to affordably update it without a complete renovation to give it a modern, fresh look. Consider these easy-to-follow tips from Kohler's design team:
Mirrors
Easy to install and easy on the budget, mirrors are a small change with a big impact. Decorative mirrors can take advantage of a bathroom's natural light and make a smaller room, such as a powder bath, look bigger. For larger bathrooms, such as an expansive master bath, consider a big wall-to-wall mirror or oversized vanity mirror for a bold look.
Paint
A simple switch in wall color, or even the addition of a painted accent wall, may be the only change you need to update your bathroom. Paint is one of the most inexpensive ways to give a room an entirely new look.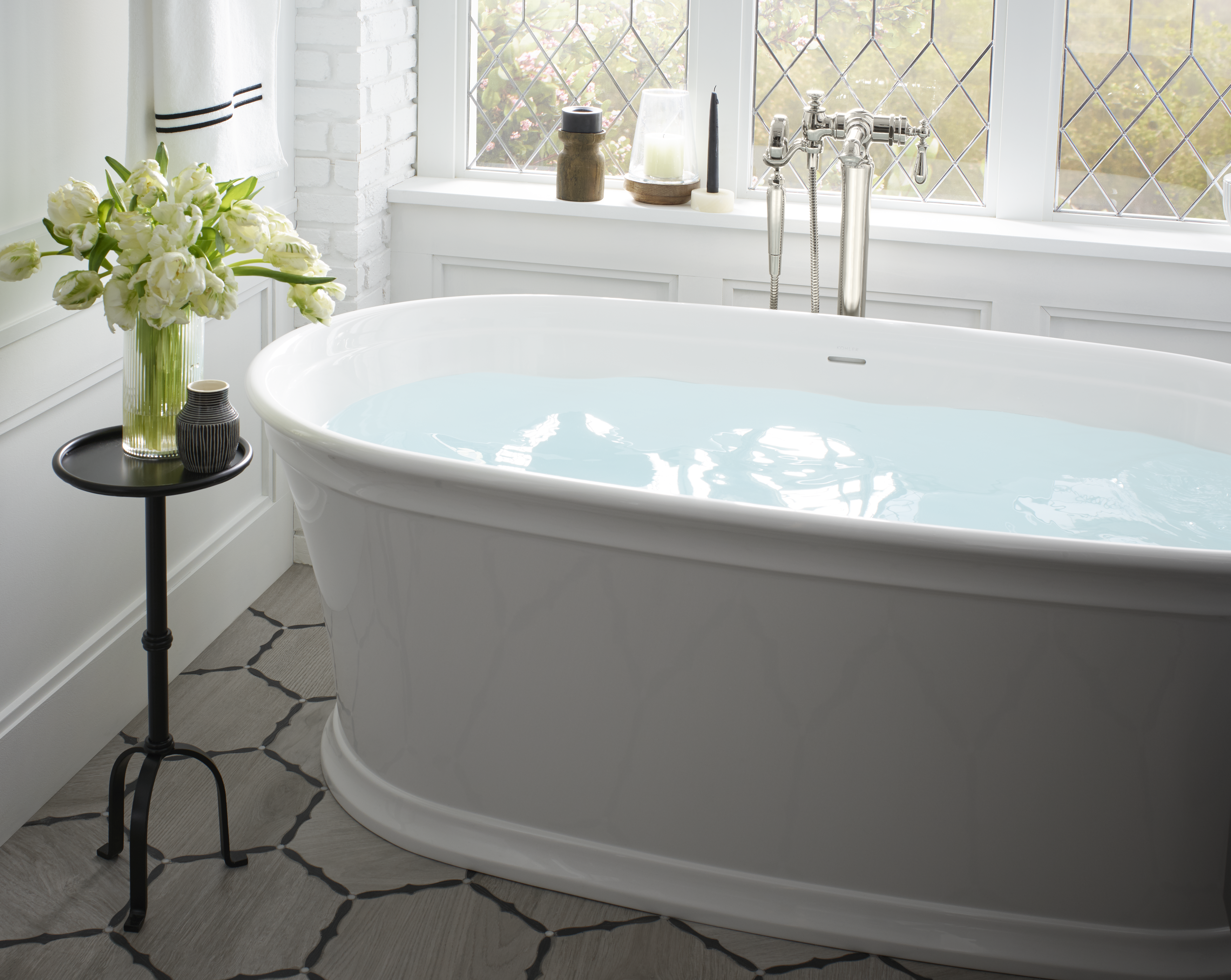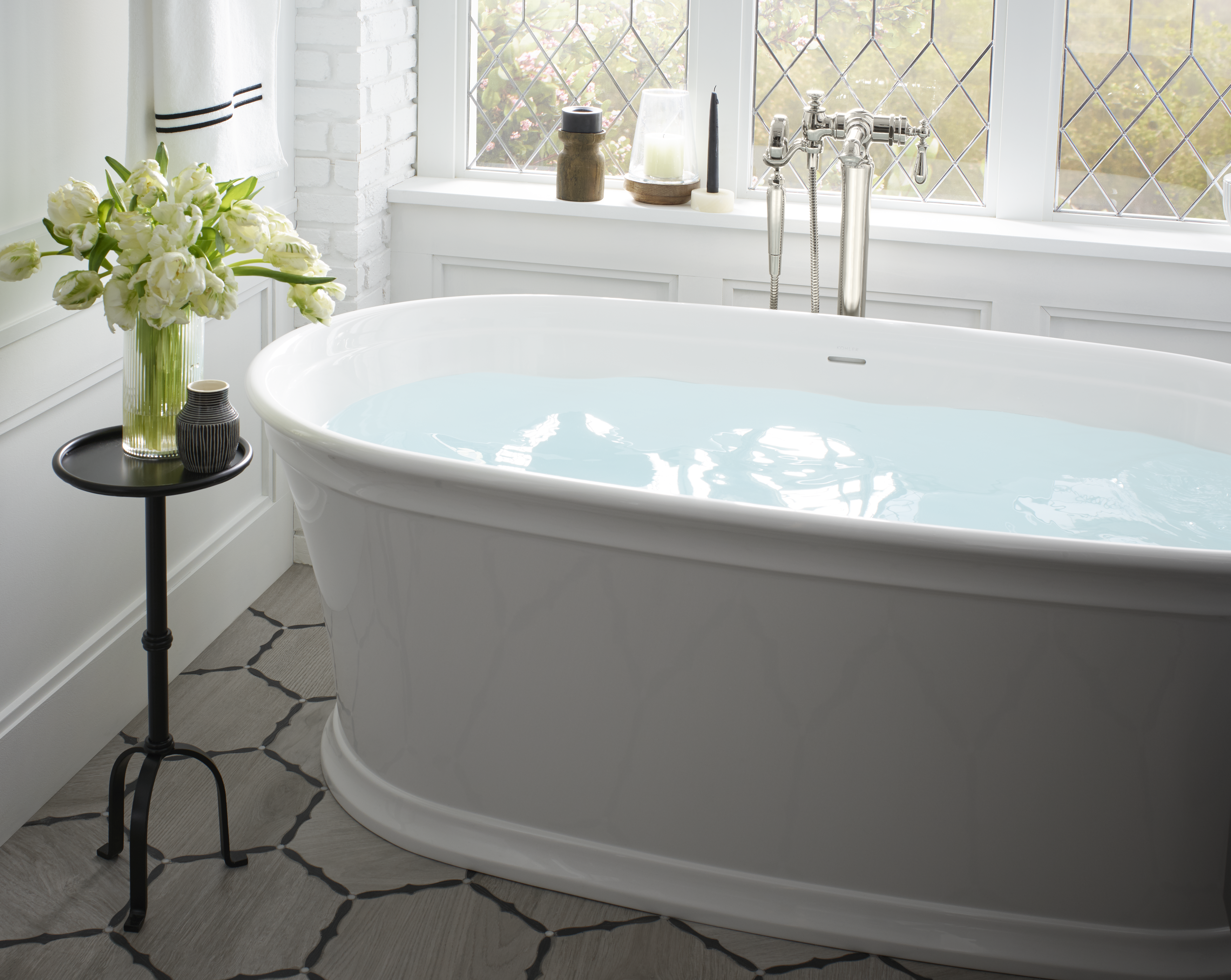 Light Fixtures
Swap dated light fixtures with modern ones, such as pendant lighting. Raised lighting draws the eyes upward, giving the room a more open feel, while under-the-cabinet lighting can bring definition to a vanity—not to mention more function. Dimmers set the mood in any room, and in bathrooms, can provide just enough light for safety and convenience at night.
Upgrade
Replace dated faucets for the latest trends in style, color, and finish, such as Kohler's Vibrant Modern Gold finish. Go for a sleek look and improved efficiency with Kohler's Intelligent Toilet. Some models can be hung from the wall, saving at least eight inches of space in the bathroom, and all models have integrated cleansing functionality and a minimalist ergonomic design.
Clear the Clutter
If you're looking for the simplest way to make a small bathroom appear larger, clear the countertops. Consider finding alternative storage options or reorganizing cabinets and drawers to make room for everyday items that have been cluttering your vanity countertops. Instead, strategically place a few decorative items and pretty soaps for an inviting, fresh, and clean look.
To learn more or book an in-store appointment, visit kohlersignaturestoredallas.com.