Dolce Riviera, one of the culinary gems of the Harwood District, prides itself on its elegant yet unpretentious authenticity. Here, the menu is anchored by true Italian selections, including homemade pasta and an impressive award-winning collection of Italian wines.
Dolce Riviera may be the only restaurant in DFW with a core team of born-and-raised Italians. This includes the chefs and management; all take great care to craft an experience that honors their heritage.
Diners have been loyal to Dolce for date nights and formal dinners since its opening, but new elements like happy hour secure the restaurant as a go-to for any occasion, be it after-work aperitifs, a special group event, or Sunday brunch.
Dolce Riviera's New Happy Hour
What we Dallasites refer to as Happy Hour, Italians call Aperitivo Italiano. On Thursdays from 4 pm to 7 pm, head to the bar or the giardino, an open and spacious outdoor lounge where greenery softly shades diners, for pre-dinner drinks and bites. A DJ is on hand to provide a calm, cool ambience to instantly transport you to the Italian coast, perhaps Capri or Portofino, while overlooking the glittering ocean.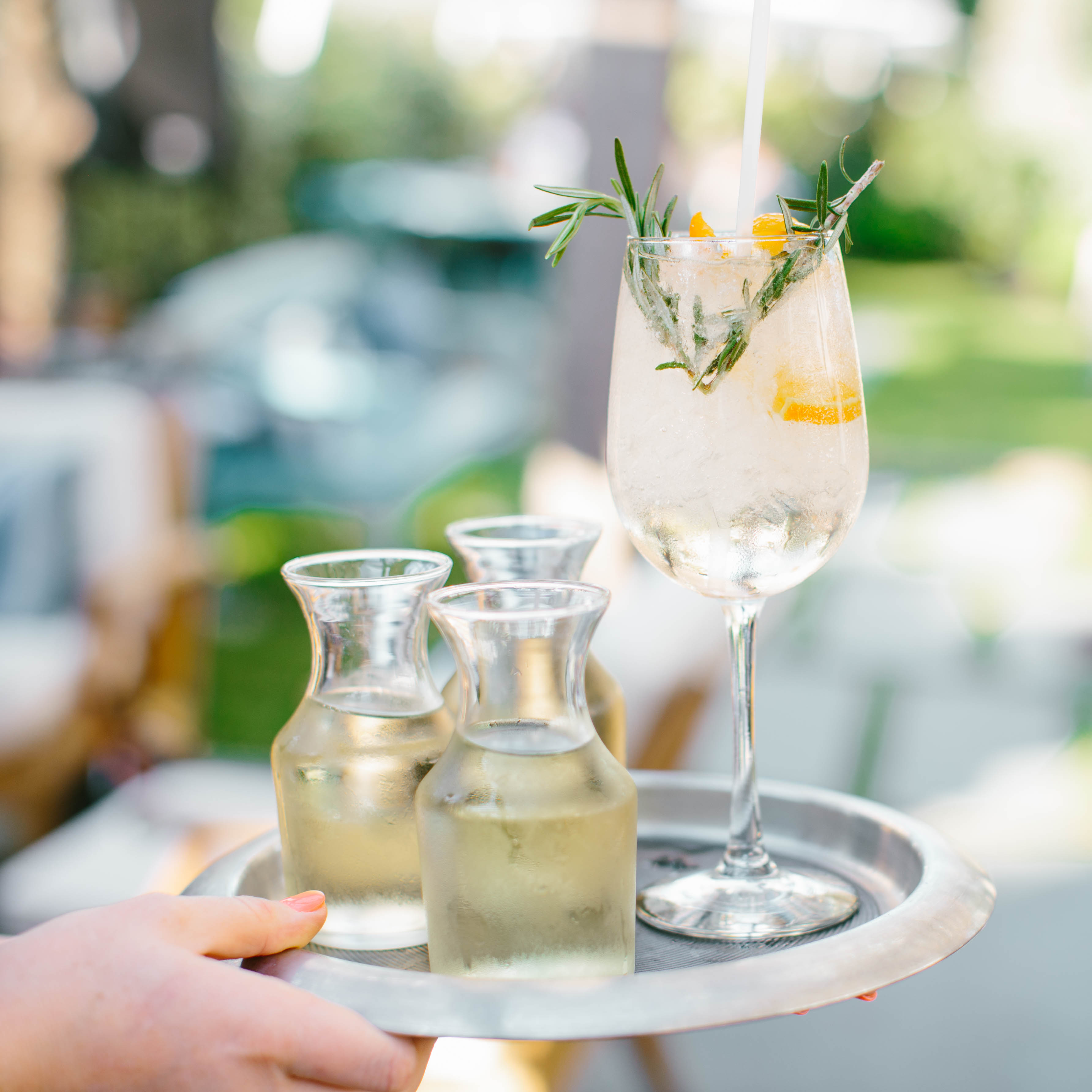 New specialty cocktails, crafted exclusively for this happy hour experience, embrace the Italian tradition of pre-dinner aperitifs that stimulate one's appetite. The signature drink is an Aperol Spritz; El Hugo is another standout featuring gin, elderflower liqueur, Prosecco, and a splash of soda. During happy hour, cocktails (normally $12-14) are just $6. Fancy a wine or beer option? Enjoy select wines for $8 or sip on an ice-cold Peroni for $4.
Complimentary bites, including traditional salty snacks like olives, are whisked out to happy hour guests as soon as they place their drink order. The full kitchen opens at 5:30 pm so you'll be able to order from the dinner menu without leaving the outdoor oasis.
Dolce Riviera's Signature DJ Brunch
The tremendously popular DJ Brunch series held each Sunday on the terrazza, returns in 2019 for a second year. Defining the way Dallas does brunch, the weekly event boasts the vibrancy of an energetic environment while maintaining the luxe and authentic feel the restaurant is known for.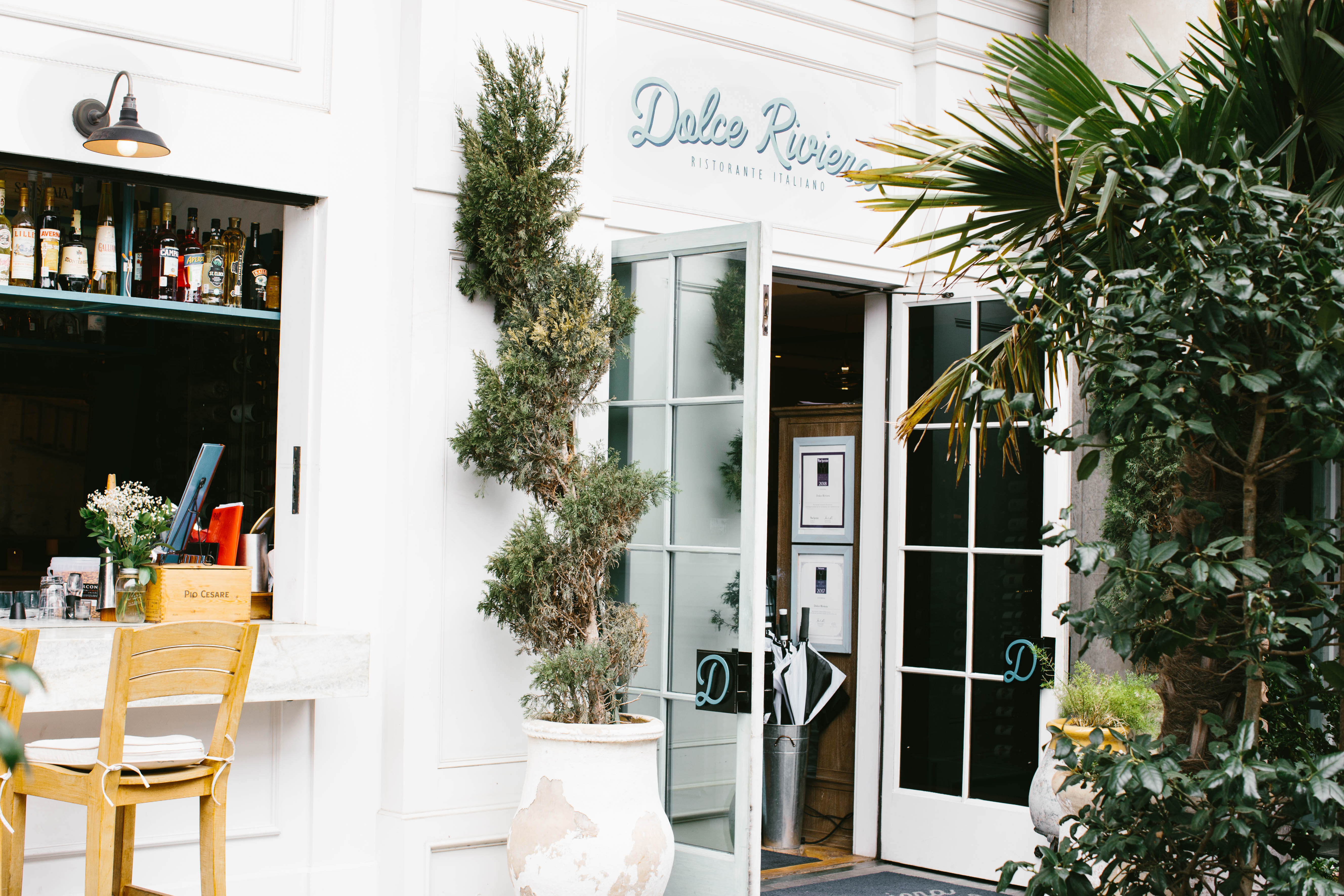 The revamped brunch menu marries Italian flavors with a traditional American brunch influence. Look forward to Dolce Riviera's spin on eggs Benedict with hot buttered English muffins, an all-American option like Chicken and Waffles, and even a sweet lineup of crépes.
Dolce Riviera's Summer Menu
The Dolce Riviera team is preparing for the launch of this summer's menu. They reveal that diners can expect to see a selection that is as seasonal as possible. Lighter, healthier options, with a vegetable focus rather than heavy, creamy flavors, are to come.
Seafood will also take the spotlight; one signature summer dish will incorporate traditional risotto with seared scallops and a strawberry accent. One of the chefs is from the Venice area, known for its risotto; he promises true authenticity in this recipe.
Steak lovers rejoice–Dolce Riviera now features a signature dry-aged cut from Chicago-based Allen Brothers, the premier steak supplier in the United States. Allen Brothers is so selective with who they do business with that their meats are available at only two other DFW locations. Dolce Riviera's sommelier recommends a Brunello di Montalcino or a Barolo as the perfect complement to this must-try dinner dish.
Ready to make your reservation? Click here to learn more about Dolce Riviera and secure a table.
Get the SideDish Newsletter
Dallas' hottest dining news, recipes, and reviews served up fresh to your inbox each week.