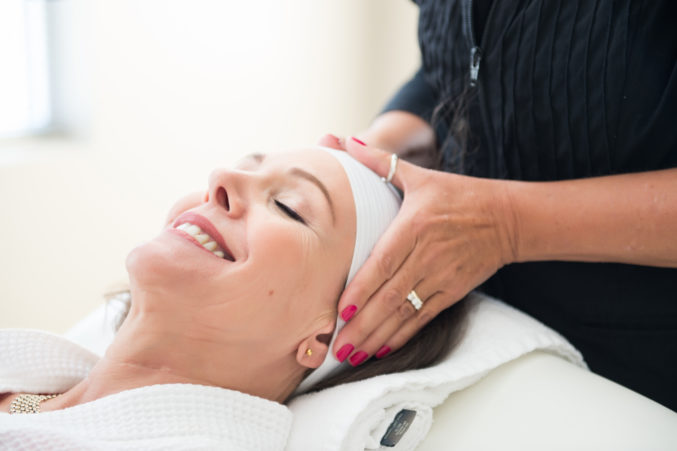 Skin Rejuvenation: A Beginner's Guide
Sona Dermatology & MedSpa's comprehensive guide to the treatments that can help your skin look and feel its best.
By D Partner Studio
Published in Sponsored
February 12, 2019
10:28 am
When most people think "cosmetic procedures," their mind might jump to costly surgeries or invasive treatments. Maintaining healthy, youthful skin doesn't need to be intimidating, nor does it need to feel clinical. Sona Dermatology & MedSpa offers many non-invasive treatments ranging from laser therapy to exfoliation and extraction. With a luxurious and warm atmosphere, the customer experience feels like a day of pampering.
Whether you want to preserve your skin's youthful glow with preventative care, or you're looking to soothe and smooth dull, aging skin, there's a treatment for you.
Whether you want to preserve your skin's youthful glow with preventative care, or you're looking to soothe and smooth dull, aging skin, there's a treatment for you. If you're new to the world of med spas and rejuvenation treatments, read on to see which would be best for your needs.
Laser Treatments
What is it? Laser treatments are a standard in the world of skin rejuvenation. Though classic treatments could work wonders, they often came with extensive downtime spent recovering. There are new developments that can offer even deeper results. Fractional resurfacing, for example, is a lower-heat option that helps your skin produce more collagen and heal any imperfections. Sona's state-of-the-art fractional resurfacing laser, Pixel, creates deep, tiny holes in the skin, allowing for regeneration with fewer side effects and faster recovery time than traditional lasering.

Who's a good candidate? Fractional resurfacing is ideal for those with acne scars, age spots, enlarged pores, and other discolorations or uneven areas. As a result, patients can expect to see tighter, smoother skin. With a faster recovery process than some other options, this treatment is ideal for those who need healed skin in time for an upcoming event.
Sun Damage and Skin Coloration Treatments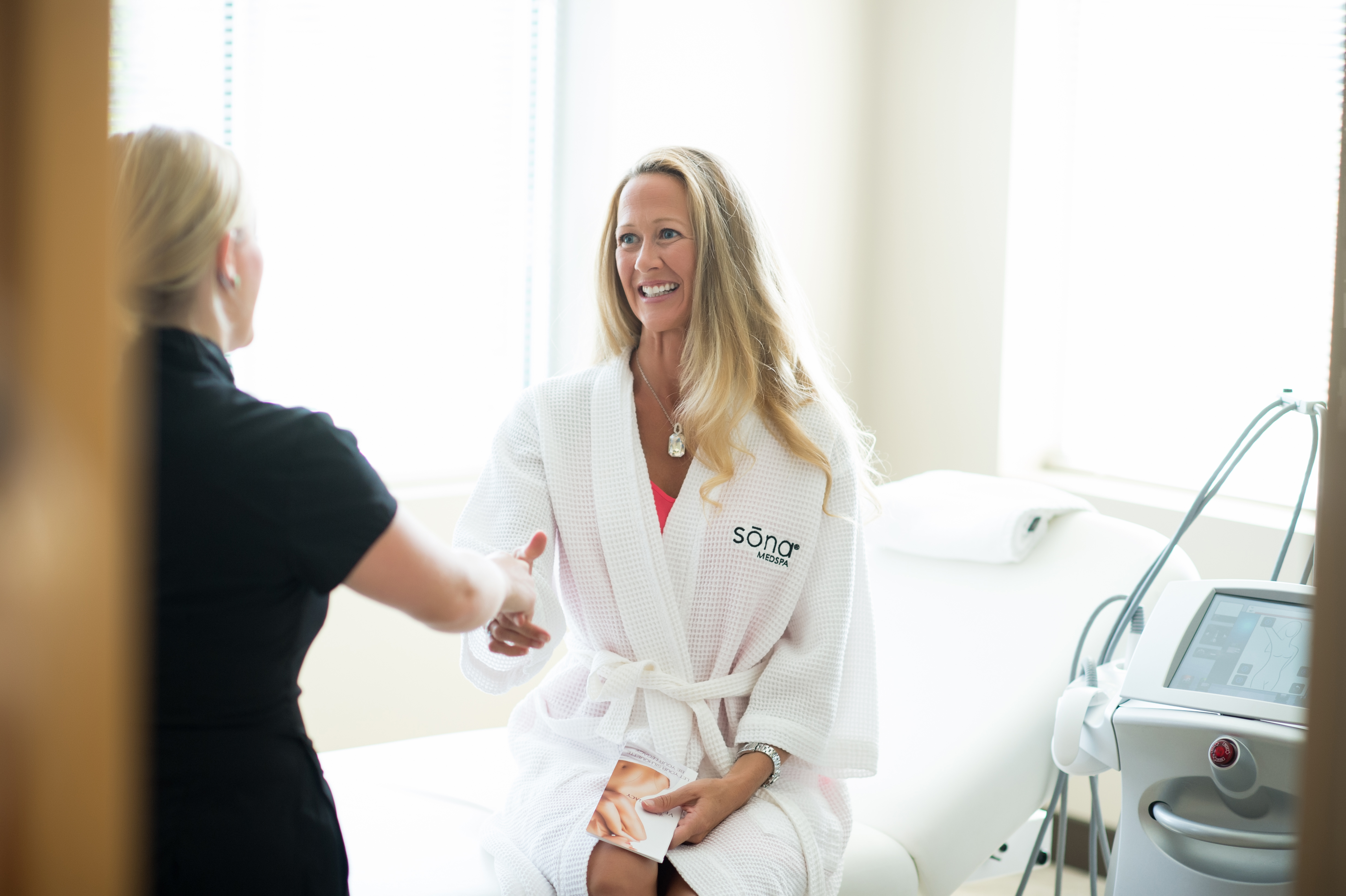 What is it? Today, it's widely known that sun exposure can cause lasting damage. For those of us guilty of tanning too much in our youth, though, what's the best method to heal our sun spots, uneven melanin areas, or other signs of damage? Advanced Fluorescence Technology (AFT) is an ideal treatment for these concerns. AFT is the newest development in Intense Pulse Light (IPL) technology. Medical providers can customize treatments using a variety of hand pieces and wave lengths. During the process, an intense light is applied to the target area with a series of gentle pulses. Penetrating the skin's outer layers, the light is absorbed by the coloration area being targeted. To heal, the coloration will darken before flaking off or being absorbed naturally by the body.
Who's a good candidate? AFT is ideal for those with sun damage, but it can also assist those struggling with rosacea, spider veins, broken capillaries, freckles, melasma, and more. Says Grayson Chilton, licensed vocational nurse at Sona MedSpa's Grapevine location, "The treatment a client will need depends upon what their main concern is. For example, a client concerned about uneven skin tones may initially be interested in our AFT treatments. But upon further evaluation with a provider, they may find they are better suited for Pixel (laser) treatments, especially if they have fine lines, stagnant wrinkles, acne scarring, and/or large pores. That way not only is their main concern met, but other issues that could be affecting their overall self-esteem would be addressed as well."
Laser360 Treatments
What is it? Combining several of Sona's rejuvenation offerings, Laser360 is a comprehensive, three-part process that treats aging skin from the inside out. Step one is AFT light therapy to target skin discoloration. Step two, Venus Legacy, tightens skin and stimulates collagen production. Step three is Pixel laser resurfacing, to smooth the skin's texture and treat fine lines and wrinkles.
Who's a good candidate? Laser360 is ideal for those who have multiple skin concerns and want to experience a thorough treatment plan. It's an alternative to a facelift or other invasive cosmetic surgeries and promotes anti-aging in a more holistic way.
Dermalinfusion Treatments
What is it? Dermalinfusion is a noninvasive treatment that is fully customizable to patients' needs. The three-part process offers exfoliation and extraction to perfect the skin's surface, and a serum infusion to lock in the results. A single Dermalinfusion treatment offers quick results with no downtime, and when used as a regular maintenance routine, treatments will keep skin looking bright and supple. Additionally, Dermalinfusion is unique in that it works on many parts of the body—décolleté, back, arms, neck, and more. It is also safe enough for sensitive areas such as the fragile areas around eyes and lips.
Who's a good candidate? Dermalinfusion is perfect for patients who prefer to avoid injectables, lasers, or invasive processes. Those with acne, wrinkles and fine lines, dull skin, hyperpigmentation, and discoloration are ideal candidates for this treatment. Whether temperamental, hormone-affected acne-prone skin is an issue, or the concern is on signs of aging and forming lines, Dermalinfusion can provide results to patients of all ages.
Skin Care Expert Assessment
It's essential to regularly visit an expert to ensure your skin is healthy and any serious concerns are addressed. And for all things skin rejuvenation, Sona Dermatology & MedSpa's trained experts can create treatment plans to address cosmetic issues.
The difference between a day spa and a med spa lies in the capability of the skin care providers and the level of care they provide. Sona's medical-grade Skin Medica products and state-of-the-art lasers ensure patients are getting the best possible treatment, and their commitment to their patients' satisfaction and health goes beyond the typical patient-provider relationship. If you're curious about addressing your skin concerns, book a free skin consultation at Sona today.
Sona Dermatology & MedSpa is the largest full-service aesthetics company in the nation with four locations throughout the Dallas-Fort Worth area. Sona's focus has always been its clients, providing them with exceptional service, efficacy, and safety in a comfortable, spa-like atmosphere. Under the oversight of medical directors, treatment professionals maintain strict safety standards and use the most advanced technology to help clients look and feel their best. As a leader in the aesthetics industry, Sona is committed to providing the best possible results. To learn more or to book your free consultation online, visit sonaskin.com.