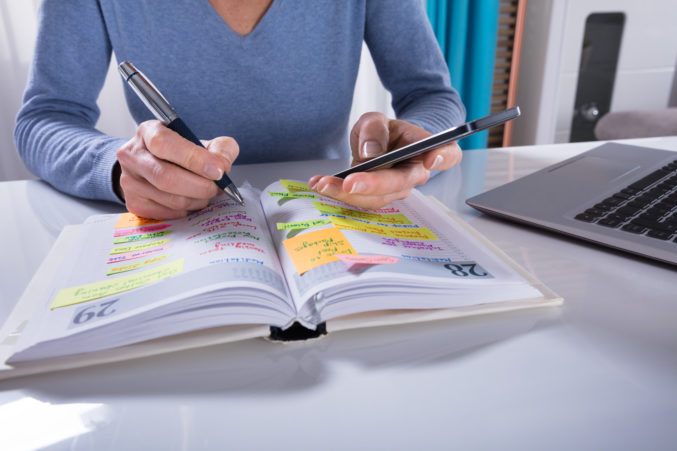 The Secret Weapon for Divorced or Divorcing Parents
Having a clearly crafted calendar acts as a roadmap to avoid pitfalls and trouble, making it a secret weapon for keeping the peace.
By D Partner Studio
Published in Sponsored
February 19, 2019
7:00 am
Prior to the now-ubiquitous "smartphone," one of the first purchases many people made during the new calendar year was an actual calendar. My favorites growing up were Gary Larson's The Far Side cartoon calendars.
To the divorced or divorcing parent, they may find themselves living in a surrealist, Far Side-like existence created by the standard possession order (SPO), which sets the schedule for each parent's time with their children. Any parent familiar with SPOs knows the school year possession rotation to be the first, third and fifth weekends of a month. That bit is simple enough … only when it isn't. Allow me to explain.
Every new year tends to come with nuances that may knock that familiar "first, third and fifth" possession schedule cadence out of sync. Here's an example that many local parents may have encountered during the recent Christmas school break. Most Dallas-area districts didn't resume classes until the first full week of January. That meant that the first weekend of possession would fall during the winter break. Adding to the confusion, there was no fifth weekend in the month. As a result, many parents were surprised to find they'd only get one weekend of possession to start 2019. So much for the reliable "first, third and fifth" rhythm.
The secret weapon to understanding the ins-and-outs of the possession schedule for the year ahead is nothing more complicated than a basic calendar.
Rather than opting for the "Grumpy Cat" calendar at the start of the year, I suggest something far plainer: Your own Microsoft Word monthly calendar. This standalone document is available for download for free online.
I suggest color coding the calendar (for example, light blue for dad and yellow for mom) indicating each parent's respective possession periods. With most calendars, you can easily type in additional information, too.
To personalize the schedule, look at the child's school calendar to confirm their holidays. Unlike Thanksgiving or Christmas, holidays such as Martin Luther King Jr. Day are not indicated directly in the SPO. However, these holidays are important to note, as they may provide a parent an extended three-day weekend with the child. Spring Break is another event that can knock the "first, third and fifth" sequence out of pace. Knowing all of this in advance and having it in a readily referable source can help avoid headaches. It's wise to find a way to share the calendar with your ex. That way you're literally on the same page… of the calendar.
The calendar is an important tool for providing clarity in the coming year. A carefully constructed calendar will offer a clear outline of what to expect, sparing everyone the aggravation that comes from misunderstandings. Confusion over possession can result not only in frustration but may also become a source of additional court action. Having a clearly crafted calendar acts as a roadmap to avoid pitfalls and trouble, making it a secret weapon for keeping the peace.
Ryan Kirkham is an attorney in the Dallas office of the family law firm Orsinger, Nelson, Downing & Anderson, LLP. He can be reached at [email protected] or visit ONDA here.